Bear Lake Marina


1 mile north of Garden City on U.S. 89. The marina has a large concrete boat ramp, water, restrooms, showers, and boat rentals. There is no camping allowed at the marina.

Rendezvous Beach



2 miles NW of Laketown on Hwy 30, full hookups, water, showers, restrooms. There is 1.25 miles of sandy beach, concessionaires, and boat rentals.
(435) 946-3343

Bear Lake Cisco Beach (Eastside)



10 miles north of Laketown that include campsites, bathroom facilities, and 3 concrete boat ramps.

Idaho State Park: immediately north of state line on east side.
(435) 654-0171
---
Hyrum Reservoir

N.41.37.590-W.111.52.276 : Elevation-4,664 ft : Water Temperature-6/3/09-67 : 9/20/10-66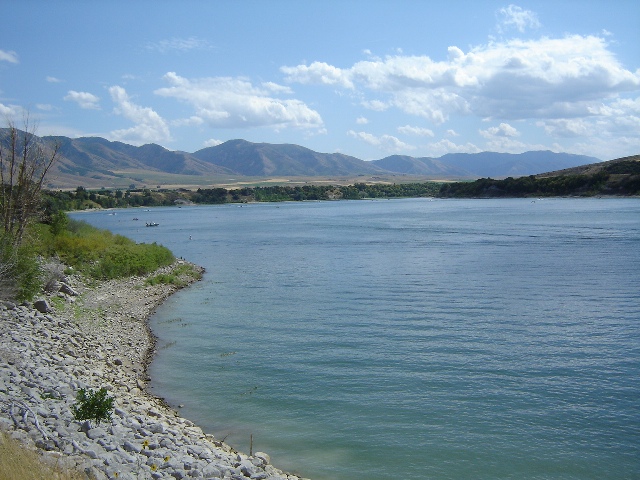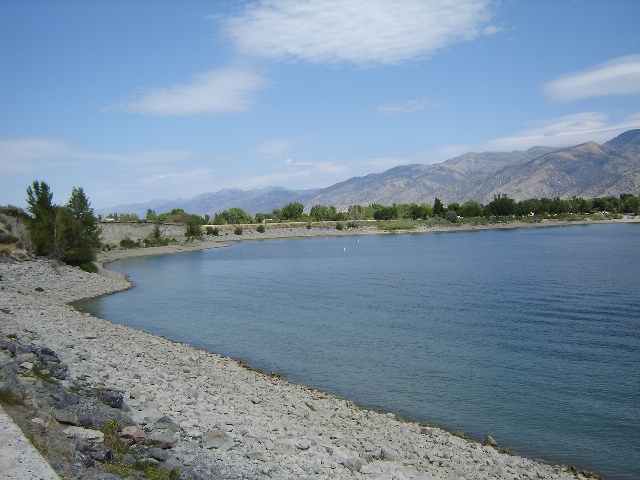 From Brigham City drive northeast on HWY-89 for about 12.50 miles, turn off onto 6800-S and drive east for 2.6 miles. Turn north onto 2400-W for .14 mile, and right onto 6600-S for .74 mile. Turn north onto 1800-W for 1 mile to Hyrum State park on your right.
---
Joes Valley Reservoir
Rock Cliff Campground

13 mi. NE of Heber and 2 mi. west of Francis on Hwy 32, open all year, 50 tent camping units (no RVs, motor homes or trailers) reached by elevated boardwalk or trail through the aspens, group-use pavilions with group camping available by advance reservation, Nature Center, water, showers. Excellent area for fishing from float tubes as you just walk down a paved road which goes right into the water. The bay is in a sheltered canyon. Parking is somewhat limited.
Hailstone



Located on the west shore of the reservoir, exit 8 on US 40 between Park City includes a marina, general store, restaurant, personal watercraft launch ramp, boat ramp, and day-use cabanas.
Keetley Point Campground: is walk-in only, modern restrooms, tent sites in a scrub oak draw NW of park entrance road. Each site has a concrete pad, an 8-foot aluminum table, stand-up grill and fire pit.
McHenry Creek Campground: Tent/recreation vehicle sites with no utilities. Campground is sheltered between scrub oak stand and a quiet, perennial creek. Each site has a concrete pad, 8-foot aluminum table, stand-up grill, fire pit, and tent pad. A camp service center provides modern restrooms, hot showers, mini-laundromat.
RV Campground: These campsites are overlooking the reservoir. Each site has a concrete pad, 8-foot aluminum table, stand-up grill, fire pit, and electric and water hookups. Access is by a paved, pull-through drive or single spur. The campground is serviced by modern restrooms and a camp-service center.



Code of Federal Regulations for Personal Watercraft at Lake Mead National Recreation Area.
36 CFR §7.48 (f)(3) – As of January 1, 2013, no one may operate a personal watercraft (PWC) that does not meet the 2006 emission standards set by EPA for the manufacturing of two-stroke engines. A person operating a personal watercraft that meets the EPA 2006 emission standards through the use of direct-injection two-stroke or four-stroke engines, or the equivalent thereof, is not subject to this prohibition and will be allowed to operate as described in this section.
---
Millsite Reservoir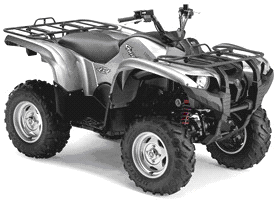 GPS-N.39.06.020-W.111.11.319 : Elevation-6,211 ft : Water Temperature-5/28/09-59 : 9/2/10-67
From Price, head south on UT-10 to Ferron, and turn right on Ferron Canyon Road for 2 miles. The park charges a fee for day use and camping. Facilities include a boat launch, picnic pavilions, showers, drinking water, a sandy beach, and campsites.

---
Minersville Reservoir

GPS-N.38.13.048-W.112.49.047 : Elevation-5,503 ft


From Beaver, head west on UT 21 for 12 miles to the entrance on the southwest side of the reservoir. Minersville State Park has a sanded beach, a concrete public boat ramp, hot showers, and picnic areas.


Otter Creek State Park-Located at the south end of the lake, includes campsites with flush toilets, hot showers, a boat ramp, picnic areas and a swimming area. Pets are allowed in the park but must be on a six-foot leash, and are not permitted on developed beaches or in the lake. The reservoir allows various activities but is mainly used for fishing and ATV's. The lake contains rainbow, brown, cutthroat, and smallmouth bass.

Otter Creek R.V. Park and Marina-Is a private resort with full hookup RV sites, cabins, boat launching, non-motorized boats for rent, a laundromat, showers, and flush toilets.

Park Hours: Summer: 6:00 a.m.–10:00 p.m. Winter: 8:00 a.m.–5:00 p.m. The lake is open all year-round.
There is a fee for day use and camping
Contact by Phone-(435)624-3268 or
parkcomment@utah.gov


Port Ramp Marina is located on the west shoreline, this is the most used launching facility. There is a large concrete ramp and parking lot.

Cemetery Point Marina is located in the town of Huntsville on the east shoreline. If you dock off here make sure to bring your bank account with you, they charge $10 per waverunner and an additional $10 to park at the beach area.

North Arm Wildlife Viewing Trail


.8 Mile Loop
North Arm Wildlife Viewing Trail begins on the north side of Pineview Reservoir. At Pineview Reservoir Dam, turn north from Utah 39 to Utah 162 towards Eden and Liberty. Drive 3.8 miles to the North Arm Trailhead just past where you cross the North Fork of the Ogden River. Park in paved lot.
---
Quail Creek Reservoir

GPS-N.37.10.254-W.113.26.261 : Elevation-2,985 ft : Water Temperature-5/11/08-60 : 10/13/09-62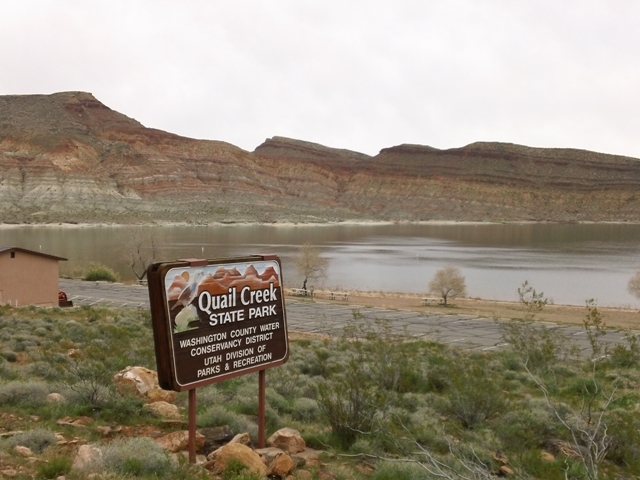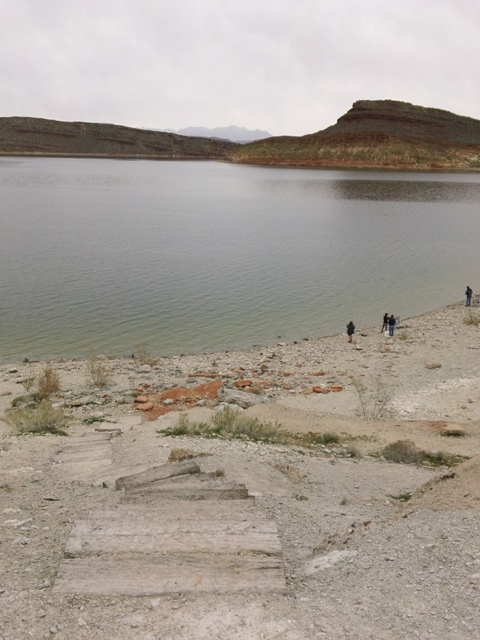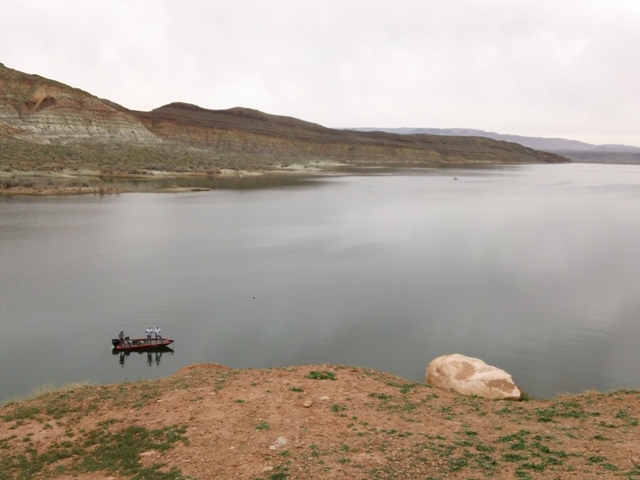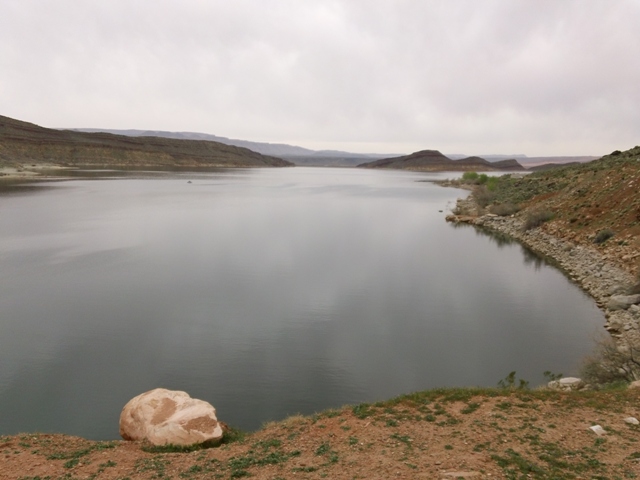 From I-15 take exit 16, and head east on the main road for 2 miles. Turn left onto UT 318 and follow the signs to the reservoir. Because of the low elevation and southern location, winter temperatures are mild and the recreation season extends from early spring to late fall. Facilities include campsites, boat ramps, modern toilets, a fish cleaning station and covered picnic areas. Usage fees are charged.

---
Rockport Reservoir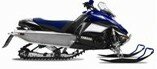 Elevation-6,038 ft : Depth Maximum-150 ft/Mean-63.7 ft : Water Temperature-6/2/09-65 : 10/2/09-60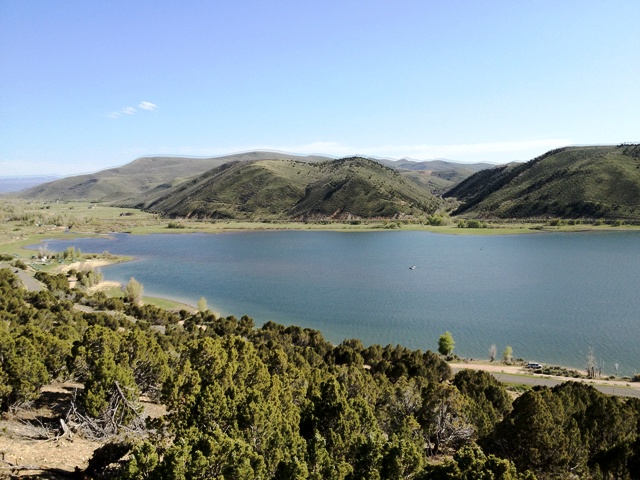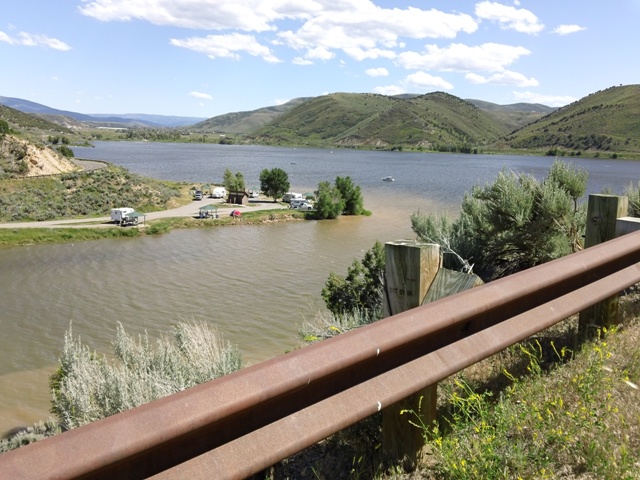 Just south of I-80 at Wanship exit 156. There is a road that turns near the south end of the reservoir. Ice fishing is more successful, especially for yellow perch. Recreational facilities at the reservoir include an improved boat ramp, campsites, toilets, and a swimming area. Rockport Campground is open all year, group camping, water, vault toilets, showers, dump station. User fees are charged. There are several beaches all along the shoreline. Fuel is available in nearby Wanship and Oakley. Groceries are available in Coalville and Kamas.

---
Scofield Reservoir
GPS-N.39.48.99-W.111.08.033 : Elevation-7,618 ft : Depth Maximum-66 ft/Mean-26 ft : Water Temperature-7/3/08-65 : 9/2/10-63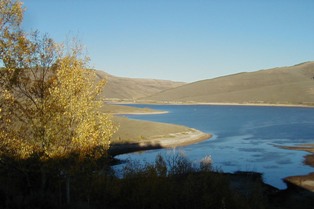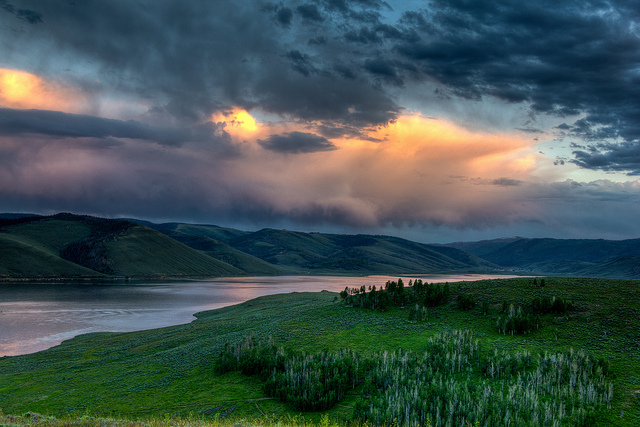 From Price, take US 6 northwest up Price Canyon, and turn left onto UT 96 to the state park. The route is well marked on a State highway map and it is accessible year round. Scofield has traditionally been one of Utah's top fisheries, and produces decent size and quantities of trout. Campsites with showers, dump stations, fish cleaning stations, and launch ramps. Fuel and groceries are available in the town of Scofield at the south end of the lake. There is also a private RV park with full hookups. The park provides camping for both trailers and tents that include garbage disposal, water, barbeque pits, flush toilets, hot showers, a fish cleaning station and boat ramps at both camping areas. Facilities are available at the State Park from May through November. Water-skiing is common in mid summer but V8 engines are recommended because of the altitude. Snowmobiling and ice fishing winter sports are also popular.

Madsen Bay



4 mi. N of Scofield, season 5/15-9/15, water, showers, restrooms, campfires, swimming, boating, fishing.

Mountain View



3 mi. N of Scofield, season 5/15-9/15, water, vault toilets, showers, dump station.
---
Starvation Reservoir

Elevation-5,712 ft : Depth Maximum-154.9 ft/Mean-65.3 ft : Water Temperature-6/4/09-62 : 9/29/09-62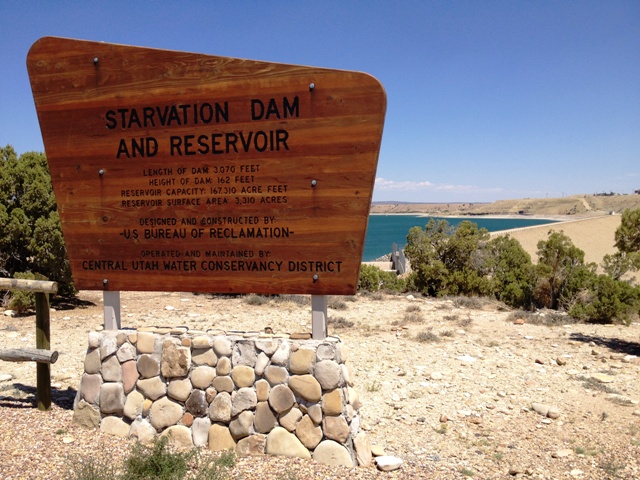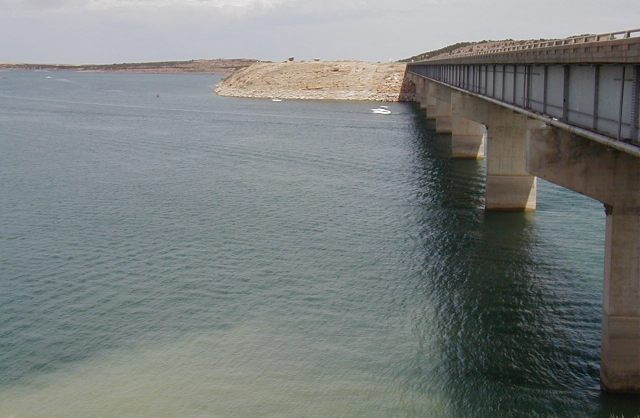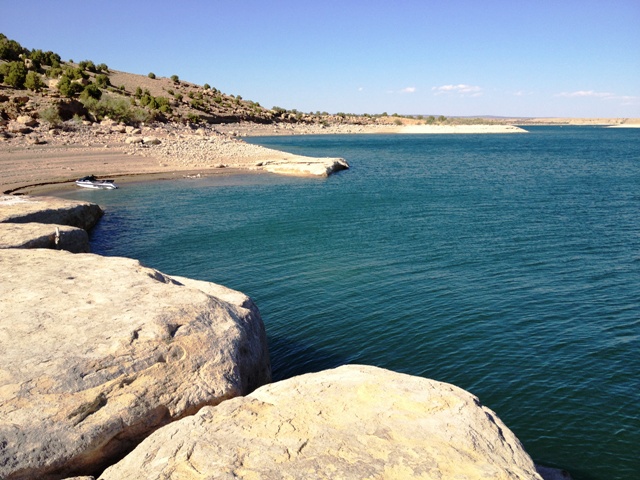 Access to the State Park is from US 40 about 3 miles north/west of Duchesne (one block west of the Conoco station). Other parts of the shore are accessible from various unpaved roads or the view area at milepost 83 just east of the US 40 bridge. The reservoir is popular for swimming, waterskiing, sailing, and off-road vehicles. It is a popular reservoir for walleye and smallmouth bass. Starvation State Park has campsites, flush toilets, a sandy beach, and showers. Primitive camping is permitted at various sites around the lake.

Lower Beach:Open all year, water, showers, dump station. There is a fee for day use and camping
Mountain View:Open all year, tent sites, group camping, water, showers, dump station.
---
Utah Lake

Elevation-4,489 ft : Depth Maximum-14 ft/Mean-9.4 ft : Water Temperature-4/23/09-60 : 9/10/10-67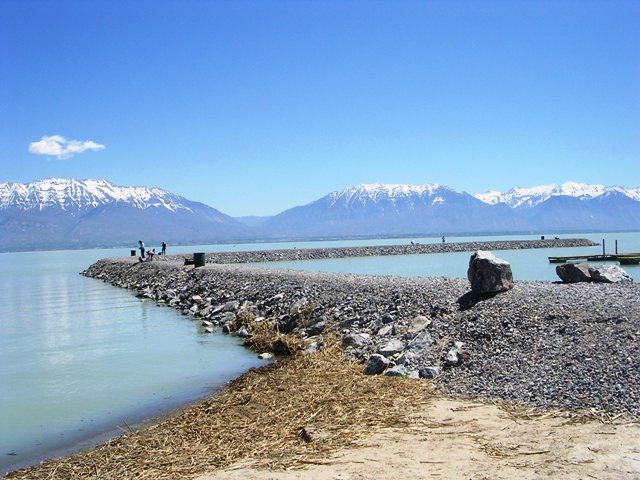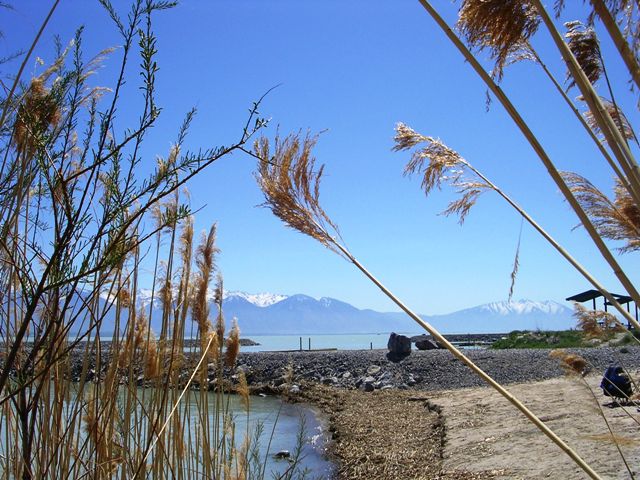 Utah Lake State Park is at the west end of Provo's Center Street. From Exit 258 off I-15, a road follows the shore behind the steel mill, from 2000 North in Orem, or northwest from Geneva Road at about 400 S in Orem. Lindon Boat Harbor is off of I-15 exit 276 turn right and go under freeway to railroad tracks at 200 South. Turn left and go to the end. Turn left at 2000 West. The road makes a sharp turn to the right and will take you straight to the harbor. West of Lehi is Saratoga Springs which has a new boat ramp that charges $8 for day-use. Redwood Road follows the west shore fairly closely for about 22 miles. The road around the west side of West Mountain, from Genola to the Benjamin area, follows the shore closely for about 11 miles, offering easy access to rocky beaches. The lake is accessible by all of these sites, as well as Hobble Creek from the overpass on the west frontage road of I-15 between Exits 265 and 263.

Utah Lake is one of the largest natural freshwater lakes in the western United States. The average depth is only about 10 feet. This allows winds to constantly stir up bottom sediments, resulting in turbid water. The lake is popular for fishing, boating, sailing, and waterskiing. There are abundant supplies of fish including carp and bullhead in the lake. Camping at the lake itself is allowed in most areas.

Utah Lake State Park: group camping, water, restrooms, showers, dump station. There is a fee for day use and camping.

Lakeside Campground is 0.5 miles east of the state park on Center Street in Provo.

Lindon Boat Harbor: Boat ramps, pinic tables, water, portable toilet. Future expansion will include sailboats for rent, fishing ponds stocked for kids, and a BMX track. There is a fee for day use.
---
Yuba Reservoir

Elevation-4,978 ft : Depth Maximum-74 ft/Mean-21.3 ft : Water Temperature-5/27/09-60 : 9/29/09-62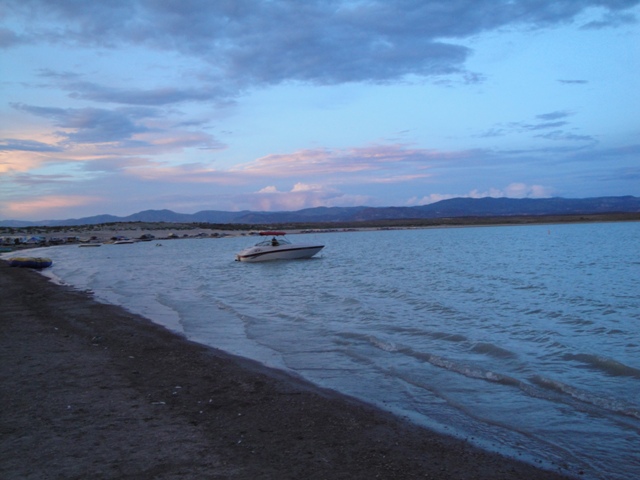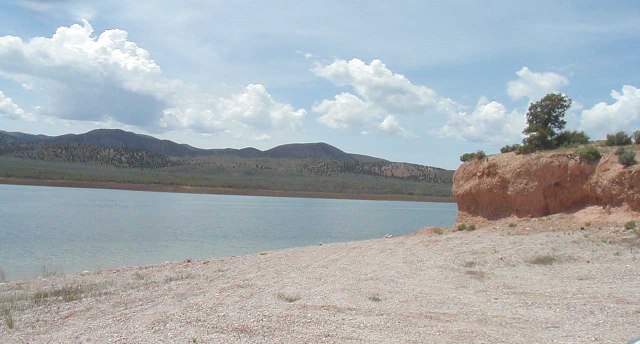 From I-15 take exit 202 and go south for 5 miles to the north/west beach. There are outhouses, picnic tables and designated fire pits. Fish include catfish, northern pike, perch, rainbow trout, and walleye. There is a fee for day use and camping.

Oasis campground on the south/west shore offers covered pavillions with picnic tables, camping area, drinking water, flush toilets, hot showers, a boat ramp with loading docks. There is a sandy beach on the north/west shore with a fee station. There is no OHV riding allowed on the beach other than to gain access to the off-road trails to the west and south of the Reservoir.

Painted Rock is on the east side of the reservoir just off HWY 28, between Levan and Gunnison. The campground offers covered picnic tables, restrooms, drinking water, and a boat ramp with loading docks.

You can gain access to Eagle View Campground by boat only, which offers a sandy beach with campsites, covered picnic tables, reservable boat docks, restrooms, garbages, firepits, and solar lighting.

Petroglyphs & rock art can be viewed by boat at Painted Rocks just north of the boat ramp

Make a Reservation call 1-800-322-3770 or go to www.stateparks.utah.gov (an additional fee is charged to make a reservation)
---
Lakes by distance from 7800-S and 4000-W One-Way
Utah Lake-Pelican Bay Marina-28 Miles/West Side Beach-36 Miles
East Canyon Reservoir-43 Miles
Jordanelle Reservoir-44 Miles
Deer Creek Reservoir-51 Miles
Rockport Reservoir-52 Miles
Echo Reservoir-57 Miles
Pineview Reservoir-62 Miles
Willard Bay-65 Miles
Mona Reservoir-66 Miles
Hyrum Reservoir-89 Miles
Scofield Reservoir-98 Miles
Electric Lake-101 Miles
Yuba Reservoir-104 Miles
Bear Lake-116 Miles
Starvation Reservoir-121 Miles
Huntington Lake-131 Miles
Gunnison Bend Reservoir-132 Miles
Big Sand Wash Reservoir-141 Miles
Redmond Lake-145 Miles
Millsite Reservoir-156 Miles
Joes Valley Reservoir-159 Miles
Steinaker Reservoir-186 Miles
Piute Reservoir-191 Miles
Red Fleet Reservoir-196 Miles
Flaming Gorge/Buckboard Marina-198 Miles
Otter Creek Reservoir-210 Miles
Quail Creek Reservoir-283 Miles
Minersville Reservoir-294 Miles
Sand Hollow Reservoir-294
Recapture Lake-297 Miles
Gunlock Reservoir-313 Miles
Lake Powell-317 Miles to Bullfrog Bay



Custom Search