---
Big Sand Wash Reservoir



GPS-N.40.17.796-W.110.14.072 : Elevation-5,885 ft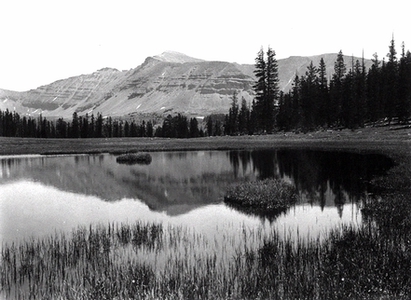 From Duchesne, head east 9 miles on US 40, and turn north at milepost 98.2. Follow this road for a mile, then north-east and north on a paved country road for about 8 miles to U-87. Turn left on U-87 and continue north for 2 miles, through Upalco, to where U-87 bends to the northwest. At the bend, continue north on an unpaved road for 0.75 miles to the boat ramp. At milepost 105, there will be a sign to a Big Sand Wash boat ramp south of the highway.
---
Flaming Gorge



Elevation-6,023 ft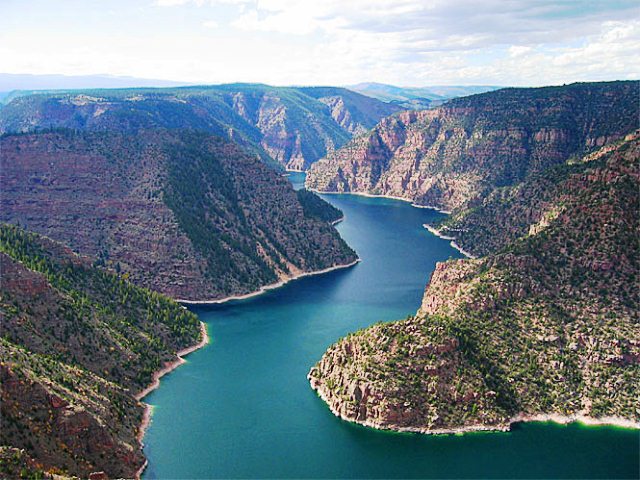 Access to Flaming Gorge; Cedar Springs Marina is near the dam at the lower end of the lake on US-191 between Green River; Lucerne Valley Marina is near the central section of the lake near Manilla; To reach Buckboard Marina from Evanston head east on I-80 for 77 miles and take exit 83 to CR-37. Drive south for 10 miles to SR-530 and turn south. Drive another 18.25 miles to the turnoff on your left 1.31 miles to the marina. This marina includes camping, restrooms, launch ramp, and a dump station.
---
Bear Lake
Deer Creek Reservoir
East Canyon Reservoir
Echo Reservoir
Gunnison Bend Reservoir
Gunlock Reservoir
Huntington Reservoir
Hyrum Reservoir
Joes Valley Reservoir
Jordanelle Reservoir
Lake Powell
Mantua Reservoir
Millsite Reservoir
Mona Reservoir
Otter Creek Reservoir
Pineview Reservoir
Piute Reservoir
Quail Creek Reservoir
Recapture Reservoir
Redmond Reservoir
Rockport Reservoir
Sand Hollow Reservoir
Scofield Reservoir
Starvation Reservoir
Strawberry Reservoir
Utah Lake
Willard Bay
Yuba Reservoir
---
Minersville Reservoir




GPS-N.38.13.048-W.112.49.047 : Elevation-5,503 ft
From Beaver, head west on UT 21 for 12 miles to the entrance on the southwest side of the reservoir. Minersville State Park has a sanded beach, a concrete public boat ramp, hot showers, and picnic areas.
---
Red Fleet Reservoir




GPS-N.40.35.010-W.109.25.728 : Elevation-5,608 ft : Water Temperature-5/24/09-61 : 10/12/09-60

From Vernal head north on US 191 for 13 miles, and turn right. Go west for 2 miles to the state Park entrance. A boat launch area is on the right on a gravel road shortly after turning off US-191, but the main park facility is further east. Usage fees are charged. The red sandstone cliffs and canyon walls provide a beautiful backdrop to the blue water of the reservoir. There are campsites, a swimming beach, a boat ramp, modern rest rooms, and sewage disposal.
---
Steinaker Reservoir




Elevation-5,520 ft : Depth Maximum-129.9 ft/Mean- 45.9 ft : Water Temperature-5/24/09-62 : 10/12/09-60

4 miles north of Vernal. The highway follows the east shore for about a mile. An access road leads across the north end of the reservoir to the state park. The state park has a concrete boat launch, modern rest rooms with showers, sewage disposal, sandy beaches, and fish cleaning stations.
---
Lakes by distance from 7800-S and 4000-W One-Way
Utah Lake-Pelican Bay Marina-28 Miles/West Side Beach-36 Miles
East Canyon Reservoir-43 Miles
Jordanelle Reservoir-44 Miles
Deer Creek Reservoir-51 Miles
Rockport Reservoir-52 Miles
Echo Reservoir-57 Miles
Pineview Reservoir-62 Miles
Willard Bay-65 Miles
Mona Reservoir-66 Miles
Hyrum Reservoir-89 Miles
Scofield Reservoir-98 Miles
Electric Lake-101 Miles
Yuba Reservoir-104 Miles
Bear Lake-116 Miles
Starvation Reservoir-121 Miles
Huntington Lake-131 Miles
Gunnison Bend Reservoir-132 Miles
Big Sand Wash Reservoir-141 Miles
Redmond Lake-145 Miles
Millsite Reservoir-156 Miles
Joes Valley Reservoir-159 Miles
Steinaker Reservoir-186 Miles
Piute Reservoir-191 Miles
Red Fleet Reservoir-196 Miles
Flaming Gorge/Buckboard Marina-198 Miles
Otter Creek Reservoir-210 Miles
Quail Creek Reservoir-283 Miles
Minersville Reservoir-294 Miles
Sand Hollow Reservoir-294
Recapture Lake-297 Miles
Gunlock Reservoir-313 Miles
Lake Powell-317 Miles to Bullfrog Bay



Custom Search