California Beaches
---
Balboa Pier



From the Pacific Coast HWY take the Newport Boulevard exit toward Balboa Peninsula. Head west on Newport Blvd for 2.5 miles then turn right onto Palm St for .1 mile then a slight right at Washington St for 250ft, then turn left to Balboa Pier. Blaboa Pier is one of two piers located in the city of Newport Beach. Ruby's Diner, a 40's-style chain diner is located at the end of the pier. Peninsula Park & Balboa Fun Zone is a great place to take the kids. BJ's Restaurant & Brewhouse is also kid friendly if you want to grab a quick drink.
---
La Jolla Childrens Pool




Also known as Casa Beach, this is a small sandy beach area located at 850 Coast Blvd, at the end of Jenner Street, in La Jolla. A concrete wall was built in 1931 that protects the beach from crashing waves, making it a popular spot for diving and families to come enjoy and swim. This spot is overcrowded with Sea Lions so swimming is not recomemended due to the high amount of bacteria from the seal feces.
---
La Jolla Cove




From I-5 North take exit 26A for W La Jolla Pkwy. Continue on La Jolla Pkway for .7 mile, then continue onto Torrey Pines Rd for 1.1 Miles. Turn right onto Prospect Pl for 1 mile, then you will take a slight right onto Cave St for .2 mile. Continue onto Coast Blvd for 400ft to La Jolla Cove on your right. Be very observant while walking along the beach or you just might step on a seal.
---
Mission Beach





From the 5 FWY take Garnet Ave. west to Mission Blvd. south or take Sea World Dr to West Mission Bay Dr towards Belmont Park. Mission Beach is a community built on a sandbar between the Pacific Ocean and Mission Bay and spans nearly 2 miles. A boardwalk runs along both the ocean and the bay.
---
Natural Bridges State Beach



This beach is in Santa Cruz. From the intersection of Mission St and Swift St head south for .3 mile. Turn right onto Delaware Ave for .5 mile then turn left onto Natural Bridges Dr. I parked at the Natural Bridges State Beach Vista Point which is just .4 mile south from the intersection of Delware Ave and Swanton Blvd.
---
Ocean Beach





Take the 8 FWY west to Sunset Cliffs Blvd. and turn right on West Point Loma Blvd. Ocean Beach is a small beach community known for being one of the most relaxed places of southern california with the longest pier on the west coast extending a good 1/2 mile out to sea. Just to the north there is an off-leash dog beach also. Also know as OB, Ocean Beach has over 40 hotels and most of them are pet friendly.
---
Oceanside Beach





Head west on Mission Boulevard from the 5 FWY. Take a right on North Pacific St. to Pier View Way and the Oceanside pier. Continue north on Pacific Street to head up to the Harbor or south toward Buccaneer Beach.
---
Partington Cove Trail



The trailhead is 9 miles south of Pfeiffer Big Sur State Park. The trail starts out at a large pullout along HWY-1. Follow the well maintaned path past the metal gate to a junction where you can head straight a short distance up along Partington Creek. Turning right at the junction takes you across a wooden bridge and a little further to the mouth of the tunnel that takes you through to the cove. If you turn right before the tunnel the trail will lead you to a small beach covered with boulders.
---
Piedras Blancas Point to San Simeon Cove-Elephant Seal Rookery


1.3 Miles RT-Easy
From San Simeon head north on CA-1 for 4.2 miles to the parking lot for the Elephant Seal Vista Point. From here you can head in either direction along the boardwalk. This is an easy trail for all skill levels that runs along the shoreline and highway. There are a large number of seals that visit this area so I wouldn't recommend swimming in this area.
---
Redondo Beach Pier



Head North on CA-1 and turn left onto Torrance Blvd for .2 mile onto Coral Way then right onto W Torrance Blvd for .1 mile to the Pier. This place is great for all ages with an arcade, fish marketplace, restraunts, shops, bars, there is something here for everyone.
---
Rincon Parkway Campground



From Santa Barbara head south 21 miles on the Pacific Coast Highway, You'll know you're there when you see Motorhomes and RV's parked all along the coastline. The beach is just under a 2 mile stretch and is just north of Faria State Beach.
---
San Clemente Pier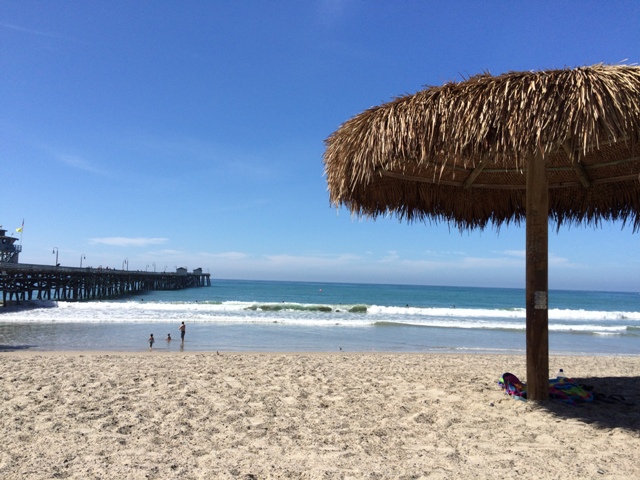 From I-5 heading south, take exit 75 for Ave Palizada toward San Clemente. Turn right onto E Avenida Palizada. Turn left onto N Calle Seville. Turn right onto Avenida Del Mar. Continue onto Avenida Victoria to the pier. The pier sits between Treasure Beach to the north and Riviera Beach to the south. You can also gain access to the pier on Amtrak's Pacific Surfliner. The station is lightly used and only makes a few stops per day.
---
Shark Fin Cove



From Cabrillo HWY & Western Dr in Santa Cruz head north on CA-1 for 8 miles. The parking lot and trailhead will be on the westside of the HWY just before you reach the town of Davenport. From here you walk down the shorth gravel road, cross the railroad tracks and drop down the short steep rocky path to the cove. This is a beautiful location to visit along the coast other than the trash and vandalism/graffiti left behind by the locals.
---
Venice Beach




From HWY-1 turn west onto Washington Blvd. and travel for 1.4 miles to the Venice Beach parking lot. The best part about this beach is their boardwalk. It's a great place to come if your a tourist and you like to people watch. There is a skate park, weight lifting court, basketball court, street performers, and shops all up and down the boardwalk. I would recommend this place to anyone unless they don't want to get high from second hand smoke.