One of Lake Tahoes 'big six' ski resorts Alpine Meadows offers 2,400 acres of ski and snowboarding terrain and a year snowfall of 495 inches. It is located about 15 minutes from North Lake Tahoe and Reno-Tahoe International Airport is 45 miles Northeast from I-80. With seven powder bowls, countless ridgeline adventures, summit-to-base groomed trails, and mountaintop views of Lake Tahoe, Alpine Meadows has a thrill for anyone of any level. Kids ski and snowboard programs, one of the country's greatest values, unmatched off-trail terrain advanced terrain, and the finest groomed slopes have all contributed to a mountain that's been acknowledged as one of the country's top winter ski resorts.
---
Alta Sierra at Shirley Meadows
This day ski resort and terrain park is located in the Sequoia National Forest in the Greenhorn Mountains of California, approximately 50 miles east of Bakersfield.
From Bakersfield Via 178
Take 178 East through the Kern River canyon and take the 155/Wofford Heights exit. Follow the signs to Wofford Heights. Once in Wofford Heights make a left on SR155 and then turn left on Rancheria Rd.
From Bakersfield Via Glennville
Take Airport Drive north. Airport Drive will turn into Granite Road. Follow signs to Glenville/Woody. Once in Glennville take SR155 East and turn right on Rancheria Rd.
From Porterville
Take 65 South to SR155. Take SR155 East and turn right on Rancheria Rd.
---
Badger Pass Ski Area
Badger Pass Ski Area is a small ski area located within Yosemite National Park. Badger Pass Ski Area has been a favorite winter destination for generations of California families. And as California's oldest ski resort, Badger Pass Ski Area offers a unique winter sports experience in Yosemite National Park, giving beginners a chance to gain their balance at the legendary Yosemite ski school home to the famous "Guaranteed Learn to Ski" promise. Badger Pass Ski Area also offers snowboard and cross-country ski instruction, rental equipment, ski shop, children's programs, and dining.
---
Bear Valley
Bear Valley is a four season resort located between Lake Tahoe and Yosemite in the Central Sierra Mountains. With such a large skiable area of 1,280 acres you will never lack terrain. Winter activities also include cross-country skiing, snowshoeing, snowboarding, snowmobiling, dog sledding and backcountry adventures.
---
Big Bear Mountain
This high elevation ski resort is located in Big Bear Lake, California in the San Bernardino Mountains. Lift tickets are also good for Snow Summit. Bear Mountain is a 200 acre winter playground offering over 100 features in it's terrain park.
---
Boreal Mountain Resort
80 miles from Sacramento. Boreal Mountain Resort is Tahoe's best value with terrific discounted packages and creative terrain parks. Always the first resort in the area to open, Boreal's lifts spin from 9:00am – 9:00pm daily providing skiers and riders easy access to the slopes, day or night. There is night lighting & a sound system on the mountain to enhance your ski & boarding fun. Those new to snow will enjoy the Take 3, Ride FREE program offering a free season pass upon competition of three lessons. With five parks and two pipes, Boreal is a terrain park enthusiasts' dream come true. Boreal Mountain Resort is celebrating a big anniversary this season as it moves into its 50th year of operations. To mark the golden anniversary, the resort will host three events to celebrate the occasion along with commemorative giveaways, new website and special anniversary logo. The resort continues to invest in energy-efficient snowmaking improvements designed to use less water and electrical energy in production. Over the summer, crews made significant enhancements to infrastructure, replacing snowmaking pipes and installing a new cooling system to ensure resources are better utilized. The addition of a 100-ft surface lift and expanded learning terrain provides safer and less crowded area, ideal for learning to ski and snowboard. A new pirate-themed terrain park, Neff Land, will be unveiled in January boasting over 30 rideable features including a life-sized ship mast, cannons, pirates and more. Located in the base area, Woodward Tahoe's indoor pump track will undergo a complete renovation to provide a better learning and progression environment for snowsport guests on Parkskis™ and Parkboards™. Also new for 2014-15 at Boreal, the mountain services has been remodeled to increase efficiency and guest service.
---
Buckhorn Ski/Snowboard Club
Travel north on the 5 freeway. You will pass the junction of the 5, 101, and 10 freeways, but stay on the 5. Next you will pass the Harbor freeway 110. At this point, start looking for Route 2 to La Canada. Go north on the 2, which eventually goes to an off ramp. Turn left onto the Angeles Crest Highway. The Lodge is about 37 miles from this point. When you pass the Newcomb Ranch restaurant/bar you have about 7.6 miles to go. Next, watch for the sign marking Cloud Burst Summit, elevation 7018 feet and you'll be 1.3 miles away. Start looking for the Buckhorn Campground sign. At this point, you're ¼ mile away. Now look for the Buckhorn Ski Club sign on your right. If it's summer, drive through the gate. If there's a fair amount of snow on the ground, park across the street in the parking strip. REMEMBER WE'RE BETWEEN WATERMAN & SNOWCREST SKI RESORTS. Just some more help: Look at the small white highway signs, placed every couple of hundred feet on both sides of the road-- the ones with the little reflectors. The Lodge is just past the 58.33 mile marker. If you get to any sign higher than 58.45 you have passed it. If you're coming from the Riverside area, please note that the road from Mountain High is closed when the snow gets too deep. The Club is a backcountry/off trail resort for downhill skiers, snowboarders, and cross-country skiers. Our dwelling is a frozen in time 1950's ski lodge that's run along the lines of a co-op. The lodge is a two story rustic hut that sleeps up to 40 people with full kitchen facilities. Buckhorn has a gripper tow that gives you access to over 40 acres. Low cost memberships are available. Once members learn the open & close up procedure, they have year round use of the lodge. We have pool parties, beach parties, canoe trips on the Colorado River, hikes to a 60' Kodak moment waterfall, low cost trips to Mammoth, a yearly weeklong trip to a ski resort out of state, and whitewater rafting on the Kern River. The rafting equipment is supplied by members, so members only pay for camping and meals (contact us for more details). To try out our resort costs $10 per adult and $5 per child, and you must sign a waiver of liability. This cost includes your lodging & lift-ticket.
---
China Peak
China Peak Mountain Resort is located only 65 miles northeast of Fresno at scenic Huntington Lake in the Sierra National Forest. The mountain has 1,679 feet of vertical with a base elevation of 7,030 with the peak at just over 8,700 feet.
---
Dodge Ridge
Dodge Ridge is located in Tuolumne County, California just 30 miles east of Sonora, California off of Highway-108. There are five terrain parks from easy to advanced throughout the mountain, including the Stagecoach park, Rocky's Road, the Competition park, the Progression park, and the Boarder Cross Course.
---
Donner Ski Ranch
On US Route 40 high atop Donner Summit, in Norden, California. One of California's Last Family Owned and Operated Ski Resorts. For years, Donner Ski Ranch has offered a simpler skiing experience. Located on Historic Route 40 high atop Donner Summit, you will find an atmosphere that is relaxing and carefree. With 6 chairlifts and 2 moving carpets accessing 500 + acres, there is variety of terrain for all abilities.
---
Heavenly
Heavenly Ski Resort is located on the California-Nevada border in South Lake Tahoe. The resort has the largest snowmaking and grooming fleet on the West Coast. It features multiple terrain parks, 94 trails and a 3,500-foot vertical drop. Skiers and snowboarders can glide for miles, surrounded by the towering peaks of the Sierra, while overlooking Lake Tahoe, the high desserts of Nevada and the ranch lands of the Carson Valley.
---
Homewood Mountain Resort
Homewood Mountain Resort is set on the west shore of California's Lake Tahoe just south of Tahoe City. Many of the runs have spectacular lake views. Homewood has two terrain parks also having stunning lake views and terrain for all levels of expertise, from beginners to future X Games competitors. Homewood is located about an hour from Reno, NV, and about two hours from Sacramento, CA.
---
Kirkwood Ski Resort
Located 90 minutes from Reno/Tahoe International Airport. Kirkwood Mountain Resort is a year-round mountain destination located along the Sierra Crest in the Eldorado National Forest south of Lake Tahoe in California. The terrain at Kirkwood offers skiers and riders everything from long groomed trails to expert lines and chutes. The resort receives abundant snowfall each season coupled with spectacular views of the surrounding mountains. The village contains ski in, ski out accommodations with adjacent shops and restaurants. The resort also plays host to other activities including cross country skiing, snow shoeing, dog sled tours and backcountry access
---
Mammoth/June Resort
Mammoth is located in Eastern California along the east side of the Sierra Nevada mountain range. It features 1,000's of acres of terrain and an altitude that keeps things white into summer making it one of the longest ski seasons in North America. The mountain is surrounded by the protected backdrop of Mt. Whitney and Yosemite National Park.
---
Mount Shasta
A full serve ski resort featuring alpine, nordic skiing and snowboarding. Located in Northern California just off of Interstate 5. Ski and stay lift ticket packages at local establishments.
Brewer Creek Trailhead
Brewer Creek is reached by taking US 97 north from Weed. 12 miles after Weed, turn right on Forest Service Road 19. Go more than 10 miles down this road, where you join with Forest Service Road 31 for a short period. Then, go right onto Road 42N02. After around 2.5 miles turn left onto 42N10, and take this to the trailhead at the end.
Bunny Flat Trailhead
(41.35379° N, 122.23327° W)
The Sierra Club Lodge approach via Bunny Flat is the most popular approach. Avalanche Gulch, Old Ski Bowl, Sargents Ridge, Green Butte Ridge, Casaval Ridge and Cascade Gulch are accessible from Bunny Flat. From Interstate 5 in Mount Shasta City take the central Mount Shasta exit onto West Lake Street and continue about a mile until it bears left and becomes N Washington Drive. The road soon turns into Everitt Memorial Highway and leads directly to Bunny Flat at elevation 6950 feet, 12 miles from the interstate. From the trailhead take a two mile trail to Horse Camp (7900 ft) for all Bunny Flat routes except Green Butte and Sargent's Ridge.
Clear Creek Trailhead
(41.36561° N, 122.12745° W)
To reach the Clear Creek Trailhead take the McCloud exit off Interstate 5 onto Highway 89 just south of Mount Shasta City. Head east on Highway 89 for 13 miles and turn left onto Pilgrim Creek Road (3 miles past McCloud). Follow Pilgrim Creek Road north for 5 miles and turn left onto Widow Springs Road (Forest Road 41N15). After another 5 miles on Widow Springs Road cross over Forest Road 31 where the road changes to 41N61. After another half mile the road turns right, then left again one mile from Forest Road 31. Continue to the trailhead at the end of the road (about 8 miles from Pilgrim Creek Road and 13 miles from Highway 89).
Coquette Falls
(41.45841° N, 122.21615° W)
From Interstate 5 in Weed head northeast on Highway 97 for 12 miles until reaching Bolam Road (aka Forest Service Road 4321). On Bolam Road keep right at 0.3 miles and cross over railroad tracks 1.7 miles from Highway 97. Turn left 2.3 miles from Highway 97 onto Bolam Logging Road. Follow the main road here as various spurs are passed. The road splits into 2-3 forks after about 4 miles, soon coming back together (none of choices are very good… quite brushy here). Keep right at junctions 4.8 and 5.1 miles from Highway 97. Continue on the sometimes rough, sometimes not, logging road keeping left at 6.7 miles, right at 7.1 miles, left at 7.5 miles, and right at 7.7 miles from the highway. The end of the road is reached at the trailhead about 8.5 miles in.
North Gate Trailhead
(41.46840° N, 122.17401° W)
From Interstate 5 in Weed head northeast on Highway 97 for 15 miles until reaching Military Pass Road. Follow Military Pass Road for 3.6 miles to a junction with Andesite Logging Road and bear right as indicated by road signs. Continue on Andesite Logging Road for approximately five miles passing several forks and junctions en route to the trailhead. The drive is well signed from Military Pass Road and drivers should have no issue navigating the route (other than the rough terrain and possible bump of the oil pan).
Whitney Falls Trailhead
Bolam/Whitney Creek is approached by taking US 97 north from Weed, then right on Road 43N21 (before US97 intersects with A12). Stay on Road 43N21 until its end.
Mt. Shasta Nordic
25 km of groomed trails, for cross-country skiing and snowshoeing. Snowshoes are allowed on the groomed trails, so long as snowshoers stay the very edge to maintain good skate skiing conditions.
---
Mountain High Ski Area
Mountain High is Southern California's closest winter resort with no mountain driving. Located just an hour and a half from L.A. and Orange County, you won't find an easier drive to the mountains anywhere. From Los Angeles Mountain High Resort is located just 20 minutes off Interstate 15 making it quick and easy to find. Simply take Interstate 10, the 60 Freeway, or the 210 Freeway East to Interstate 15 North. Exit Highway 138 West. Make a left on Highway 2. You will find Mountain High just three miles past the town of Wrightwood. Travel time from downtown Los Angeles is just 90 minutes. Mountain High, which is actually three resorts in one, has a wide variety of of lifts and trails to appeal to all sorts of ability levels. Each resort is complete with ticket windows, rental departments, sport shops, restaurants and more. No matter where you start, your single Mountain High ticket is good at all three areas and traveling from resort to resort is easy with our free shuttle service. Shuttles load in front of the ticket windows every five to ten minutes, seven days a week.
---
Mt Baldy Ski Lifts
Mt Baldy is east of HWY-57 and west of I-15. From eith freeway, use either I-210 or I-10. Be aware that there is more than one Mountain Ave. exit off the 210. Make sure it is the Mountain Ave exit in the city of Upland and that it says Mount Baldy on the exit sign Take the Mountain Ave./Mount Baldy exit from either freeway, and head north towards the mountains. Mountain Ave. will turn into Mt. Blady Road and dead end at the ski area parking lot. Skiing in Southern California. 26 runs spanning 3 mountains covering 800 acres with 2,100 vertical ft. Wide open glades, tree runs, bowls, moguls, groomed runs, cornices & quarter pipes.
---
Northstar California Resort
Located about 30 minutes from Reno and 3 hours from the Bay Area off of HWY-267 exit on I-80. 2,420 acres of skiing and snowboarding at Lake Tahoe, California.
---
Rim Nordic Ski Area & Bike Park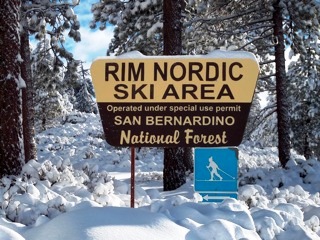 Rim Nordic Ski Area is located in the San Bernardino Mountains in Southern California. There are 30 miles of groomed trails that are intermediate to advanced for biking in the Summer and cross-country/snowshoeing in the winter.
---
Royal Gorge Cross Country
North America's largest cross country ski resort with more than 9,000 acres of skiing terrain. Soda Springs, California. We are the ideal place to enjoy fresh mountain air.
---
Sierra at Tahoe
Sierra-at-Tahoe is located in Twin Bridges, California 12 miles west of South Lake Tahoe. It is known for being a family oriented resort with some of Lake Tahoe's best beginner terrain. Skiers and boarders can get amazing runs through old-growth trees.
---
Snow Summit Mountain Resort
Snow Summit's offers a wide variety of interconnecting runs for all ski levels. Located at Big Bear Lake, California. Check out videos, live web cams and pics of the day
---
Snow Valley
Located in Southern California's San Bernardino Mountains, the resort is just minutes from Lake Arrowhead and Running Springs
---
Soda Springs
Ski, board and tube park in the Northern Sierra, California. Soda Springs, especially to families promotes this unique experience that happens when a family takes the day off to play together
---
Squaw Valley
Squaw Valley Ski Resort is one of the largest ski areas in the United States and attracts visitors from all over the world. It's located in the Sierra Nevada in Olympic Valley. 4,000 skiable acres span across six mountain peaks with open bowls and shoots. The aerial cable car travels 2,000 vertical feet to High Camp at the summit where the views of Lake Tahoe are stunning.
---
Sugar Bowl
Sugar Bowl is located in Norden, California. The ski resort is 10 miles west of Truckee, CA, and 45 miles west of Reno on Interstate 80, making it the closest major resort to Sacramento. Sugar Bowl's backcountry tours are professionally guided and give people the chance to participate in educational seminars, telemark and steeps clinics, snowshoe hikes, and more.
---
Tahoe Donner
This is a small, friendly resort offering both alpine skiing and cross country skiing, located near Truckee, North Lake Tahoe, California
California Ski Resorts

---

Alpine Meadows