---
Big East Lake/Payson Lakes


GPS-N.39.56.137-W.111.38.436 : Elevation-7,870 ft : 23 acres : Depth Mean-29 ft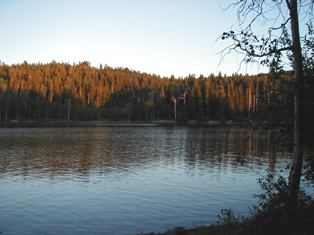 From I-15 in Payson take exit-154, and go south to US-6, then east on 6 for about .5 miles to the Nebo Loop Road. Where an old brick school is at the intersection. Travel on the Nebo Loop Road for about 10 miles up Payson Canyon to the Payson Lakes Campground and Big East Lake. Recreational facilities are well developed at the lake, and include lawns, flush toilets, and picnic areas. It is possible to get small boats on the lake, but motors are prohibited. The road is not plowed during the winter, but is groomed for snowmobiles and cross-country skiers. Fees are charged for camping, and with entrance gate is locked at 10:00 pm.
---
Big Springs Hollow




5 Miles RT
From I-15 take exit 272 up Provo Canyon 5.8 miles to Vivian Park and turn right on South Fork Road. Drive up the canyon for 3 miles and turn right and enter Big Springs Park. The trailhead is located at the upper southwest parking area.
---
Cascade Saddle


11.5 Miles RT
Drive 5.6 miles up Provo Canyon to the turnoff of the south fork of Vivian Park. Drive another 3.3 miles, and turn right at the sign that reads National Forest Access, and after .2 miles park. The trail begins from the west side and follows Big Spring most of the way. The last 2 miles are pretty steep, but well worth it for the view. Here you can turn around or continue on down Windy Pass Trail.
---
Cedar Mountains Crest


12 Miles RT
Take exit 70 off I-80 and drive south to the graveled frontage road. Turn west and drive on the frontage road for 2 miles, and turn south on a road signed for Hastings Pass and drive 7 miles. Turn west on a rough 4WD recommended road, and go 4 miles to Hastings Pass, and park. This trail leaves Hastings Pass along an old jeep road heading south and joins a trail that climbs the slope. A couple hundred or so wild horses roam wild here so keep your eyes open. After a couple of miles you will reach a wall of limestone where you can turn around, or you can continue on for many more miles.
---
Daniels Pass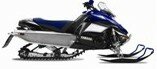 4 Mile Loop
From Heber City drive east on US 40 for 20 miles and turn into the Daniels Summit Lodge. Turn right on the dirt road just after you drive under the log entry way and park at the trailhead at the end of the road.
---
Echo Canyon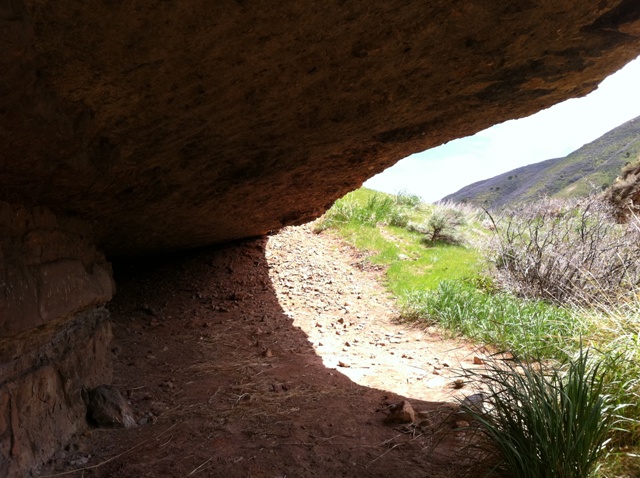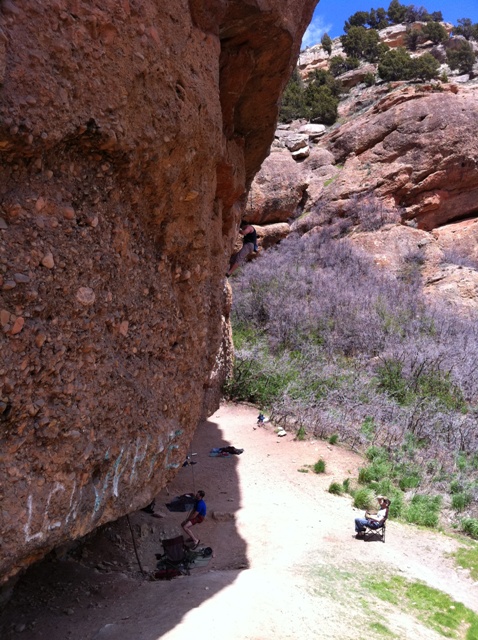 From I-80 heading east take exit 169 just north of Echo Reservoir. Drive east for a couple miles along Echo Canyon Road, and parking on your right near the railroad. There really isn't much hiking here it's mostly popular for the rock climbing.
---
Emigration Canyon Ridgeline



N.40.46.499-W.111.43.111 : 5.2 miles RT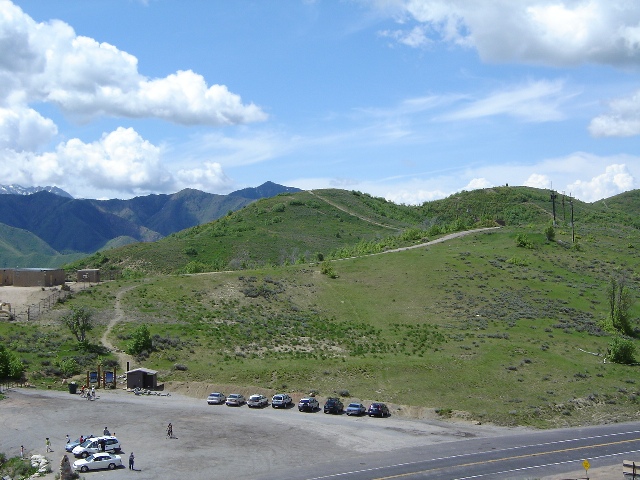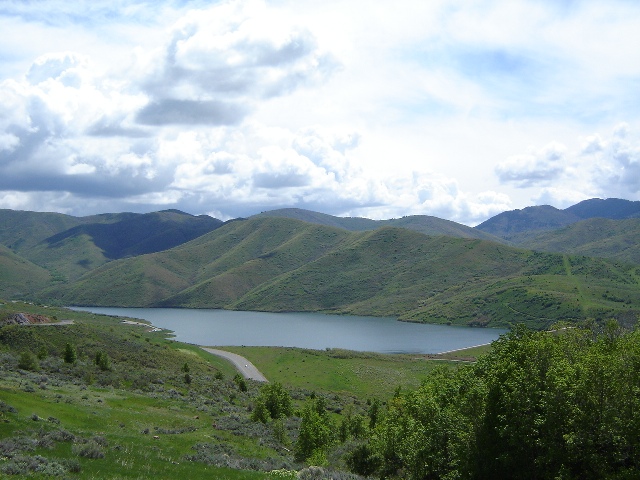 From Foothill Dr go east up Emigration Canyon Road past the Hogle Zoo for another 8 miles up Emigration Canyon to the Little Mountain Summit parking area on the right. There is a trail behind the restrooms or across the street that head uphill from the main road.
---
Gunnison Bend Reservoir



GPS-N.39.21.151-W.112.36.601 : Elevation-4,619 ft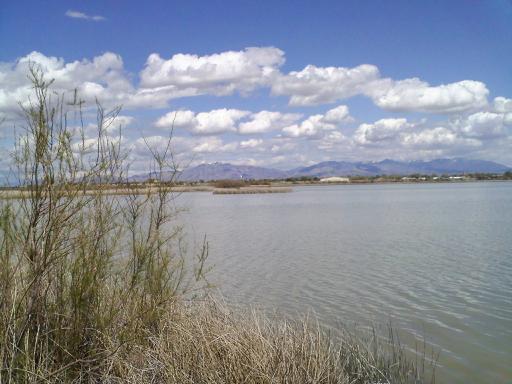 Gunnison Bend Reservoir is west of Delta on US-6. Just west of Delta you cross the railroad tracks on the viaduct, and continue straight to the reservoir. Take a right turn, continuing on a county road as US-6 bends south, then a left turn to continue on a smaller road as the county road bends north). Other access is from the south, on US-6 just west of the Sevier River Bridge. This road leads to the peninsula and up the west side of the reservoir to the county park. The county park on the west side of the lake has a sanded beach, a boat ramp, and picnic areas.
---
Hobble Creek



From I-15 take exit 260 and head east towards Springville. Merge onto UT-77 E/W 400-S for 3.2 miles then at the traffic cirlce take the first exit onto S Canyon Dr. Continue another 4 miles east up Hobble Creek Rd/Hobble Canyon Rd. The trail is a paved pathway linking the city with Hobble Creek Canyon. Once into the canyon, the trail runs along the namesake creek and the golf course. From Hobble Creek Reservoir the paved path ends after about 2 miles, and turns into gravel.
---
Hobble Creek-Left Fork Hobble Road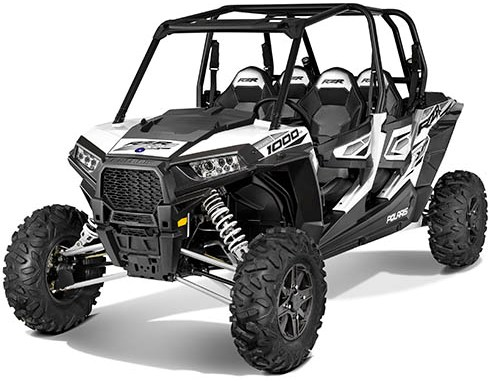 From I-15 take exit 260 and head east towards Springville. Merge onto UT-77 E/W 400-S for 3.2 miles then at the traffic cirlce take the first exit onto S Canyon Dr. Continue another 5 miles east up Hobble Creek Rd/Hobble Canyon Rd. Turn left onto Left Fork Hobble Creek Rd for 5 miles and park just before the turn around point where the dirt road begins. This canyon will give you access to the Strawberry Trail System.

---
Huntington State Park




GPS-N.39.20.933-W.110.56.640 : Elevation-5,839 ft : Water Temperature-5/28/09-65 : 10/1/09-60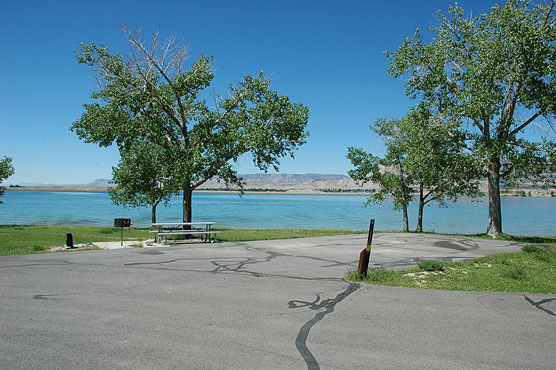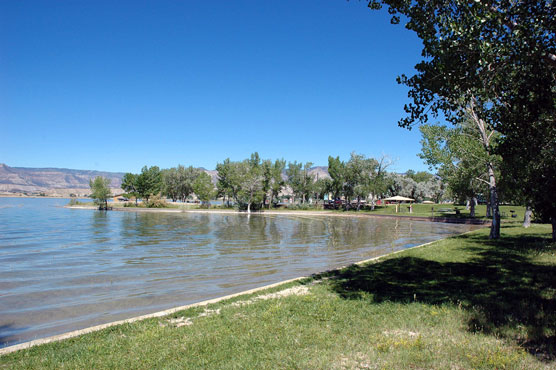 From Price, take UT-10 south, and the reservoir will be on your the left 1 mile before you reach Huntington. Jet-skiing is available at the State Park. The park charges a fee for day use and camping. Facilities include a boat launch, picnic pavilions, handicapped-accessible flush toilets, showers, and campsites.
---
Lake Hardy Trail



Gate-N.40.28.787-W.111.45.728
Lake Hardy-N.40.31.462-W.111.43.981
11 Miles RT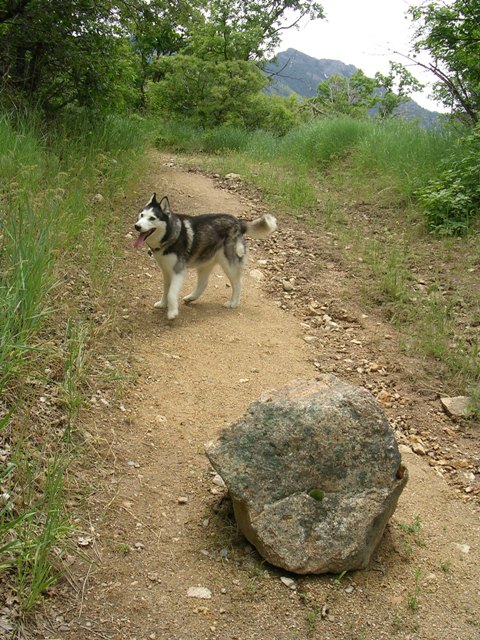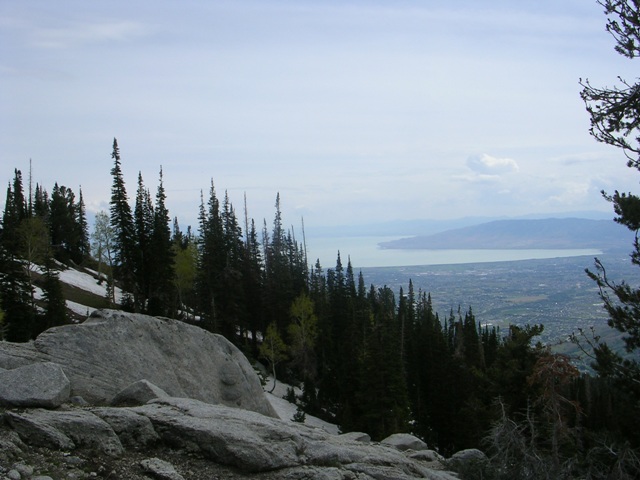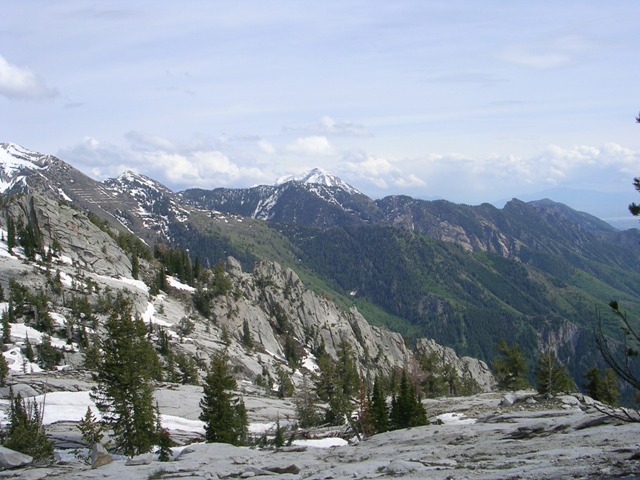 From I-15 take exit 284 and head east for 5.7 miles and turn left/north at 5300-West for 2 miles through Alpine onto Main St. Turn right at Center Street & left onto Grove Dr. After 2 miles take the left fork onto Oak Ridge Drive, .15 mile left at Alpine Cove Drive, .2 mile to Aspen Drive and turn right. Park at the gate where the trail begins and follows an old jeep road for a few miles. The trail is fairly easy at first with a few switchbacks but the trail will climb 5,000 feet before reaching the lake. Eventually you will come to a fork where the left trail leads to the north to Lone Peak, and the right heads around to the northeast which is probably the best route to reach the lake. I took the left fork and the trail takes you over the summit just south of Lone Peak. Sorry no pics of the lake I didn't quite make it all the way do to weather, and being one very long, difficult hike. If anyone actually reaches this lake please send me some pics. Thanks
---
Lambs Canyon Trail/Mt. Aire



4 Miles RT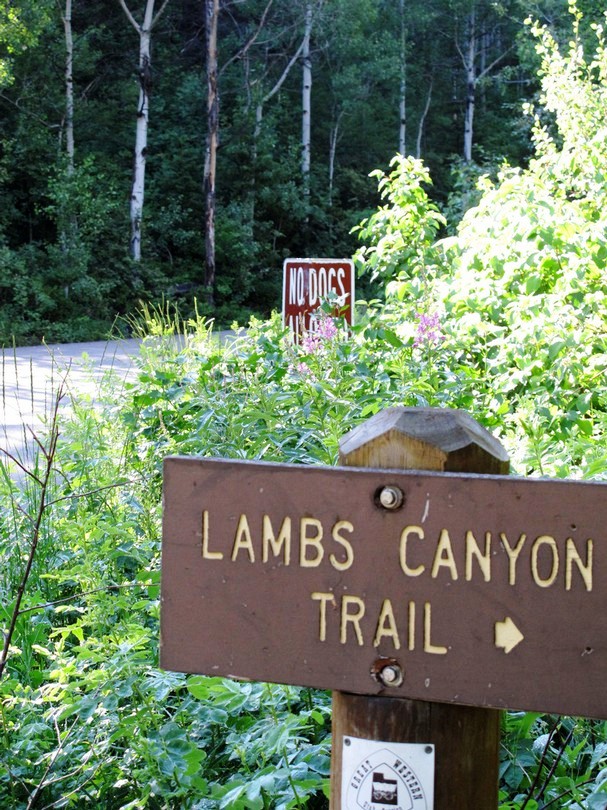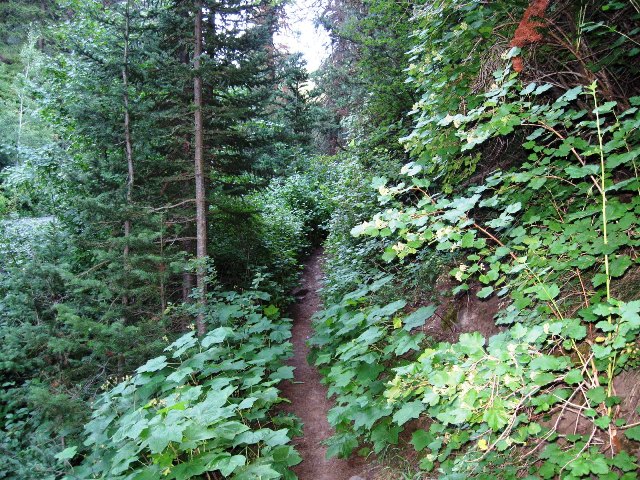 Take the Lambs Canyon exit-137 off I-80 going south for 1.8 miles to the parking lot on the left. Across from here is the trailhead. After .25 mile heading north the trail forks left to Mount Aire, and right to Lambs Canyon. Mount Aire trail is up .75 mile to the right and another .75 mile to the peak. The Lambs Canyon trail crosses the stream numerous times heading SW climbing several switchbacks to the ridgeline of Mill Creek Canyon. The trail joins Elbow Fork which is part of the Great Western Trail. There are no dogs allowed on the Lambs Canyon side of the mountain.
---
Long Park Reservoir



GPS-N.40.54.270-W.109.52.676 : Elevation-8,646 ft : 300 Acres : Depth-Maximum 96 ft : Mean-45.9 ft
14 miles west of U-44 from near milepost 15 on U-44, turn west on the Sheep Creek Geologic Loop. A sign reads "Long Park Reservoir 14". Follow the Sheep Creek Road for three miles, and then turn west on a gravel road also signed to Long Park Reservoir. This is the North Slope Road. Follow it for nine miles to the turnoff to Long Park Reservoir on the right. The lake is two miles north on this road. The water is crystal clear and is a great place for swimming. Boating is best in the spring before the water is drained down to the conservation pool.
---
Mill Hollow Reservoir


GPS-N.40.29.477-W.111.06.236 : Elevation-8,843 ft : 18.50 Acres : Depth-Maximum-36 ft : Mean-18 ft
Head south east on U-35 for 14 miles, and turn south off U-35 onto an improved gravel road to Mill Hollow Reservoir. The reservoir is 3.5 miles south on this road. Swimming is available. There is a campground at the lake that offers fishing, a swimming area, drinking water, and privies.
---
Millsite Reservoir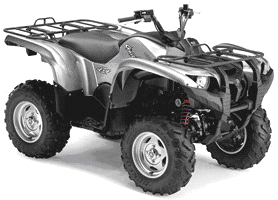 GPS-N.39.06.020-W.111.11.319 : Elevation-6,211 ft : Water Temperature-5/28/09-59 : 9/2/10-67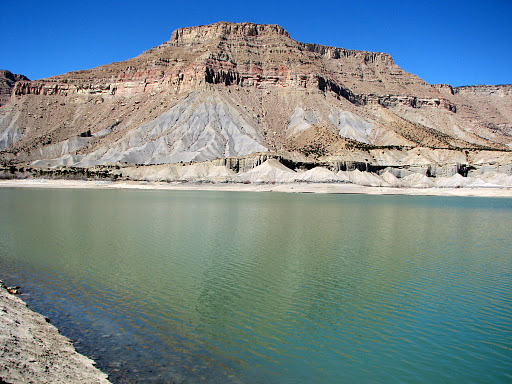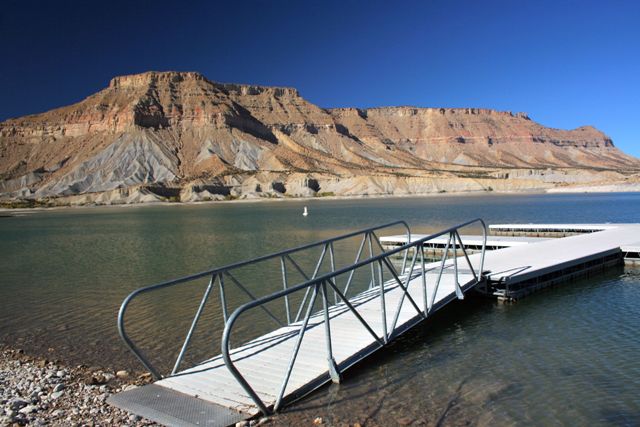 From Price, head south on UT-10 to Ferron, and turn right on Ferron Canyon Road for 2 miles. The park charges a fee for day use and camping. Facilities include a boat launch, picnic pavilions, showers, drinking water, a sandy beach, and campsites.

---
Mona Reservoir



GPS-N.39.52.59-W.111.52.24 : Elevation-4,500 ft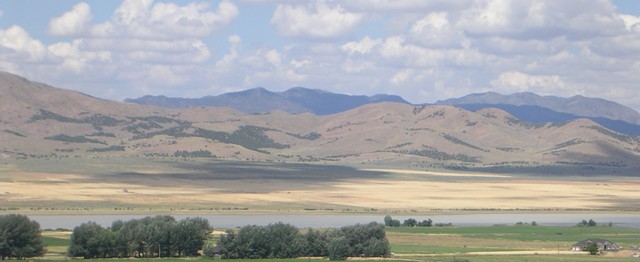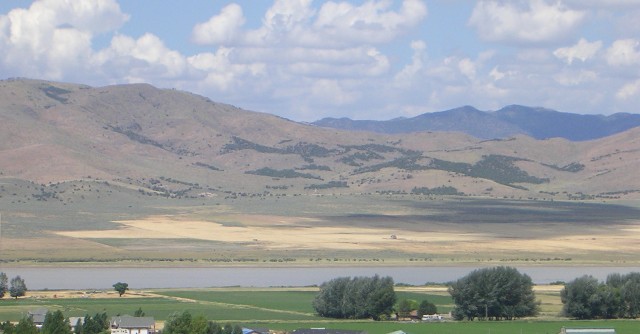 From I-15 take exit 233 east through town and turn north. Follow Goshen Canyon Road to the west side of the reservoir. After 5 miles, turn right on a dirt road to the reservoir. There is no boat ramp but you can put a boat in from the flat gravel area along the west side of the lake or at the dam. There are no facilities or camping located at the reservoir. The lake conatins Bullheads, Largemouth Bass, Walleye, & Wipers.
---
Mormon Pioneer National Historic Trail



GPS-N.40.49.678-W.111.39.222 : 8.6 miles RT
Take exit 134 off of I-80 and drive 8.2 miles north and park at the summit of Big Mountain Pass. The trailhead begins on your right near the northeast corner of the parking lot. The trail follows a creek downhill, but you have to come back uphill if you do not have a shuttle.
---
Palisade State Park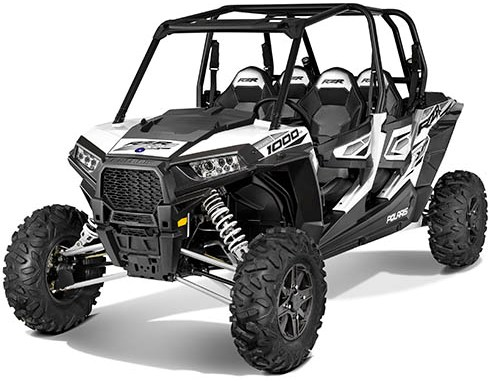 From Gunnison drive east on US-89 for 8.41 miles into the town of Sterling, turn east onto Palisade Rd and drive 1.65 miles to the lake entrance and fee station. From Manti head south on US-89 for about 5.90 miles to Palisade Rd. Non-motorized boats are allowed on the lake. The state park has a sandy beach with nice clear blue water, restrooms with hot showers, a golf course, and pavilions. Usage fees are charged.
---
Park City-Rail Trail




30 Miles RT
The trailhead is at Bonanza Drive and Prospector, which is just south of Kearns Blvd. The path is only paved near the city and compacted for the rest of the way. The trail runs slightly downhill from Park City.
---
Provo River Parkway



30 Miles RT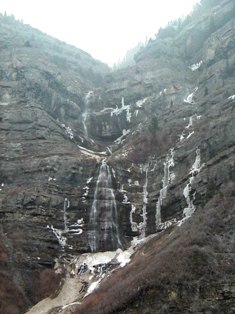 Take exit-272 off of I-15 and drive west to the Utah Lake State Park. Right before you enter the fee area of the state park you make a right, the trailhead starts about 200 feet along a small road to your right. You can also gain access at Provo Canyon trailhead at the junction of Route 189 and 800 North 6 miles east of I-15. The Provo River Parkway is a paved path that follows the Provo River for 15 miles from Utah Lake State Park to Vivian Park in Provo Canyon. Between Utah Lake and the mouth of Provo Canyon, the path is 8 feet wide and nearly flat most of the way. Once in the canyon the path widens to 16 feet, and rises a little more steeply. The Parkway intersects with the College Connector Trail in town, and up the canyon meets the Great Western Trail at Canyon Glen Park, and the Bonneville Shoreline Trail at Bridal Veil Falls Park. There are many access points along the pathway within Provo and at the many parks up Provo Canyon.
---
Redmond Lake



Elevation-5,110 ft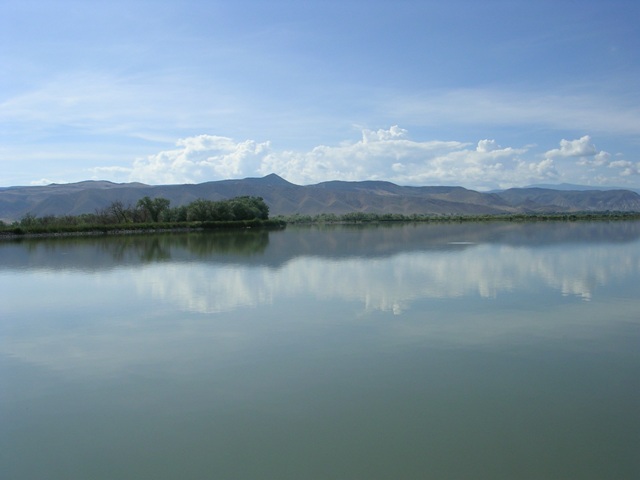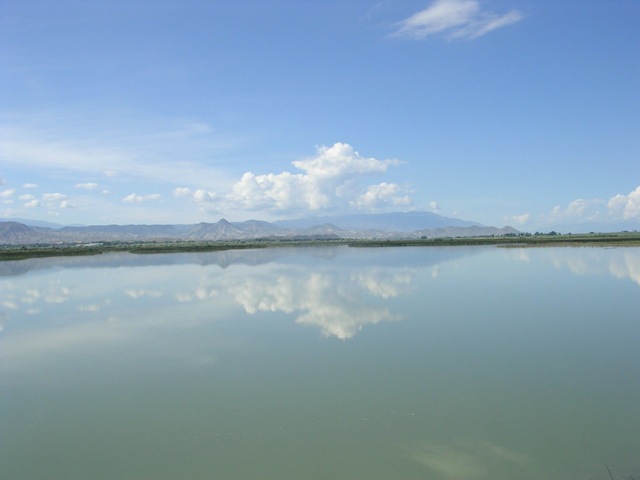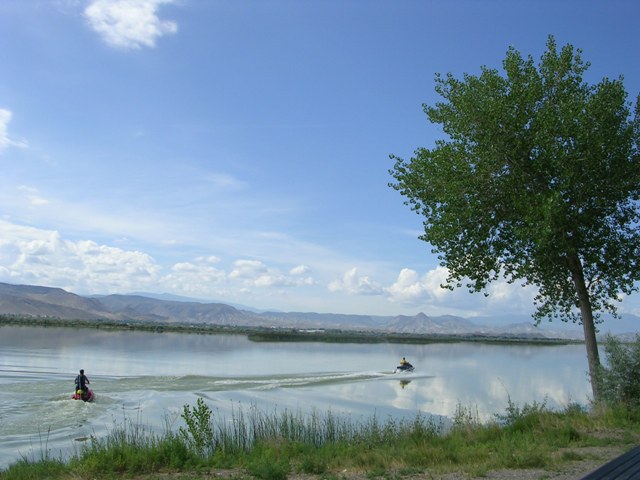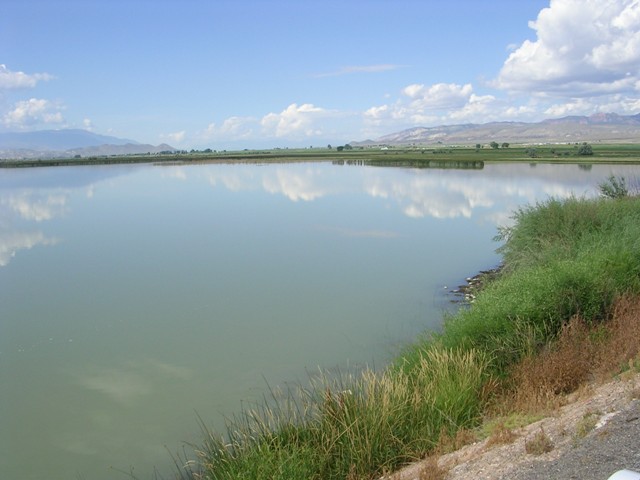 The lake is just north/west of Salina on US-89. Turn onto U-256 leading to Redmond, and turn left on 300 South. The lake is about a quarter mile southwest of town.
---
Rochester Panel Rock Art Trail



.8 Mile RT-Easy
From Emery head north on HWY-10 and turn east between mile marker 16 & 17. Follow the paved road toward Moore for about a half a mile, then turn south onto a well-graded gravel road for another 4 miles, passing a radio tower on the way. There is a parking lot at the end of this road where the trail begins. This trail is just under 1 mile RT but can get very hot in the summer months so make sure you have plenty of water.
---
Row Bench


5.2 Miles One-Way
From Heber take HWY 40, 19.8 miles and turn left onto Road 049. Drive north 5.9 miles to Mill B Flat. Park at the corral and walk across a cattle guard, and a small bridge to the trailhead. The trail heads west 3.4 miles to fork right .9 mile to Center Canyon, and another .9 mile to Center Canyon Trailhead/HWY 40. If you do not have a shuttle you will have to retrace your steps back to your car.
---
Salem Pond



Elevation-4,590 ft : 11 acres : Depth Maximum-23 ft/Mean-14.4 ft From US-6 in Salem, which is between Spanish Fork and Payson. There is a historical marker at the pond, so drive through town and stop at the sign for the historical marker. Most of the pond is south of the highway, so one can turn south into town anywhere. It is not difficult to find, as most streets in town end at the pond. The majority of the pond is surrounded with playgrounds, and picnic areas. Small boats can be also used in the pond.
---
Santaquin Peak/Loafer Mountain Trail


11 Miles RT
From I-15 take exit 254 into Payson and turn south on 600 East to the Mount Nebo Scenic Loop Drive. Drive 12.2 miles to a parking lot on your left to the trailhead. The trail heads north 1.2 miles and merges with Bennie Creek trail. Follow the trail north another 2.4 miles and keep right at this fork and .7 mile left at this fork, with another 1.4 miles to Santaquin Peak.
---
Scofield Reservoir
GPS-N.39.48.99-W.111.08.033 : Elevation-7,618 ft : Depth Maximum-66 ft/Mean-26 ft : Water Temperature-7/3/08-65 : 9/2/10-63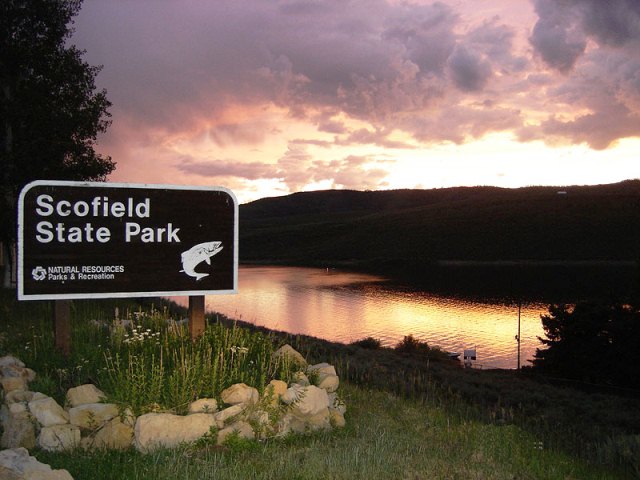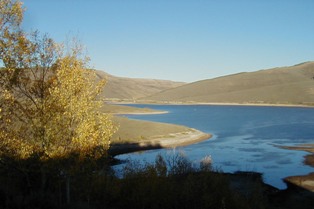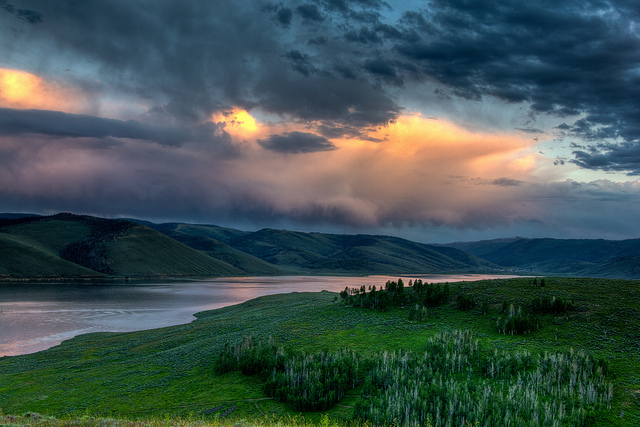 From Price, take US 6 northwest up Price Canyon, and turn left onto UT 96 to the state park. The route is well marked on a State highway map and it is accessible year round. Scofield has traditionally been one of Utah's top fisheries, and produces decent size and quantities of trout. Campsites with showers, dump stations, fish cleaning stations, and launch ramps. Fuel and groceries are available in the town of Scofield at the south end of the lake. There is also a private RV park with full hookups. The park provides camping for both trailers and tents that include garbage disposal, water, barbeque pits, flush toilets, hot showers, a fish cleaning station and boat ramps at both camping areas. Facilities are available at the State Park from May through November. Water-skiing is common in mid summer but V8 engines are recommended because of the altitude. Snowmobiling and ice fishing winter sports are also popular.

Madsen Bay




4 mi. N of Scofield, season 5/15-9/15, water, showers, restrooms, campfires, swimming, boating, fishing.

Mountain View




3 mi. N of Scofield, season 5/15-9/15, water, vault toilets, showers, dump station.
---
Silver Island-Graham Peak



From Wendover drive on I-80 east for 4 miles. Take exit 4 and go north. After 1.2 miles go left at the junction and follow this road for 1 mile to Silver Mountains Road. Turn right at the BLM sign and head north for 14 miles and park along the road where the mountains begin to slope down to the road. This is not really a trail you just walk along the old jeep road giving views of the desert and salt flats. There are several natural caves and is about 10 miles to Graham Peak.
---
Snake Hollow


8 Miles RT
From Midway follow the signs to Wasatch Mountain State Park. From Main Street turn left onto SR 224, you will pass the golf course and head up Snake Hollow. Drive 3 miles to the parking lot at the Mill Flat Trailhead. The trail follows a dirt road. After 2.5 miles a road ead left to Cascade Springs 12 miles to the south. The road to the right continues 1.25 miles up to the summit.
---
Squaw Canyon Hike


6 Miles RT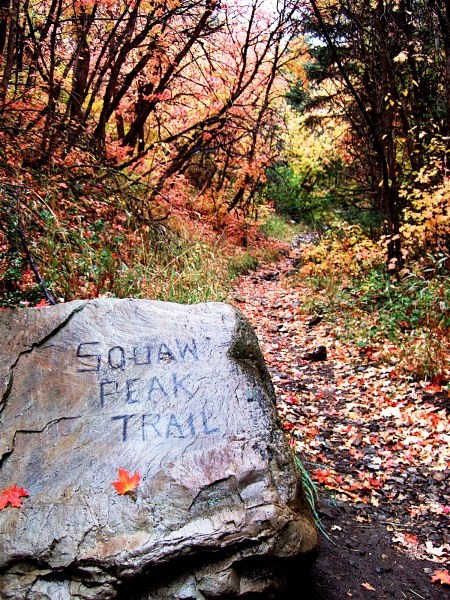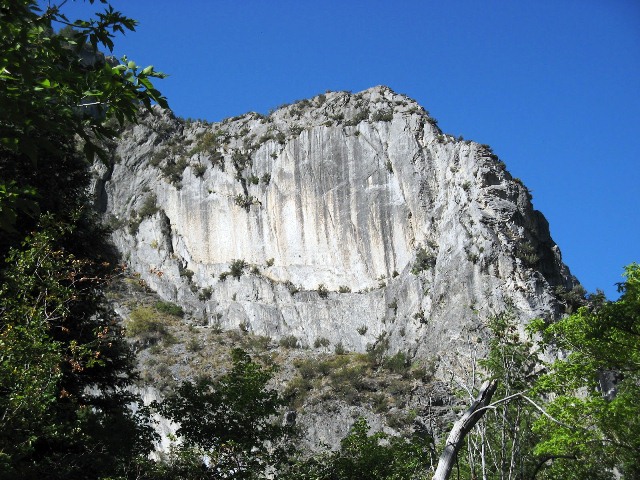 Take I-15 S to Provo (Center St. exit). Head E on Center St.; in 2 mi., turn L onto 900 E. Go 1.8 mi. and turn R onto Temple View Dr. In .5 mi., turn R onto E 2300 N; follow .4 mi. to parking lot. Perhaps the most popular smaller peak in Utah County is Squaw Peak, at the mouth of Rock Canyon (just above the Provo Temple and the Missionary Training Center). From the west you can see Squaw gently rising from north to south, but the south side drops abruptly to the canyon bottom, creating a ferocious south face. Take the trail which heads up Rock Canyon (which is paved for the first bit).You will cross five bridges and then continue about ¼ mile until you see the Squaw Peak Trail rock on the left (north). Take a good look at the photo of the rock with the words "Squaw Peak Trail" engraved on it. That's your trail marker! As you make your way to the north, you'll have a fine view of Mt. Timpanogos. The trail turns and gets steeper as you finish the climb to the summit, where you are greeted with an impressive view back down to the Rock Canyon trailhead, nearly 3,000 feet straight down! Take in nearly-360-degree views on Squaw Peak (7,876 ft.) from which you can see Utah Lake.
---
Starvation Reservoir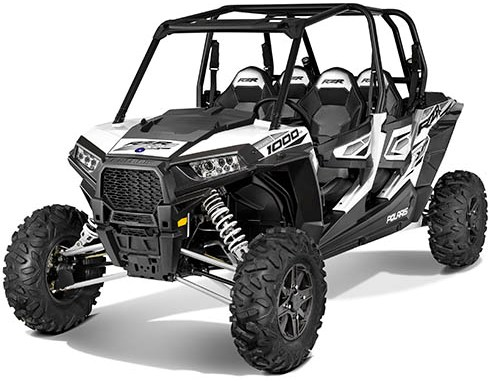 Elevation-5,712 ft : Depth Maximum-154.9 ft/Mean-65.3 ft : Water Temperature-6/4/09-62 : 9/29/09-62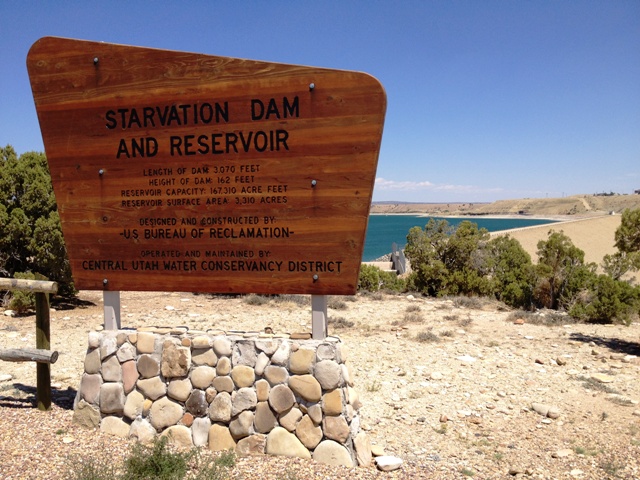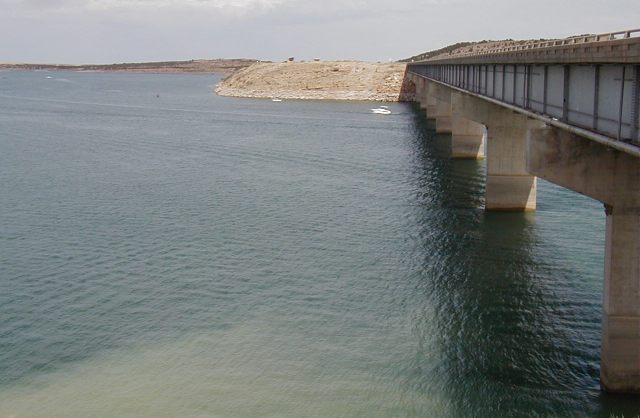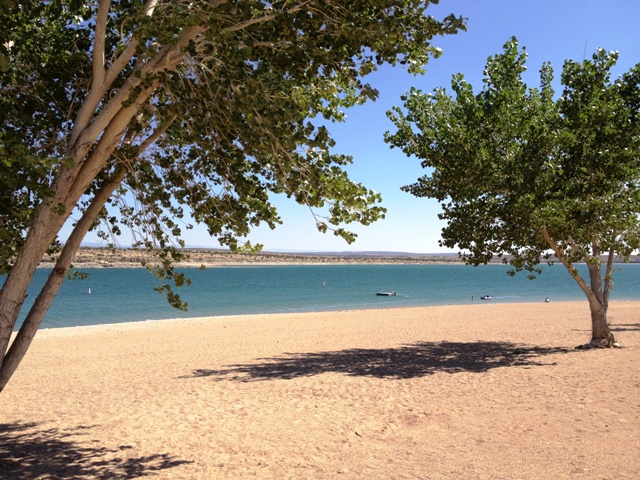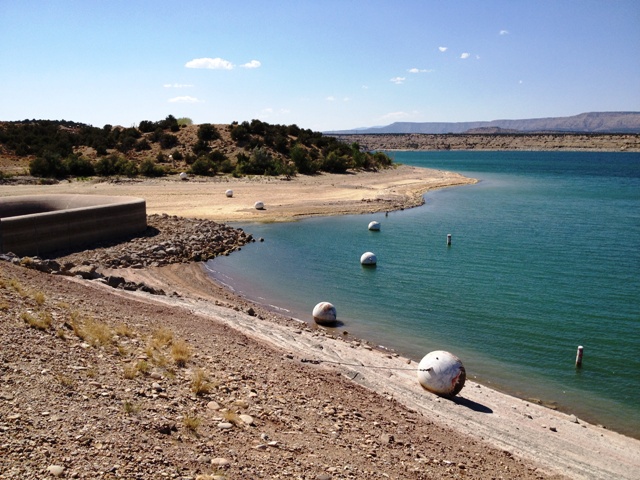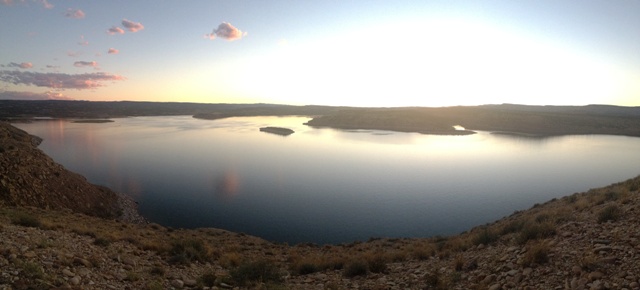 Access to the State Park is from US 40 about 3 miles north/west of Duchesne (one block west of the Conoco station). Other parts of the shore are accessible from various unpaved roads or the view area at milepost 83 just east of the US 40 bridge. The reservoir is popular for swimming, waterskiing, sailing, and off-road vehicles. It is a popular reservoir for walleye and smallmouth bass. Starvation State Park has campsites, flush toilets, a sandy beach, and showers. Primitive camping is permitted at various sites around the lake.

Lower Beach:Open all year, water, showers, dump station. There is a fee for day use and camping
Mountain View:Open all year, tent sites, group camping, water, showers, dump station.
---
Stealth Trail System



8.4 Mile Loop
From I-80 east take exit Kimball Junction and turn left driving through the intersection. Turn right onto the Frontage Road at the stop sign, and take the second left onto Glenwild Road and park on your left. This area gives access to Blackhawk Trail Loop & Glenwild Loop.
---
Sterling Hollow Trail/Spanish Fork Peak


8.5 Miles RT
From I-15 take the Price/Manti exit to HWY 89/Hwy 6. Drive east for awhile and once in the canyon drive 4 miles to a dirt road on the left that takes you through a green gate for another mile to the trailhead. There is a mailbox in a pile of rocks at the peak with a log book in it.
---
Strawberry Reservoir



Elevation: 7400 feet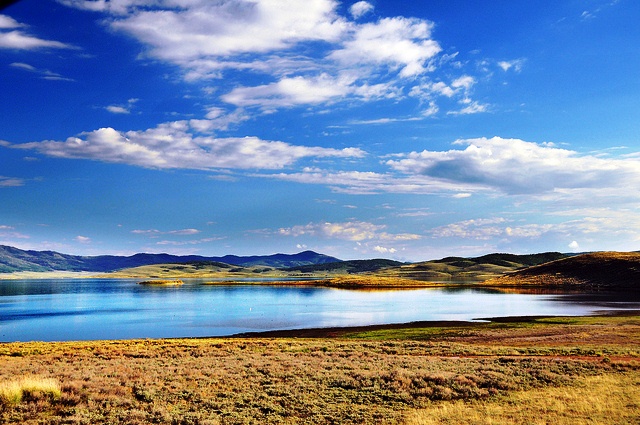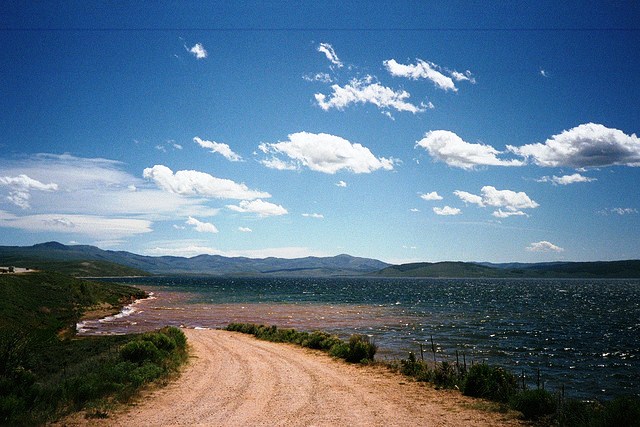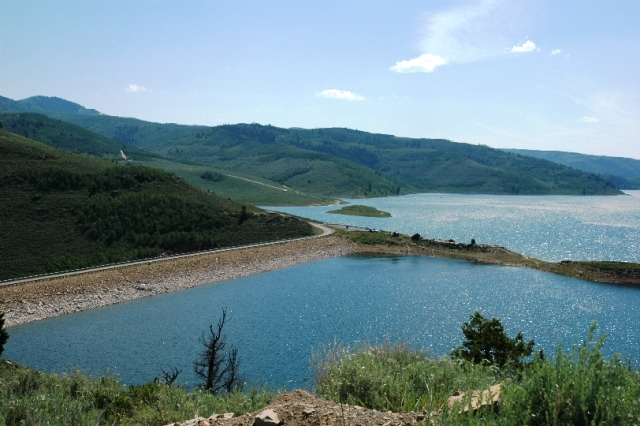 Located on US 40 about 25 miles SE of Heber. This lake is a very popular fishing spot that contains rainbows, cutthroat trout, and kokanee salmon. Ice fishing is also popular with larger fish being taken at this time. Facilities: launch ramps with stores and fuel, campgrounds, lodging at Strawberry Marina, boating, fishing. Strawberry Bay National Forest Campground: 29 mi. SE of Heber City off Hwy 40, season is 5/25-11/5, sites all have RV/trailer parking, water, restrooms.
---
Utah Lake





Elevation-4,489 ft : Depth Maximum-14 ft/Mean-9.4 ft : Water Temperature-4/23/09-60 : 9/10/10-67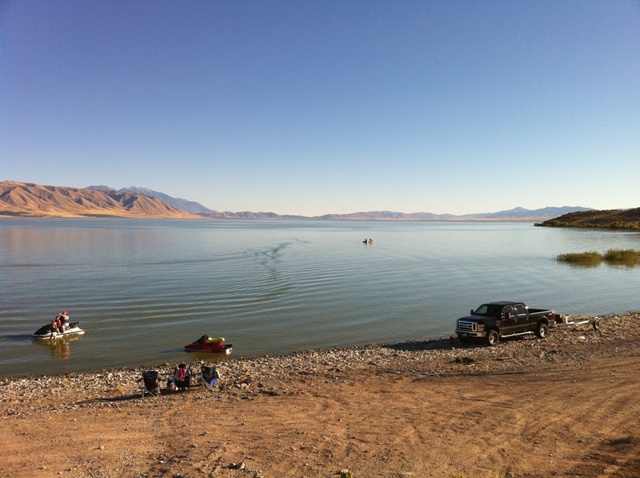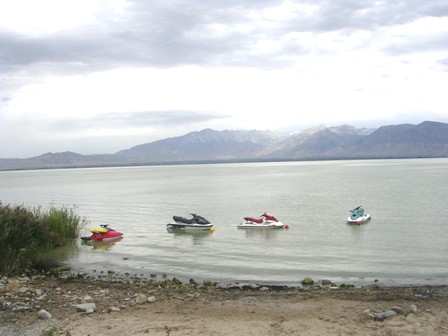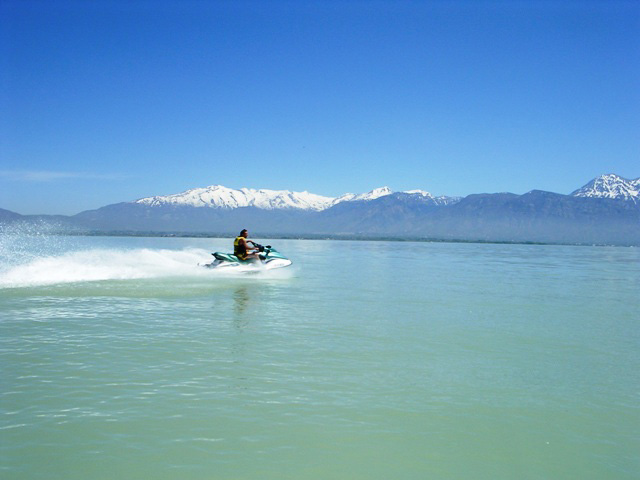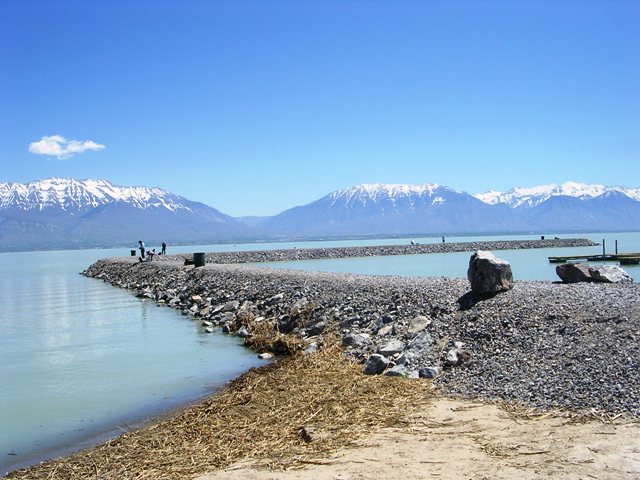 Utah Lake State Park is at the west end of Provo's Center Street. From Exit 258 off I-15, a road follows the shore behind the steel mill, from 2000 North in Orem, or northwest from Geneva Road at about 400 S in Orem. Lindon Boat Harbor is off of I-15 exit 276 turn right and go under freeway to railroad tracks at 200 South. Turn left and go to the end. Turn left at 2000 West. The road makes a sharp turn to the right and will take you straight to the harbor. West of Lehi is Saratoga Springs which has a new boat ramp that charges $8 for day-use. Redwood Road follows the west shore fairly closely for about 22 miles. The road around the west side of West Mountain, from Genola to the Benjamin area, follows the shore closely for about 11 miles, offering easy access to rocky beaches. The lake is accessible by all of these sites, as well as Hobble Creek from the overpass on the west frontage road of I-15 between Exits 265 and 263.

Utah Lake is one of the largest natural freshwater lakes in the western United States. The average depth is only about 10 feet. This allows winds to constantly stir up bottom sediments, resulting in turbid water. The lake is popular for fishing, boating, sailing, and waterskiing. There are abundant supplies of fish including carp and bullhead in the lake. Camping at the lake itself is allowed in most areas.

Utah Lake State Park: group camping, water, restrooms, showers, dump station. There is a fee for day use and camping.

Lakeside Campground is 0.5 miles east of the state park on Center Street in Provo.

Lindon Boat Harbor: Boat ramps, pinic tables, water, portable toilet. Future expansion will include sailboats for rent, fishing ponds stocked for kids, and a BMX track. There is a fee for day use.
---
Windy Pass Trail


7 Miles RT
Drive 1.8 miles up Provo Canyon, and turn right at Squaw Peak Road. Follow this road for 4 miles to a fork, and turn left. After 5.4 miles take the Rock Canyon Campground turnoff. Continue another .5 miles on a rough road to a pullout where the trail connects from the campground. The trail take you along a stream, and gives you access to Windy Pass.
---
Yuba Reservoir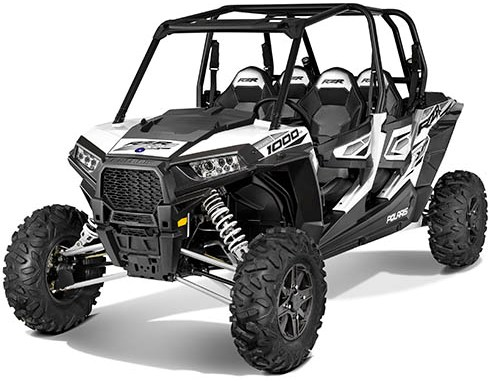 Elevation-4,978 ft : Depth Maximum-74 ft/Mean-21.3 ft : Water Temperature-5/27/09-60 : 9/29/09-62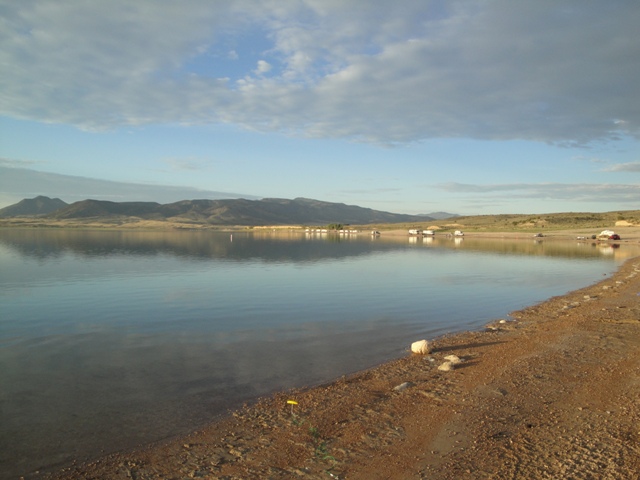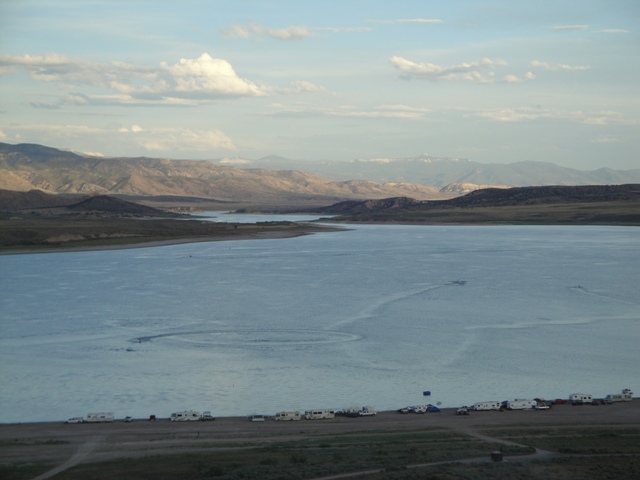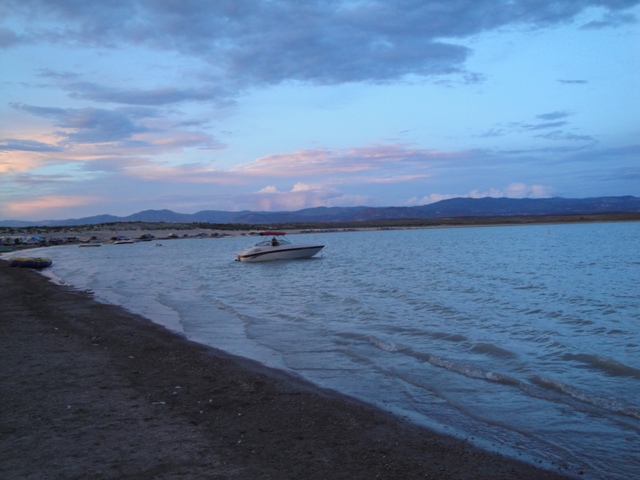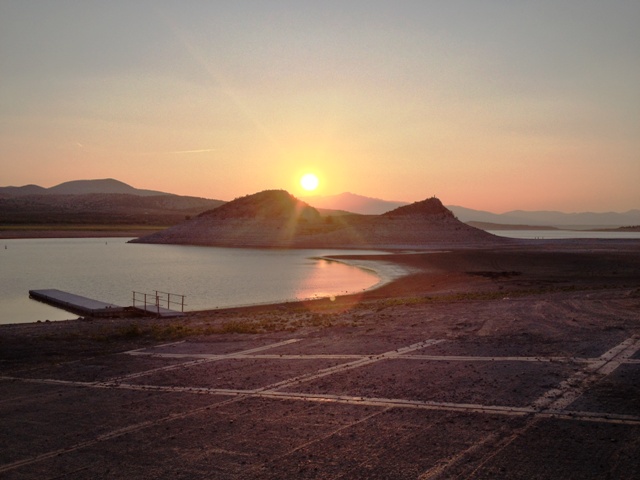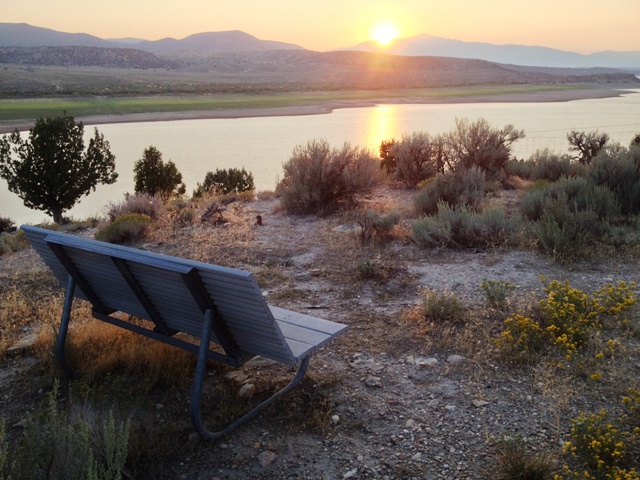 From I-15 take exit 202 and go south for 5 miles to the north/west beach. There are outhouses, picnic tables and designated fire pits. Fish include catfish, northern pike, perch, rainbow trout, and walleye. There is a fee for day use and camping.

Oasis campground on the south/west shore offers covered pavillions with picnic tables, camping area, drinking water, flush toilets, hot showers, a boat ramp with loading docks. There is a sandy beach on the north/west shore with a fee station. There is no OHV riding allowed on the beach other than to gain access to the off-road trails to the west and south of the Reservoir.

Painted Rock is on the east side of the reservoir just off HWY 28, between Levan and Gunnison. The campground offers covered picnic tables, restrooms, drinking water, and a boat ramp with loading docks.

You can gain access to Eagle View Campground by boat only, which offers a sandy beach with campsites, covered picnic tables, reservable boat docks, restrooms, garbages, firepits, and solar lighting.

Petroglyphs & rock art can be viewed by boat at Painted Rocks just north of the boat ramp

Make a Reservation call 1-800-322-3770 or go to www.stateparks.utah.gov (an additional fee is charged to make a reservation)