There are nine main access points to Lake Mead National Recreation Area, which includes two lakes and over 1.5 million acres of land. The Lake Mead Visitor Center is located off of U.S. 93, four miles southeast of Boulder City. Lake Mead Recreation Area is open year-round, 24 hours, 7 days a week. Some beaches and other areas are day-use only, from dawn til dusk. These areas are marked with signs. Because the park is a protected area, rockhounding and collecting plants or animals is prohibited.
Code of Federal Regulations for Personal Watercraft at Lake Mead National Recreation Area.
36 CFR §7.48 (f)(3) – As of December 31, 2012, no one may operate a personal watercraft (PWC) that does not meet the 2006 emission standards set by EPA for the manufacturing of two-stroke engines. A person operating a personal watercraft that meets the EPA 2006 emission standards through the use of direct-injection two-stroke or four-stroke engines, or the equivalent thereof, is not subject to this prohibition and will be allowed to operate as described in this section.
---
Anniversary Narrows
5 Mile Loop
Lake Mead: Anniversary Narrows is a 5 mile loop trail located near Overton, Nevada. The trail is rated as moderate and primarily used for hiking.
---
Bluffs Trail
1.8 Miles RT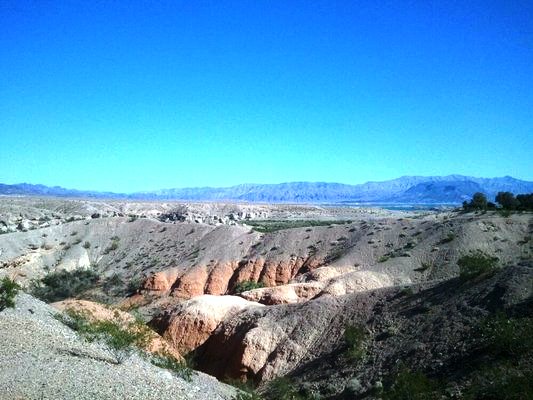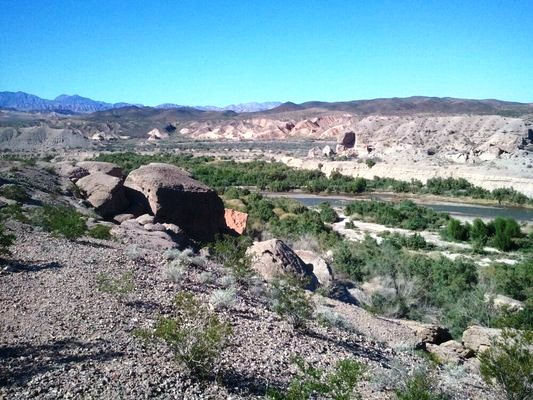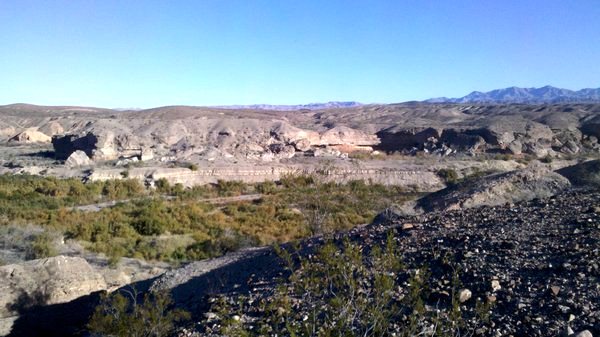 This hike is located along Lakeshore Drive in Lake Mead National Recreation Area, about 25 minutes southeast of Las Vegas. From the Las Vegas Wash entrance station, continue east on the main road (now Lakeshore Road) for 2.1 miles to the Las Vegas Wash Marina turnoff. Turn left into the marina area, pass the ranger station, and immediately turn left towards the campground. Drive down the road to the pay station at the entrance to the campground. Park by the pay station, or just ahead on the right across from the restrooms (do not park in a campsite). Park here; this is the trailhead parking area. The Bluff Trail is a 0.9-mile stroll across the desert to a low summit overlooking all of the surrounding territory. There are great views all along Las Vegas Wash and from the summit.
---
Fortification Hill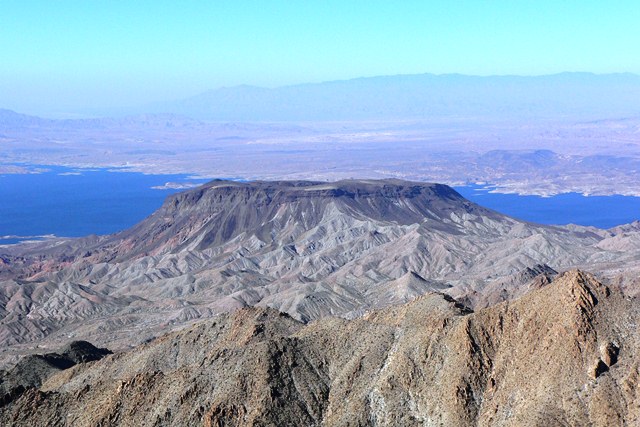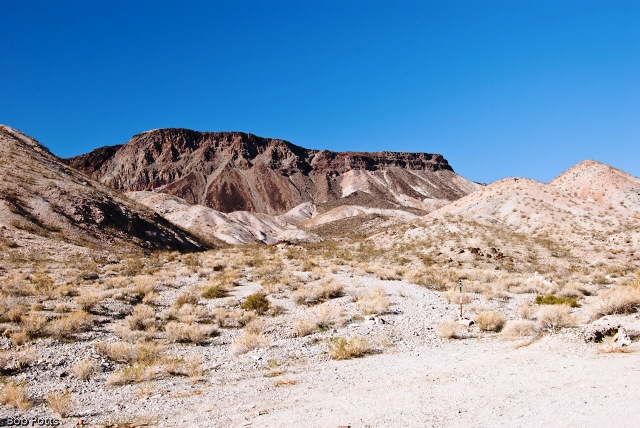 This hike is located on the Arizona side of Hoover Dam, about 1 hour southeast of Las Vegas. From town, drive out towards Hoover Dam, then continue south on Highway 93 over the bridge into Arizona. Take Exit #2 off the highway, turn left, and drive out into the desert using dirt roads (Kingman Wash Road and Fortification Hill Road) to the Fortification Hill Trailhead. The hike to the summit of Fortification hill is a great six mile round trip hike to the top of an extinct volcano on the Arizona side of Hoover dam. The views of Lake Mead, Hoover Dam, and the Las Vegas Valley from the summit are spectacular.
---
Grapevine Canyon Trail
4 Miles RT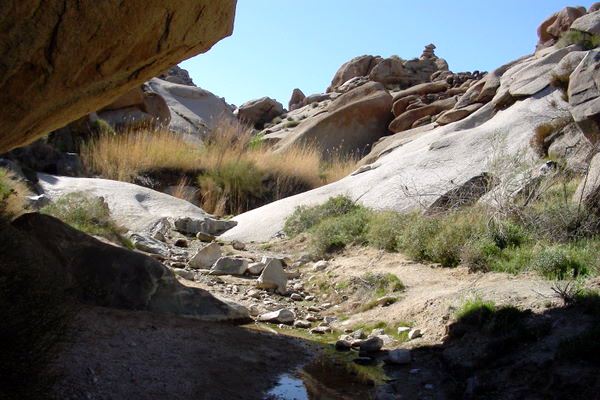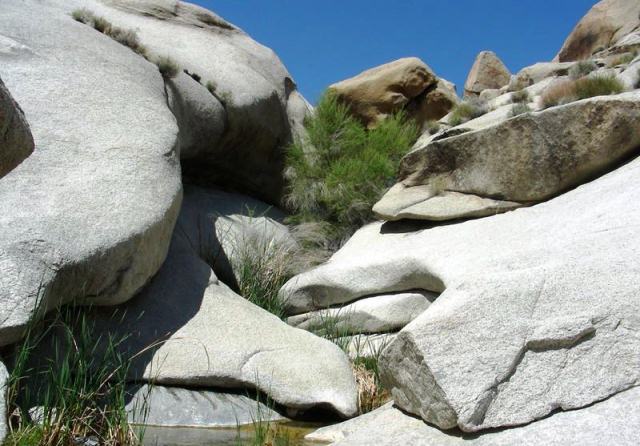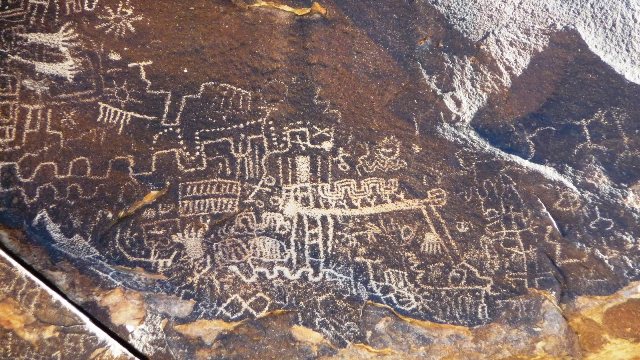 From Las Vegas, drive south towards Laughlin. From the intersection of Highway 93 and 95, drive south on Highway 95, past Searchlight and Cal-Nev-Ari, for 54 miles to Highway 163. Turn left onto Highway 163 towards Laughlin and drive east for 12.8 miles to Christmas Tree Pass Road. Watch for a small sign indicating a left turn. This point is 6.7 miles before the bridge in Laughlin.
On Christmas Tree Pass Road, drive north on the well-graded dirt road for 1.8 miles to a T-intersection with the Grapevine Canyon access road. Turn left (west) and drive west for about 0.15 miles to the parking area at the end of the road. Park here; this is the trailhead.
The first 1/4 mile starts in a sandy, dry river bed. 1000 year old Native American Indian Petroglyphs start at eye level and continue up several hundred feet up the canyon wall. Stay to the left as you continue up the canyon, the trails are visible but not marked. You will be rewarded with tremendous views of the Colorado River Valley and 3 seasonal waterfalls which are gorgeous when running. There is a gigantic patch of wild grapevines running over a 100 feet long and stretching from canyon wall to canyon wall. Past the 3rd waterfall you will find deep, natural bath tubs worn into the rocks. Great place to soak those weary bones after the climbing you'll do to get there. Just remember, stay left as you go up the canyon. You'll be rewarded with some very interesting geological surprises along the way.
---
Historic Railroad Trail
4.4 Miles RT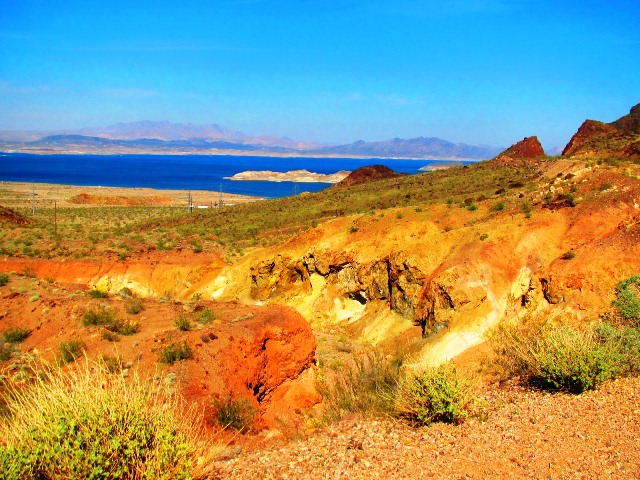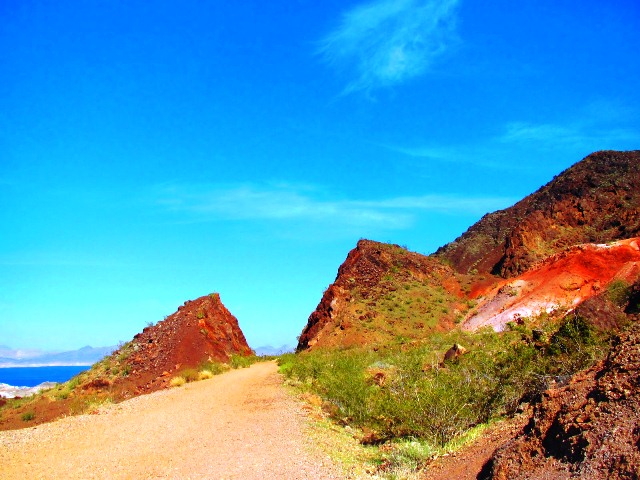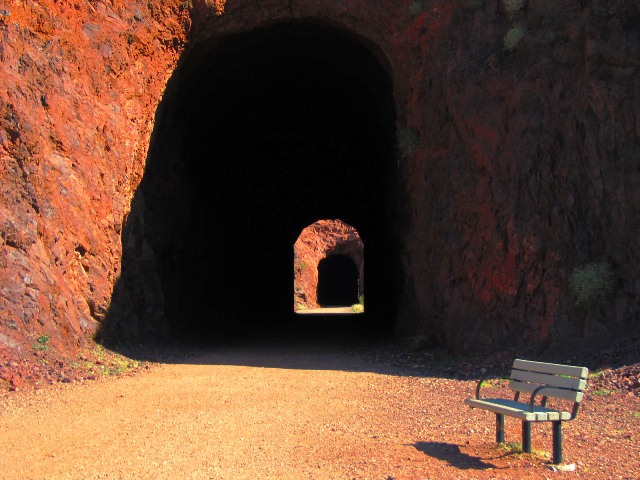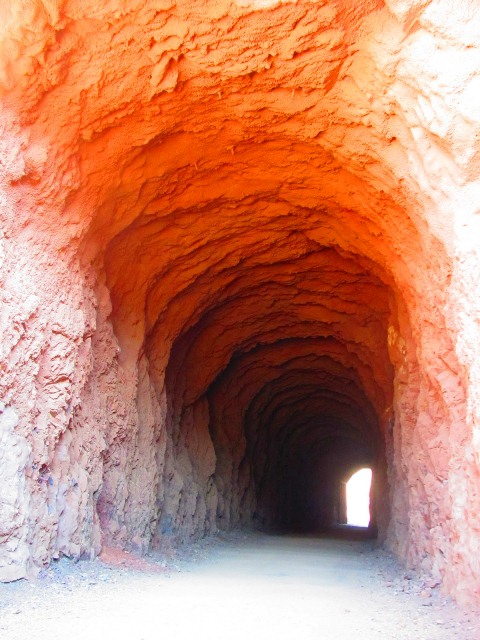 This hike is located near Highway 93 in Lake Mead National Recreation Area, about 1 hour southeast of downtown Las Vegas. From town, drive out to Lake Mead. Drive south on Highway 93, through Boulder City, to Lakeshore Road. Turn left (north) onto Lakeshore Road and drive north 0.4 miles to the large, Historic Railroad Trailhead. Park here; this is the trailhead. This trailhead is outside the fee area. The trail follows an old railroad bed through five 25-ft-diameter tunnels cut through volcanic ridges high above Lake Mead. Hiking here isn't a wilderness experience, but it is a fun walk through historic tunnels in a scenic desert setting. The "railroad tunnels" portion of the trail starts at the trailhead and runs east to just beyond the fifth tunnel, which runs, literally, underneath the Lakeview Scenic Overlook, but it does not actually connect to the Overlook. The trail continues from there all the way to Hoover Dam, adding another 3 miles to the round-trip hike.
---
Hoover Dam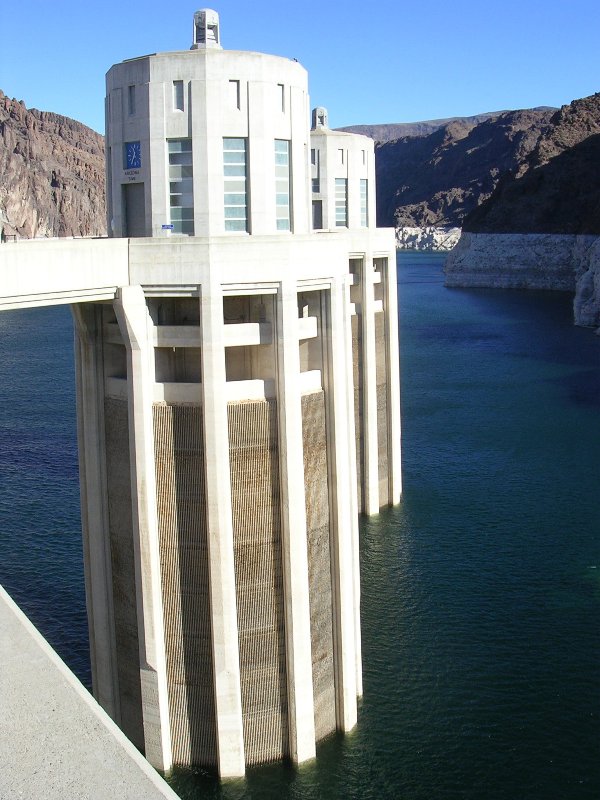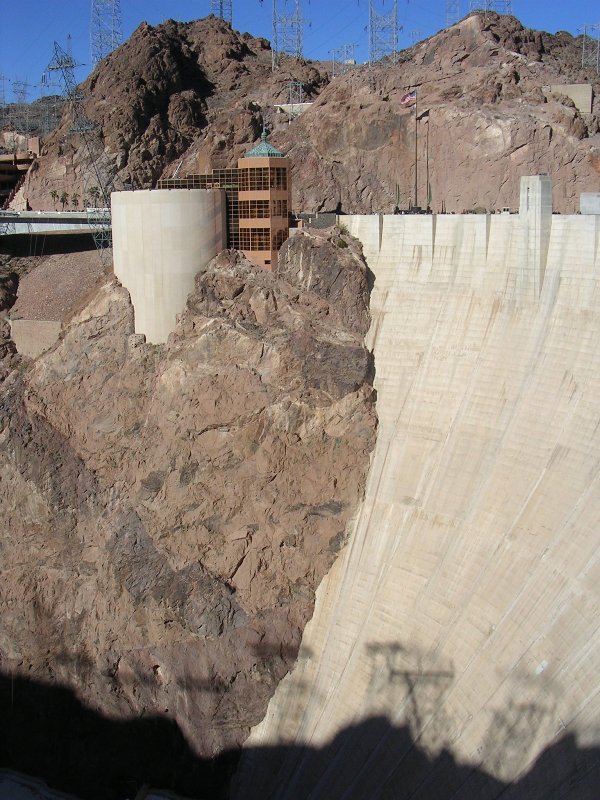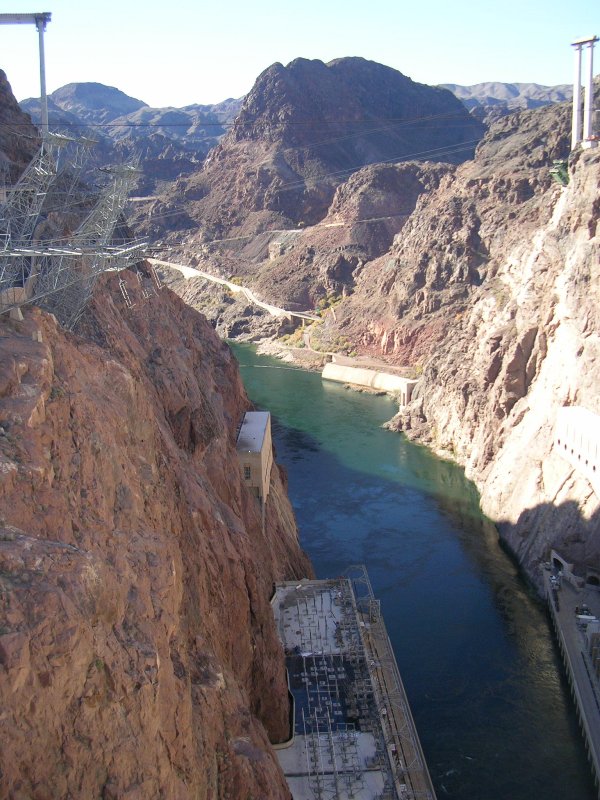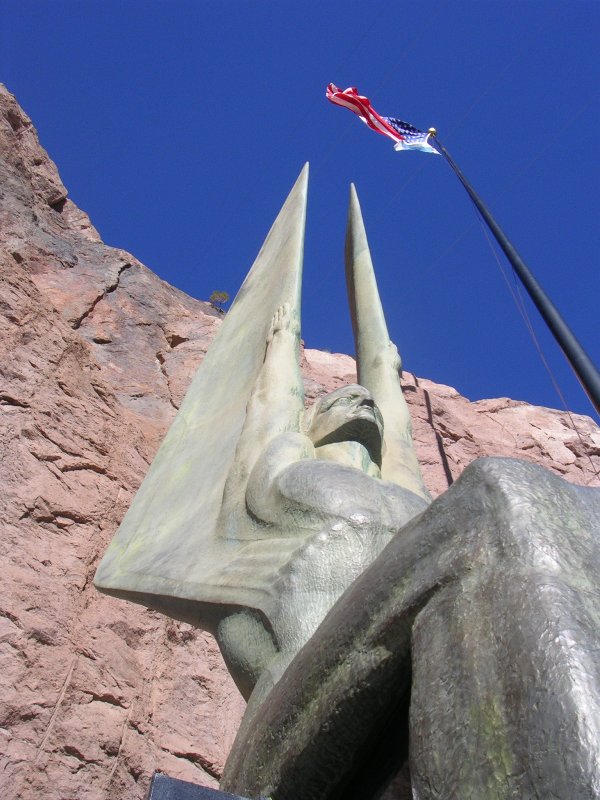 The easiest way to get there is to get on US 93 going south. You can access this freeway from downtown Las Vegas at Las Vegas Blvd 3 blocks south of Fremont Street. If you are on the Strip in Las Vegas there are two ways to get to Hoover Dam, If you are on the north end of the Strip, get on I-15 heading north. Watch your signs as you pass Sahara Avenue because you will be turning right to US 93/95 when you get to the downtown area. This freeway interchange is known as the 'Spaghetti Bowl'. It is busy and you should prepare to look for your interchange. Look for 'Phoenix' and get on that one. If you are on the south end of the Strip the best way to get to Hoover Dam get over to I-15 and head south. After you pass the Mandalay Bay look for the 215 and when you get there take it going south. The signage will say "Henderson" and "McCarran Airport"; when you see that, take the turnoff. The freeway will take you out of the valley through Railroad Pass. After that you are almost in Boulder City. If you plan to stay a while at the Dam, Boulder City is a good place to pit stop. Note that in Boulder City there will be two ways to get to the Dam. Follow the signs and take the first turn to Hoover Dam. Otherwise if you want to see historic Boulder City, take the other route through town. That route also takes you to Hoover Dam.
---
Lake Mead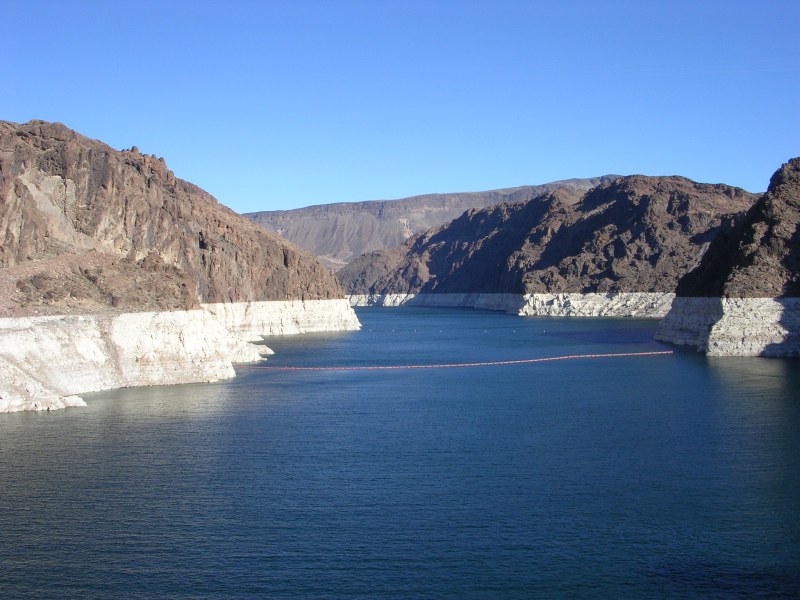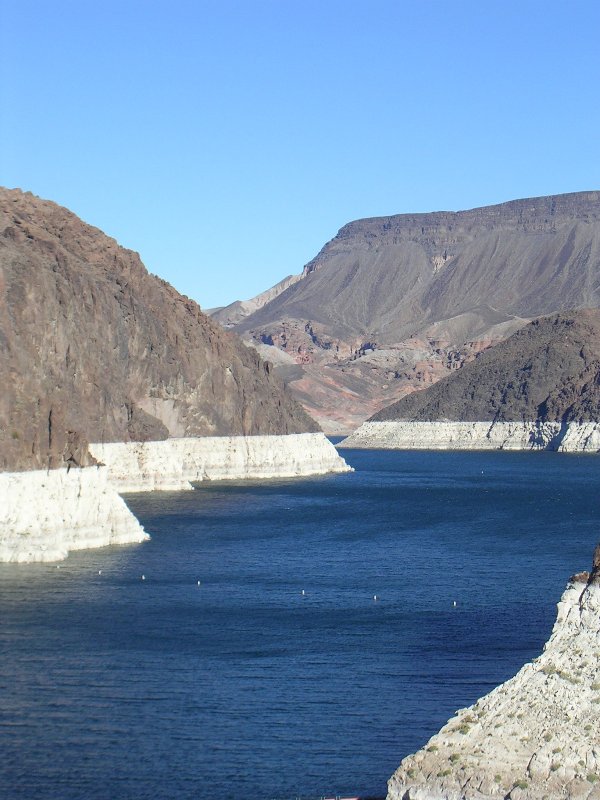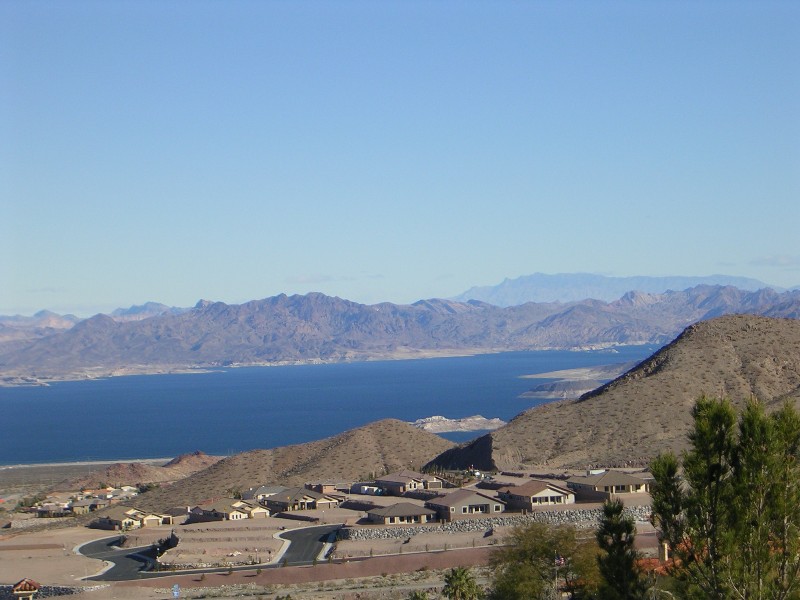 Lake Mead National Recreation Area is located in the southeast corner of Nevada. It is only about 30 miles away from Las Vegas at its closest point, Las Vegas Bay. There are three ways to get to Lake Mead from Las Vegas; Lake Mead Blvd through North Las Vegas; Lake Mead Drive through Henderson; and through Boulder City. Each route is labeled on the map below.
Lake Mead Boulevard is recommended if you want to take the North Shore Scenic Drive, visit Callville Bay, Echo Bay, Red Stone, Rogers Spring, Overton Beach or the Valley of Fire. From downtown Las Vegas, drive north on I 15. Turn right at Lake Mead Blvd. This will take you through North Las Vegas and in between Frenchmen's' and Sunrise Mountains. After you leave I 15, it will be about 5 miles to the summit. From there you will get an excellent view of the Las Vegas Valley. About 12 miles later you will come to an intersection with Highway 167, the North Shore Road. The sign explains your options.
Lake Mead Drive can easily be accessed from the south part of Las Vegas, including the strip by taking I 15 south to I 215 taking that route south all the way. This freeway turns into Lake Mead Drive at its terminus. Stay on Lake Mead Drive and it will take you out of the Las Vegas Valley towards Lake Mead. At the Highway 167 intersection you will get the choice to go towards Lake Mead Marina and Hoover Dam or to the North Shore Road.
The US 93 route is fastest if you want to get to Hoover Dam, Lake Mead Marina, Hemenway Harbor and Boulder Beach. From downtown Las Vegas Vegas just take US 93 south towards Phoenix. This freeway will take you through Henderson and across Railroad Pass into Boulder City. Until the Bypass Project is complete, US 93/95 will route through Hoover Dam. In Boulder City the turn off to Hoover Dam also takes you to Lake Mead close to the areas of Boulder Beach, Hemmenway Harbor an Lake Mead Marina. After you get there ...
Lake Mead NRA covers a large area and touches 3 states. Some of the major spots are located below. Lake Mead is divided into 5 'basins'. Starting from the north is the Overton Arm, then Virgin, Boulder, Temple and Gregg Basins. Lake Mead NRA is also next to Valley of Fire State Park in the north and the Grand Canyon to the east.
---
North Shore Summit Trail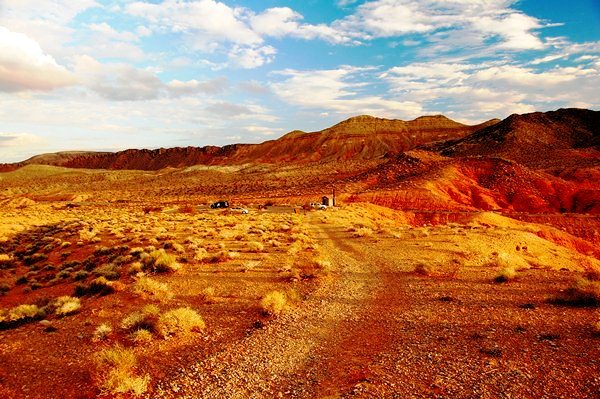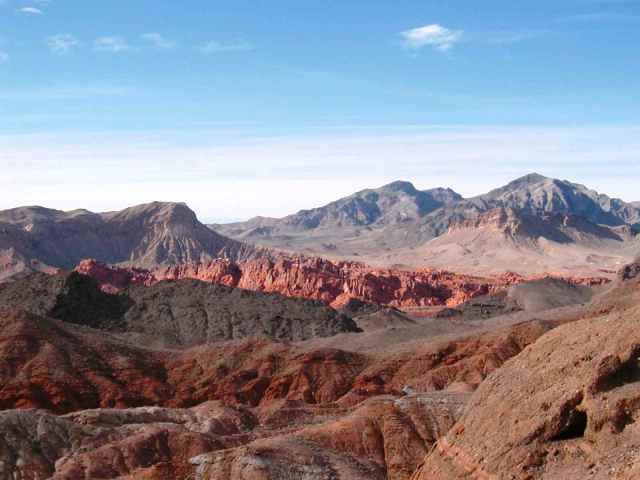 From Lake Mead drive north on Northshore Road for about 20.6 miles to the Mile 20.6 (Northshore Summit) Trailhead. Park here; this is the trailhead. This is a nice, 0.6-mile loop trail that runs to the top of a bluff with great views of everything except Lake Mead.
---
Redstone Dune Loop Trail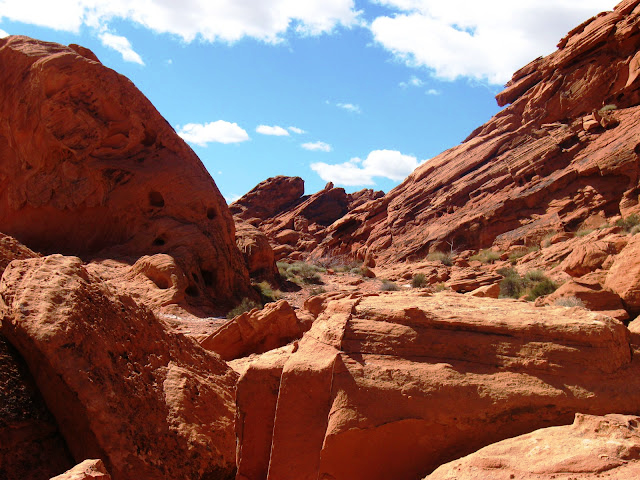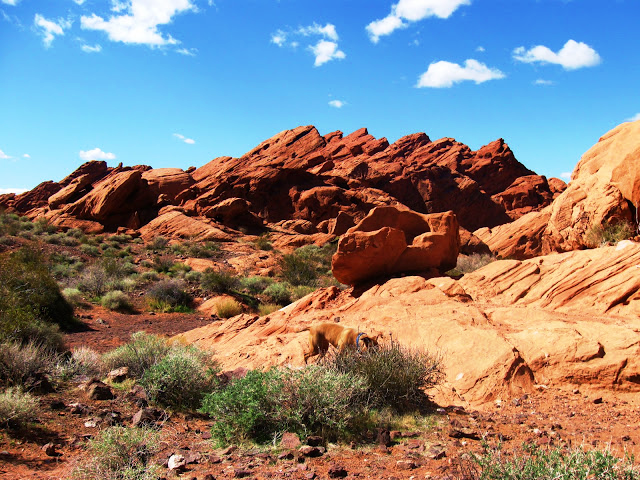 From Lake Mead drive north on Northshore Road for about 27.0 miles to the Mile 27.0 (Redstone) Trailhead. Park here; this is the trailhead. This 0.5-mile trail runs south from the Redstone Picnic Area to make a scenic loop around a large, red sandstone outcrop before returning to the picnic area. Signs along the trail provide information about the local geology.
---
River Mountains Loop Trail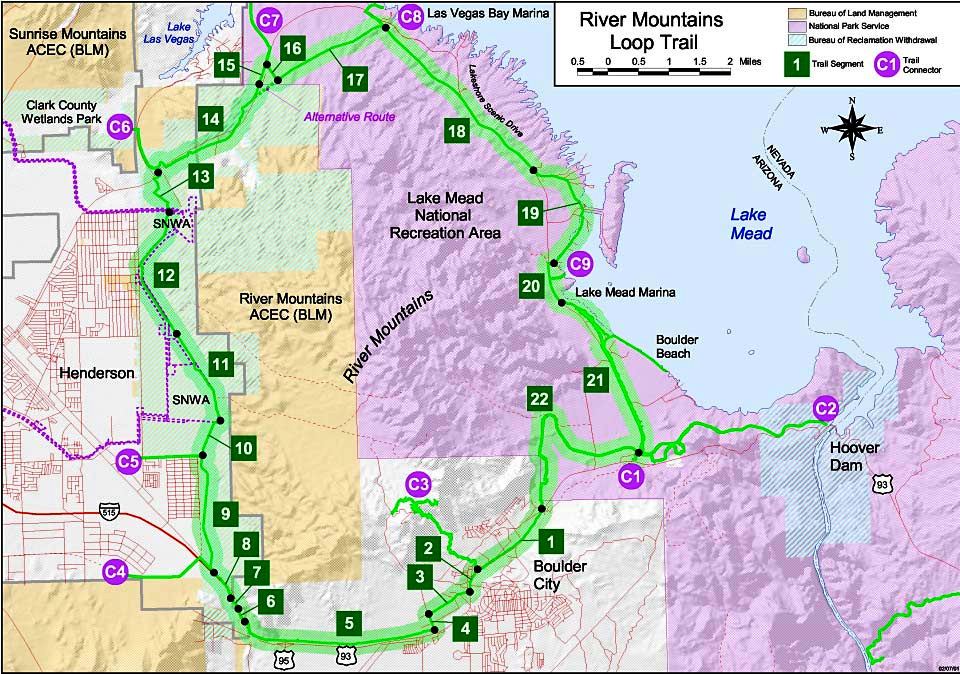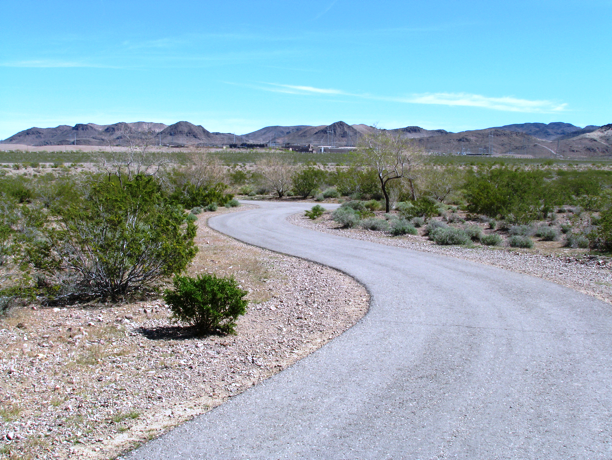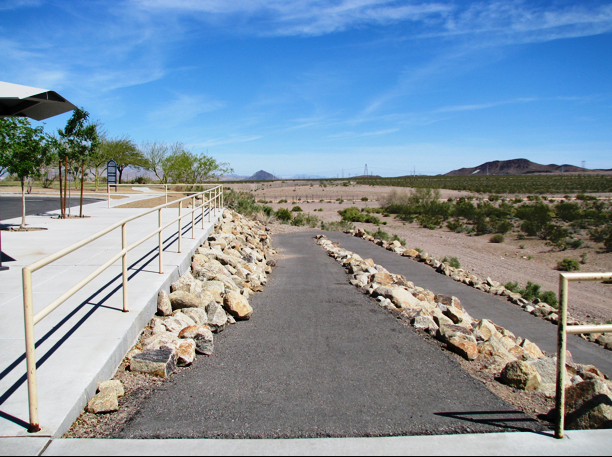 The River Mountains Loop Trail is Nevada's first endeavor of its kind. Constructed through a combined effort of many of Nevada's resource management agencies, private land owners and citizens, this non-motorized trail will provide Nevada residents with an outdoor recreation area offering scenic views, plentiful wildlife and the vast beauty only the Mojave can offer. Currently with 32 miles of usable trail, when fully completed, the River Mountains Loop Trail will be approximately 35 miles in length and will surround the River Mountains connecting Lake Mead National Recreation Area, Hoover Dam, Henderson, Boulder City and the rest of the Las Vegas Valley, expanding recreational and alternative transportation opportunities for the region's growing population. To better accommodate outdoor enthusiasts, throughout the trail, you'll find segments 24 feet in width, including a twelve foot paved trail for hikers and road cyclists, a second trail for equestrian use and a third trail for mountain bikers. While anticipated completion of the River Mountains Loop Trail is currently 2010, individual segments will be dedicated each year and are available for public use.
---
St. Thomas Trail

3 Miles RT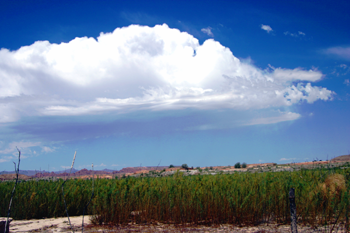 Take I-15 North 48 miles to Logandale-Overton exit (Nevada Route 169). Turn South and travel 29 miles to Valley of Fire Road (the State Park enters to your right) -- do NOT turn towards Valley of Fire State Park. Instead, turn on the dirt road entering SR 169 on the opposite side of Valley of Fire. Follow the dirt road to it's end -- St. Thomas Point. There is a portable toilet, and a volunteer ranger lives on-site in a trailer. There are signs leading you to the town of St. Thomas; which is visible from the parking area. Do not wander off the trail or you can easily get stuck in the mucky sediment that used to be underwater until recently. Dress appropriately for walking in mud, sand & water. You can also reach St. Thomas via Northshore Road (scenic route & fee area). St. Thomas has emerged from the depths of Lake Mead due to the decreasing water level, which is caused by the severe multi-year drought we are experiencing in the southwest. St. Thomas had been underwater for 65 years, since Hoover Dam was completed, and Lake Mead was created.
---
Wetlands Trail

1.25 Mile Loop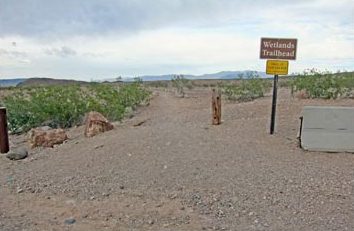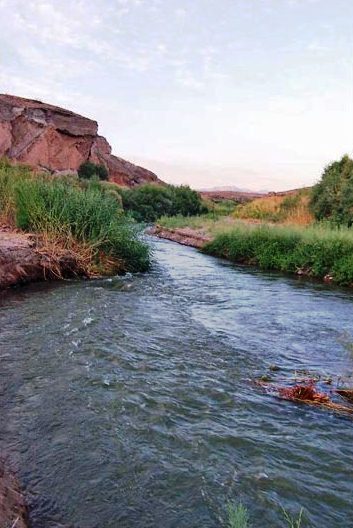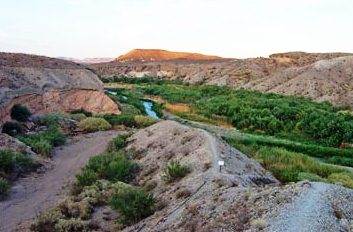 This signed trailhead & parking area is located at 1.2 mile on Northshore Road. Northshore Road can be reached by heading East on either Lake Mead Boulevard (off I-15, through North Las Vegas and over Sunrise Mountain); or on Lake Mead Drive (off I-93/95, through Henderson, and past Lake of Las Vegas resort). No matter which way you enter the park, you will need to pay the entry fee to National Park Service for entry to Lake Mead. This loop begins either behind the RR bldg or from the rock-lined path just below the RR bldg. An easy downhill leads into a steeper path along the top of ridgeline. When you reach the sign warning you about poor water quality, either take the R path down to admire the water, or take the marked L path down the switchbacks as it turns into a rock-lined path along the bottom of the wash. This easy-to-follow trail leads you up into a side canyon, gradually climbing along the base of the cliffs, crossing the wash, and continuing the loop back up behind the RR bldg.
---
White Rock Canyon/Liberty Bell Arch

The trailhead is just south of Hoover Dam along Highway 93 on the Arizona side of the Colorado River, about 45 minutes southeast of Las Vegas. From town, drive out towards Lake Mead. Stay on Highway 93 and drive south over the bridge into Arizona. At about Mile Post 4 (Site 0745), watch for a left turn across the highway and a paved road leading to a large parking area east of the highway. Park here at the trailhead. If you miss the turnoff, continue south on Highway 93 for about 6 miles to where you can make a U-turn. White Rock Canyon Trailhead provides access to several destinations in the White Rock Wash area, including Liberty Bell Arch, Liberty Bell Overlook, Spooky Canyon, and several routes to Arizona Hot Springs (White Rock Canyon Route, Hot Springs Canyon Washes Route, and Hot Springs Canyon Mountains Route). Horse Thief Canyon Road also starts here.
| | |
| --- | --- |
| | Lake Mead National Recreation Area |