Alvord can be reached via the Fields-Denio Road (East Steens Road) from either the north (from Burns) or the south (from Fields). From the north, drive approximately 41 miles south on the dirt Fields-Denio Road from Highway 78. From the south, drive 23 miles north (12 miles paved) to reach the signed Alvord Hot Springs. The old, free Alvord Hot Springs that we have all come to know and love over the years is gone as of early 2013. The Davis Family (owners) have torn down the old structure and built a new one complete with a parking lot, bathrooms, pay camping, store, showers, and on-site caretaker. Access for 24 hours costs $5. The two large concrete tank pools surrounded by decking and benches with a covered room off to the side retain much, if not all, of their former glory.
---
Austin Hot Springs
From Estacada, travel 30 miles southeast on HWY 224, which becomes the Clackamas River Road. Approximately 4 miles east of River Ford Campground the pools can be found nestled along the Clackamas River. Approximately 60 miles outside of Portland along Highway 224 lies Austin Hot Springs. This natural hot spring, heated by volcanic activity, sits in and along the Clackamas River, among the pristine trees of the Mt. Hood National Forest. There could be several rock pools along the river suitable for qualification depending on the season. Please be aware of Austin's 200+ degree bursts of hot water and use extreme caution when soaking in this spring. There are suitable spots to soak, just be very careful not to scald yourself. A waterproof digital thermometer can help locate burst zones.
---
Bagby Hot Springs
Perhaps the most beloved hot springs in Northwest Oregon are reached on a beautiful trail through an old-growth forest 40 miles southeast of Estacada. The hike is 3 Miles RT and leads to the main bathhouse and surrounding cabins. As you hike up, steam rises from the ground as the 136-degree hot springs flow down the hill and into tubs that range from hollowed logs to whiskey barrels. Located off Britenbush Highway 46, the hot springs are open all year but snow sometimes blocks access in winter. A $5 fee is required. From Detroit, follow Britenbush Highway 46. Turn left onto Forest Service Road 63 for 3.5 miles, then right onto Road 63 for six miles to the parking lot and trailhead. The hot springs are more commonly reached from Estacada, via Highway 226. Snow usually makes Highway 46 impassable by late November or into December.
---
Belknap Hot Springs
From I-5, heading North, take East 194a or I-105 or Highway 126 East toward Springfield.
From I-5, heading South, take Exit 194a to I-105 or Highway 126 East. At Eugene take Hwy. 126 McKenzie River exit (Exit 194a), east through Springfield. Continue on Hwy. 126 following the McKenzie River past Walterville, Leaburg, Vida, Blue River, and McKenzie Bridge for approximately 55 miles. Stay on 126 past the turn-off for Hwy. 242 and over the Lost Creek bridge. Turn left off the highway onto Belknap Springs Road, and continue past the Belknap Hot Springs Resort sign on the right.
A concrete swimming pool sits along the Mckenzie River and an upscale lodge here. The 102-degree riverside swimming pool is open 365 days a year 9 a.m. to 9 p.m. Pay $7 for an hour or $12 for the full day. There are tent sites, cabins, and RV sites to rent as well.
---
Beulah Hot Springs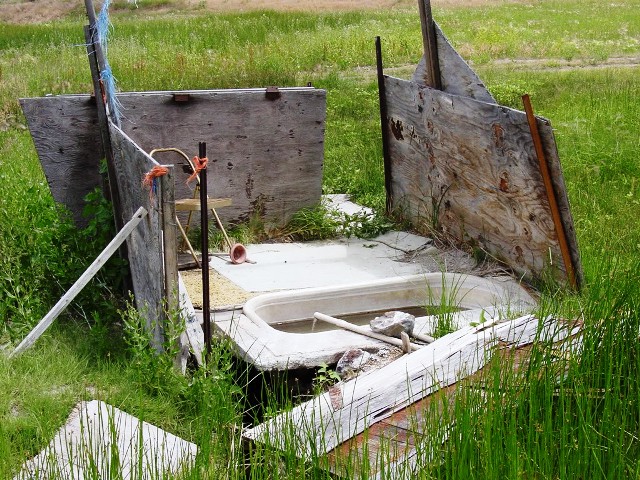 West of Juntura from Highway 20, take the dirt Beulah Road about 17 miles north and look for a roughed-up structure a few yards west just past the empty reservoir. Located in a former reservoir which is now where the cattle graze inside a structure with rusted bathtub. A few miles away you can find some nice camping just off the road toward Juntura, but besides that, the land around the hot springs seems to be private even though it is marked on the map as BLM land.
---
Bigelow Hot Springs
---
Blue Mountain Hot Springs
---
Borax Lake Hot Springs
---
Breitenbush Hot Springs
From the West: (Interstate 5 at Salem), take exit 253 and go east on OR-22 toward Stayton/Detroit for approximately 49 miles to Detroit, OR.
From the East: (Redmond, Bend, Sisters) Take OR-20/126 west from Sisters for 25.5 miles and turn right onto OR-22W for 31 miles to Detroit, OR.
At Detroit: Turn from OR-22 onto Highway 46 at the only gas station in Detroit. Drive 9.1 miles and just past Cleator Bend Campground take a right onto the single-lane bridge crossing the Breitenbush River. The road is gravel after the bridge and has three forks in its 1.2-mile course. Take a left at every fork and you will end up in our parking lot. You're home! DO NOT FOLLOW MAPQUEST, GOOGLE MAPS or GPS DIRECTIONS PAST DETROIT!
This wonderful local spot northeast of Detroit is a favorite among Salem residents and those seeking to unplug. The Meadow Pools are lined in smooth river rocks and four spiral hot tubs offer varying temperatures. Day use is offered for $15 to $28 per adult. Reservations must be made in advance by calling (503) 854-3320.
---
Crump Hot Geyser
---
Crystal Crane Hot Springs
---
Deer Creek and Cougar Hot Springs
To find Deer Creek from Salem, take Highway 22 past Detroit for 32 miles, go right at the Santiam Y junction for 3 miles, veer left onto Highway 126 toward Eugene for 14 miles, and turn right on Deer Creek Road across a McKenzie River bridge. Park on the far side of Deer Creek Road's bridge and hike down to the left (downstream) 200 yards to the hot springs.
To reach Terwilliger / Cougar: From Eugene, follow Highway 126 between mileposts 45 and 46. Turn south at a "Cougar Reservoir" pointer onto paved Auderheide Drive 19. After half a mile, at a fork keep right to stay on Auderheide Drive 19. Then continue another 7 miles to the Terwilliger Hot Springs trailhead on the right. Parking is a few hundred yards farther up the road, on the left.
The smaller and arguably more pleasant of these two springs is Deer Creek Hot Springs, a free collection of pools along the literal banks of the McKenzie River. At high water, the springs sometimes wash out, especially in spring. The trail to the hot springs is short but the pool only has room for half a dozen people. A more popular and larger destination is Terwilliger Hot Springs, which is usually known as Cougar Hot Springs due to its proximity to Cougar Reservoir. A fee of $5 per person is required. Hike a half-mile trail to the reservoir's short and stair-stepped series of hot spring pools, which have room for dozens. There have been some issues with falling rocks here, and recently some of the upper pools were closed, though the lower pools remain open.
---
Echo Rock Hot Springs
---
Fisher Hot Springs
---
Fisher Hot Springs 2
---
Hart Mountain Hot Springs
---
Hot Lake Hot Springs
This place wants $25 an hour for their private tubs. http://www.hotlakesprings.com/restoration.php
---
Hunters Hot Springs
Hunters Hot Springs may soon no longer be available for soaking, as it is currently under threat from the Town of Lakeview and PacificCorp by geothermal power generation development. Please see http://www.savehuntershotsprings.org
---
Juntura Hot Springs
This is a great spot with the river right next to the springs. The pool is large enough for 8 – 10 more if clothed lol. Beware of the Juntura "Ghost". She is real…she might visit you in the spring you never know.
---
Kahneeta Hot Springs
---
Kitson Bathhouse Hot Springs
Kitson Hot Springs were donated to the Boy Scouts in 1977 and in 2000 the decrepit bathhouse structure on the 160-acre property was burnt down in a controlled fire as it was a safety concern. The foundation quickly became a bat habitat as they were attracted to the cavernous, bunker-like structure of the bathhouse. The new version of the bathhouse attracts hundreds of bats and has been the focus of a clean-up and restoration project by the Hood-Willamette Resource Advisory Committee. The project put steel 'shutters' on doors and windows to help protect bats from predators and curious people. It also cleaned up harmful debris, improved riparian habitat, and enabled some monitoring of the site. As for other areas of the camp, it is set up for short-term Scout and Webelos overnighters, and den and pack picnics. A program shelter, 11 Adirondack shelters, and a latrine are available. Kitson Hot Springs' Concrete Bathhouse Structure is now home to many bats.
---
Kropp Hot Springs
---
Lithia Springs Resort
---
Luce Hot Springs
---
McCredie Hot Springs
From Eugene, follow Highway 58 east to mileposts 45 and 46. There is a sign pointing to McCredie Station Road. The parking lot is next to the sign, on the right. Directions to the south side pools just continue a short distance up Highway 58 to Shady Gap Road, cross the creek on a bridge, go right, and park at the first wide spot. A 0.3-mile path leads to the south shore pools. Located just off Highway 58 in the recreation corridor heading to Willamette Pass east of Eugene, McCredie Hot Springs is open year-round and features a large 15-by-20 party pool along with quieter rock-lined pools. Temperatures range from 95 to 105 degrees and the pools sit alongside Salt Creek. You can access the quieter pools, on the south side of the creek, either by crossing the creek or on a different access trail. Swimsuits are rare and truckers often stop here. So, leave your modesty at the car door. Many great activities beckon nearby, including Salt Creek Falls, Oregon's second-tallest waterfall, 10 miles up the road.
---
Mickey Hot Springs
Most of the pools are too hot for soaking.
---
Mitchell Butte Hot Springs
---
Mount Vernon Hot Springs
---
Olene Gap Hot Springs
At the bridge to cross the river to South Poe Valley Road, on the Highway 140 side, is a rowboat set under a concrete pipe with hot water flowing into the rowboat creating a little bathtub of hot water.
---
Paulina Lake Hot Springs
---
Ritter Hot Springs
---
Snively Hot Springs
Snively Hot Springs is usually taken care of pretty well, although sometimes can be trashed. The hot springs are walled off from the river by tarp dams and rocks. The scenery is rugged but the hot springs are right off the road at a rest/picnic area so not a lot of hiking. Lots of birds, fish, and sometimes deer…Looking for an easy place to access? These ones are for you.
---
Summer Lake Hot Springs Resort
Very rustic, with beautiful scenery, and friendly staff. It's a wonderful getaway from the valley rain in the winter.
---
Three Forks Warm Spring
Travel 30 miles east on U.S. 95 from Burns Junction. Continue past the tiny community of Rome. Watch for a sign reading Three Forks 35 at mile marker 36 and turn south. Stay on the main dirt road for about 30 miles until reaching a T-junction. From there, go right 2.7 miles to the canyon rim by an old corral. The final 1.3-mile drop into the canyon is very steep and rocky. Do not attempt this with a low-clearance vehicle. And, if it is raining or wet – you should not even be out here DANGER! These powdery, dry roads turn to impassible muck and mud when it rains. Once you drop down (easy hike BTW) a handful of BLM camping options await. From here, it is three miles to the warm springs, which is semi/sorta driveable. Take the easy hike instead. The warm springs are located on both sides of the river. Please do not attempt crossing during high water season. Keep in mind that there are a couple of different ways to reach Three Forks Warm Spring.
---
Umpqua Hot Springs
From Interstate 5 in Roseburg, take Exit 124 for Oregon Highway 138. Follow signs for Diamond Lake through downtown Roseburg and follow Highway 138 East for 59 miles. At milepost 59, turn left onto the Toketee Lake turnoff (Forest Road 34) and proceed 2 miles up the paved road. Then turn right onto gravel Forest Road 3401 (Thorn Prairie Road) and follow it two miles to a large and obvious parking area on the left. Whether you're finishing a mountain biking trip on the North Umpqua Trail's famed Dread and Terror section, or just exploring the waterfalls of this beautiful Southern Oregon canyon, Umpqua Hot Springs always makes for a great stop. Swimwear is not common so, as always, prepare for a naked buttock or two. Two trails begin from the Umpqua Hot Springs Trailhead. One leads up the beautiful Dread and Terror section of the NUT, while the other crosses the river, turns right, and heads up a steep but short trail to a collection of small hot spring pools. If you go midweek, there's a fair chance you'll have a pool to yourself but on weekends, this is less likely. On the drive-in, make sure to check out Toketee Falls, one of the most beautiful waterfalls in Oregon.
---
Weberg Hot Springs
---
Willow Creek/Whitehorse Ranch Hot Springs
Miles away from nowhere, Willow Creek Hot Springs features a single pool out in the middle of southeast Oregon's high desert region. An all season gravel dirt road will get you most of the way there, but the last bit is on soft dirt, which is impassible during rain. Choose your season wisely.
Oregon Hot Springs




---

Alvord Hot Springs