Adams Canyon



6.92 Miles RT : N.41.04.045-W.111.54.600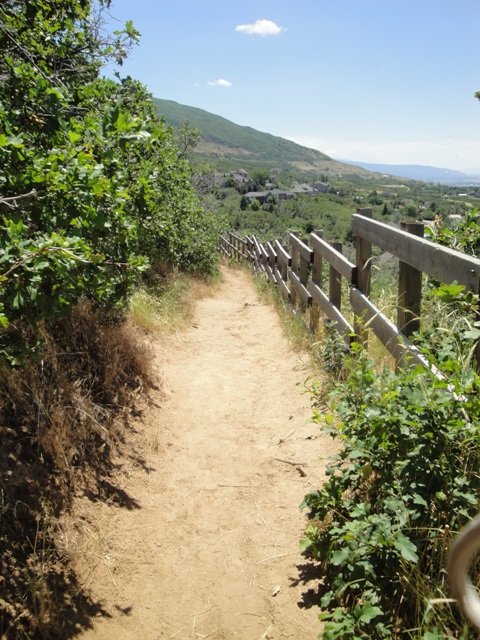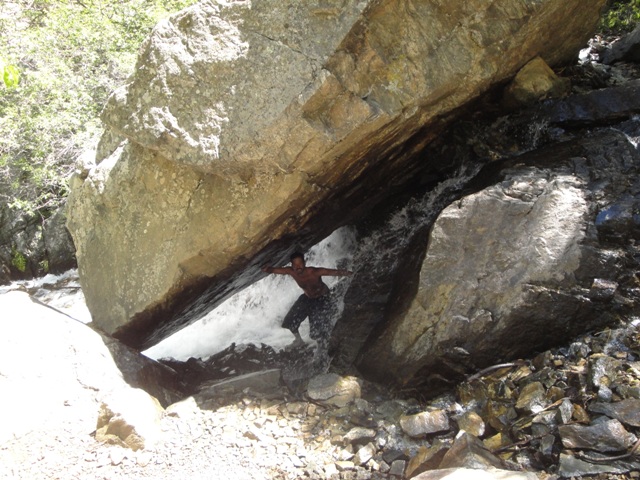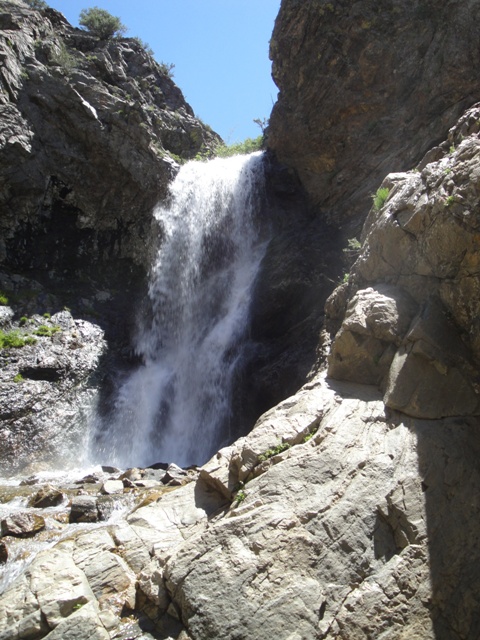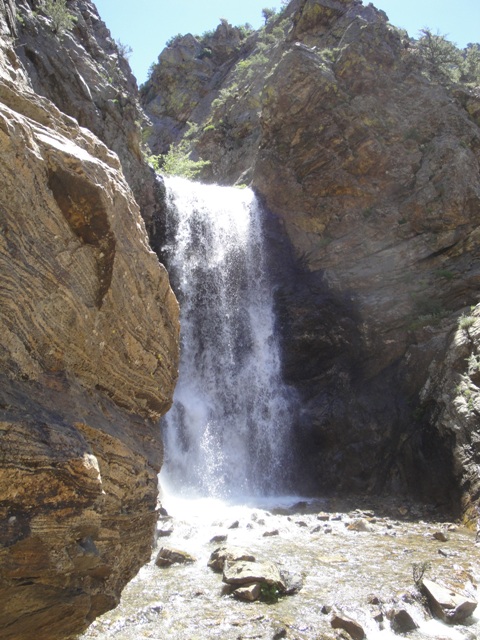 From I-15 heading north take exit-324, and continue on HWY-89 towards Layton. Take the first road on your right (East Side Road) right after the junction of HWY 89 and 1200 North Road (Oak Hills Dr-109) and turn south. Follow this road for maybe 200 yards to the dirt parking lot on the east side of the road. The trailhead is in the northeast corner of the parking lot. The trail follows North Fork Holmes Creek 3.46 miles to the Great Western Trail. The main attraction is a 40 foot waterfall about 3 miles in from the trailhead.

---
Andy Adams Reservoir



From I-15 heading north take exit 331 (Hill Field Rd). Use the right lane to turn right onto N Hill Field Rd then in .3 mile turn right onto 1000/W Gordon Ave. Continue on this road for 2.2 miles and turn south onto the dirt/gravel road to the reservoir parking lot. This reservoir has been closed to the public until recently opening in 2012, but I think they still require you to get a permit to fish here if your over 12 years old.
---
Antelope Island State Park




From I-15 heading north, take exit-332 for ut-108/Antelope Dr. Turn left onto UT-108 N/W 2000 N/W Antelope Dr and continue west for 15 miles to the park entrance where you have to pay a fee to cross the 7 mile causeway. The first left takes you to Fielding Garr Ranch. Antelope Island is the largest island on the Great Salt Lake, and is home to free-roaming herds of bison, antelope, bighorn sheep, and mule deer. There is evidence that people inhabited the island more than 6,000 years ago. By the turn of the century (1900) the island was purchased for one million dollars, and thats when bison were introduced to the island. The Visitor Center is open year-round, and hours vary by season. Bridger Bay has a sandy beach with indoor and outdoor showers, pavilions, picnic areas, and a burger joint. Camping is only allowed in designated campgrounds.

Here is a list of trails on the island.
-Buffalo Point
-Dooley Knob
-Elephant Rock Trail
-Frary Peak
-Lady Finger Point Trail
-Lakeshore Trail
-Lakeside Trail
-Mountain View Trail
-Sentry Peak
-Split Rock Loop Trail
-White Rock Loop Trail

Fielding Garr Ranch

Fielding Garr established the first permanent residence on the island in 1848, you can tour the home and ranch. In the 1920's, the ranch was home to one of the firts mechanized sheep ranching operations in the western United States.

Lady Finger Point Trail
.6 Mile RT

The trailhead and parking lot is located just .7 mile to the west of Antelope Island Marina. This is an easy .6 mile, lightly trafficked trail, other than having to scramble over rocks the entire way. This trail gives you beautiful views of Egg Island and the Great Salt Lake. There is a likely chance you will also see wildlife here.

White Rock Loop Trail


9 Mile Loop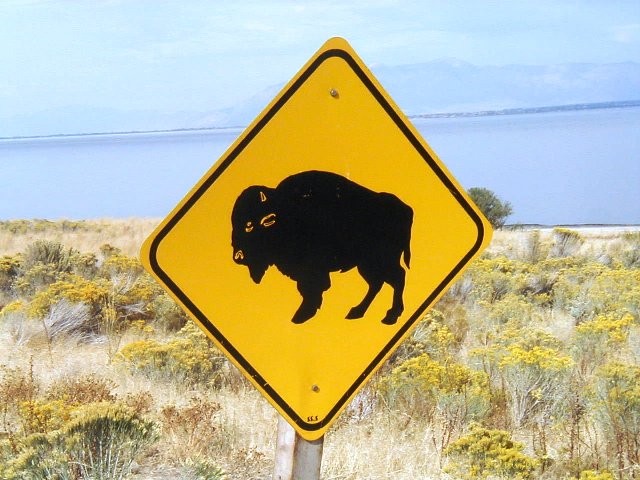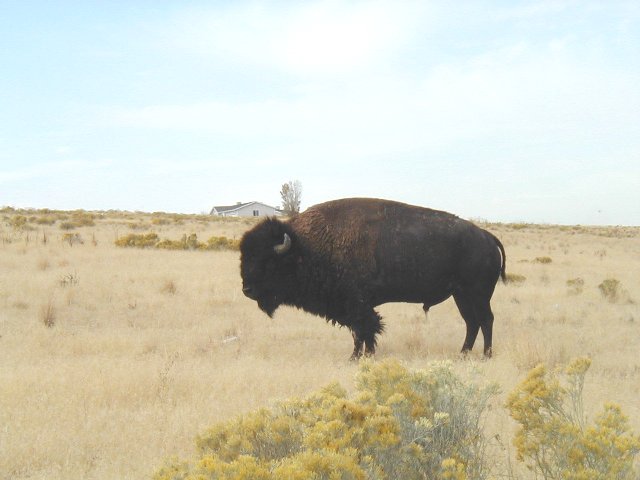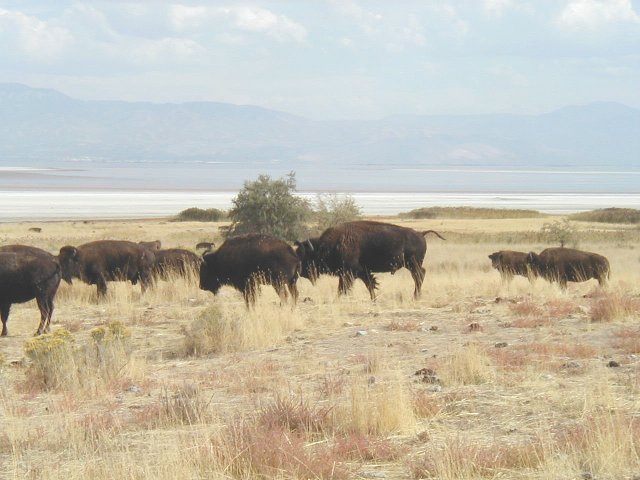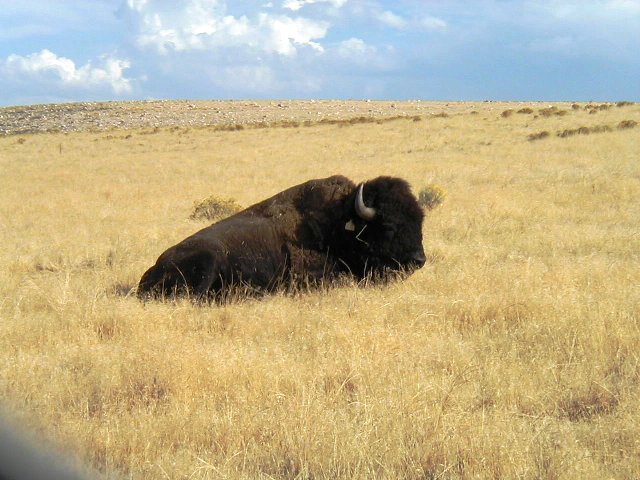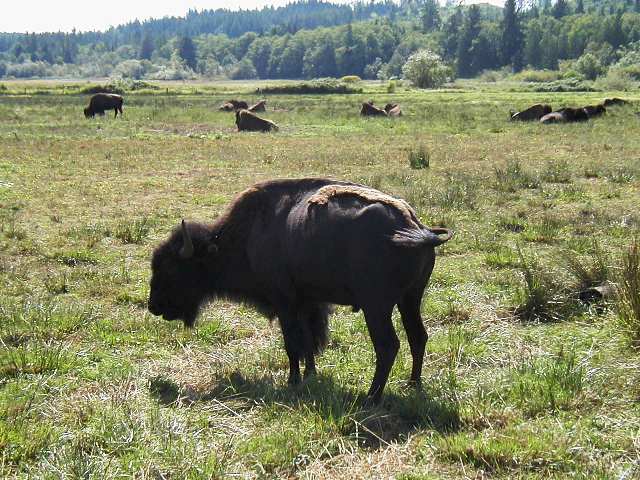 The trail goes south from the trailhead, and climbs for about 3 miles to the upper summit. There is another trail south of here to Elephant Head which is a 2 mile RT ride or The Split Rock Bay Loop maybe a 4 mile loop will take you along the shore and is definitely worth it for the views. Back at the main trail you'll eventually loop back to the trailhead. The main attraction will be a herd of over 600 American Bison, and maybe even some mule deer, elk, or coyotes.
---
Bear Lake
Elevation-5,901 ft : Water Temperature-6/6/09-60 : 10/11/09-62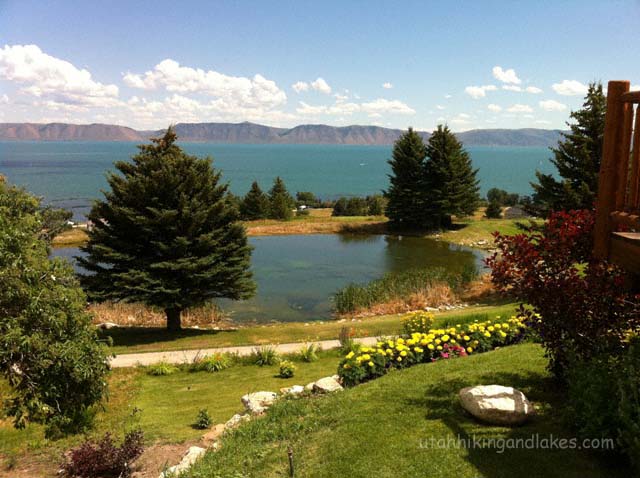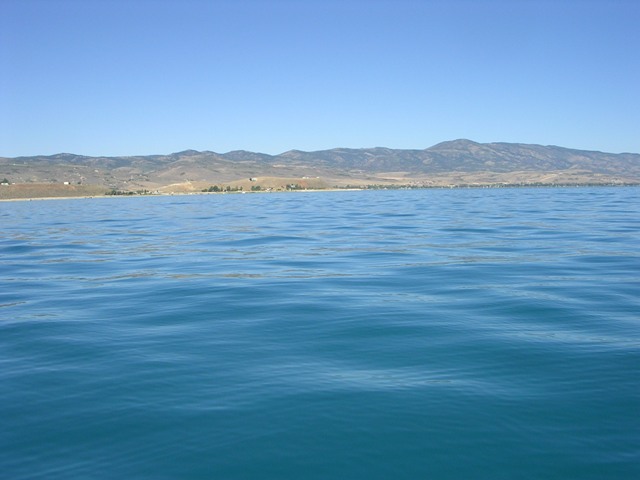 From I-15 take exit-354/1100-S ramp 2.11 miles to US-89,and drive 65 miles through Logan Canyon to Garden City. Also from Evanston, WY you can take SR89/SR16 north for 55 miles and turn west onto SR30 for another 14 miles to Laketown.

Bear Lake Marina




1 mile north of Garden City on U.S. 89. The marina has a large concrete boat ramp, water, restrooms, showers, and boat rentals. There is no camping allowed at the marina.

Rendezvous Beach




2 miles NW of Laketown on Hwy 30, full hookups, water, showers, restrooms. There is 1.25 miles of sandy beach, concessionaires, and boat rentals.
(435) 946-3343

Bear Lake Cisco Beach (Eastside)




10 miles north of Laketown that include campsites, bathroom facilities, and 3 concrete boat ramps.

Idaho State Park: immediately north of state line on east side.
---
Beaver Meadow Reservoir



GPS-N.40.54.239-W.110.3.877 : Elevation-9,385 ft : 122 Acres : Depth Maximum-37 ft/Mean-17.7 ft
Travel south on HWY-43 from McKinnon, WY for 7 miles to the Wasatch National Forest. This road becomes FS-221. Continue south for 2 more miles and turn right onto FS-058 4.5 miles to the reservoir.
---
Beus Canyon Trail


6 Miles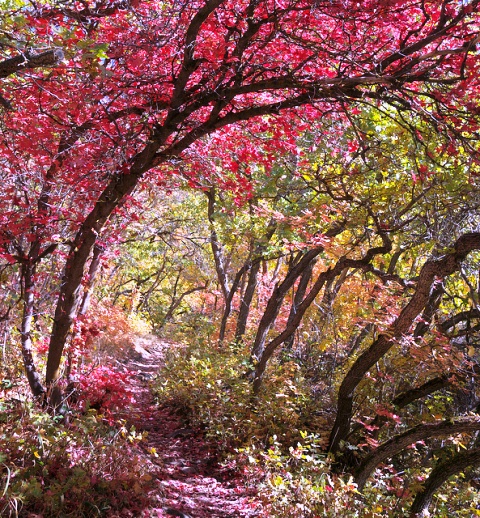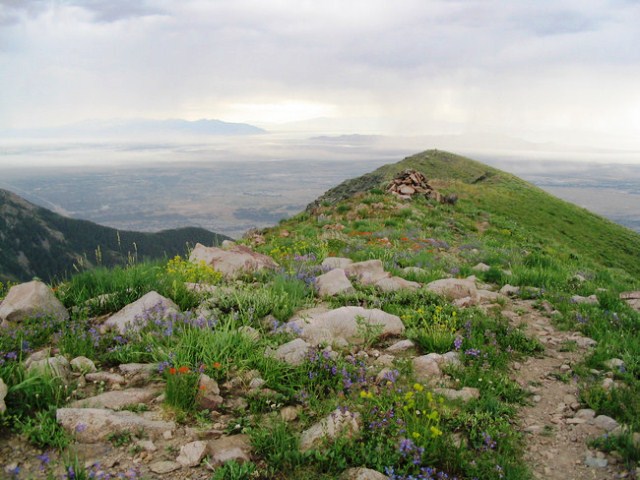 The trail can be found by 46th Street in Ogden.
---
Big Fill Loop Trail


1 Mile Loop-Easy
From I-15 heading north take exit 365 UT-13 Corrine for 20 miles. Turn left onto 7200 N Rd for 2 miles and take the slight right onto 18400 W Rd for another 1.7 miles and the trailhead parking lot will be on your right.
---
Birch Canyon Trail to Mount Jardine


12 Miles RT
From Smithfield on US 91, head east on 100 North. After 2 blocks turn south to Canyon Road, and turn east for a mile to Birch Canyon Road. Turn south and drive 1.1 miles to a gate where the trail starts. The trail follows a jeep road for .5 mile and turns into a foot trail. After 5 miles from the trailhead you'll reach the ridge. Head southeast to reach Mount Jardine.
---
Birch Creek Reservoir


GPS-N.41.30.335-W.111.19.204 : 63 Acres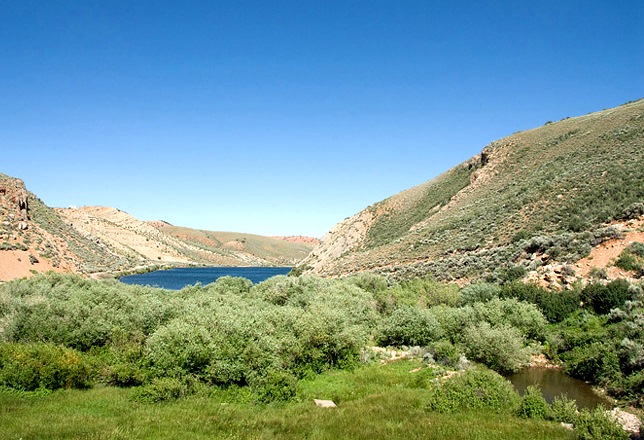 Take UT 39 from Woodruff just south of Bear Lake for 6 miles. Just past the cattle guard, you will see a sign on the right. Follow the dirt road for a mile.
---
Bountiful Canyon to Francis Peak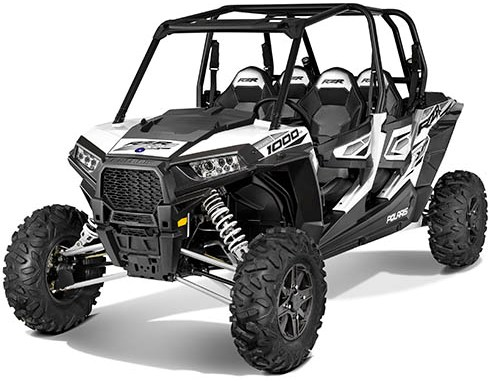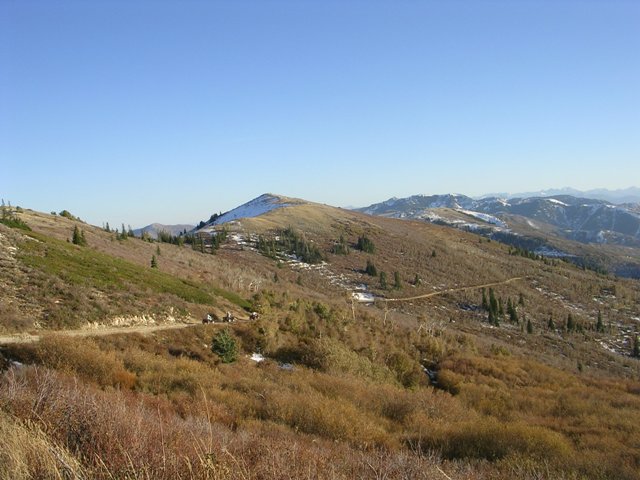 From I-15 take exit 317 and head east on 400-N. Follow this road and turn left (north) onto Skyline Dr (1300-E) all the way around to the dirt parking lot where you can park your trailer. From here you can ride all along Skyline Dr which will connect you to Farmington Canyon. This is a fun trail that's close to home (if you live along the Wasatch Front) and is a good trail for the family. The trail is moderate, but if you take some of the branches there are more difficult areas. This trail offers some great views of the valley and mountain scenery. You can also access this trail system from Farmington Canyon. Just take 100 East until it turns into Skyline Drive.

---
Bountiful Lake




From I-15 take the West 400 North exit (Highway 131), turn north on 800 West, turn west on Pages Lane (1600 North) and drive over Legacy HWY. Turn north and follow the road until you reach the lake on your left.
---
Bull Flat Trail to Bull Mountain


18 Miles RT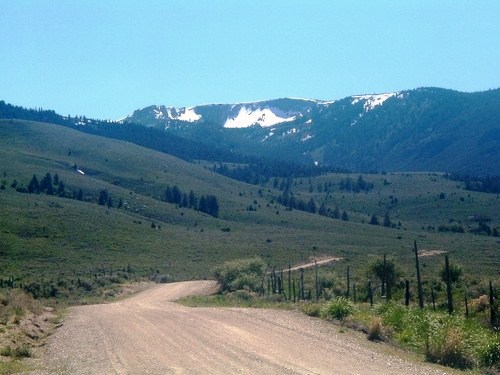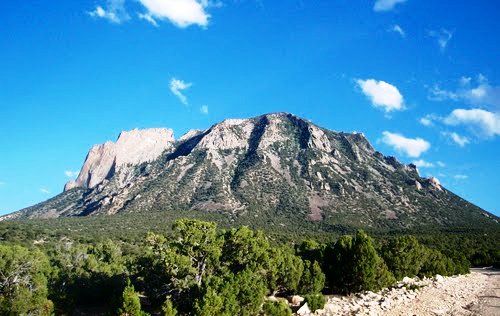 From Snowville take HWY 30 west 18 miles. Head north at the junction with HWY 42 and drive 8.5 miles. Turn west onto Strevell Road 3600 South for about 3.2 miles. Turn south at the Clear Creek Campground turnoff and follow this road for 6 miles to the campground. From the campground the trail leads up Bull Canyon. The trail enters the mountains from the north. After 1 mile a side trail will lead off to Bull Flat, stay on the main trail that will take you to Bull Lake. To the west of the lake a path leads along a rocky slope to the summit. There will be a building that sits on Bull Mountain.
---
Causey Reservoir


GPS-N.41.17.940-W.11.35.244 : Elevation-5,692 ft : 142 acres : Depth Maximum-182 ft/Mean-65 ft : Shoreline-7.3 miles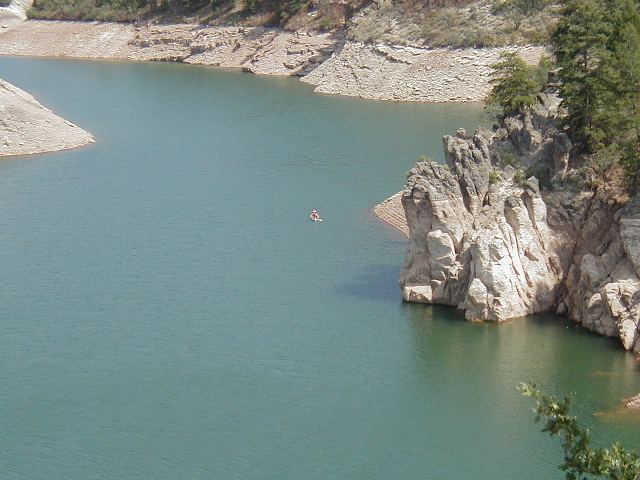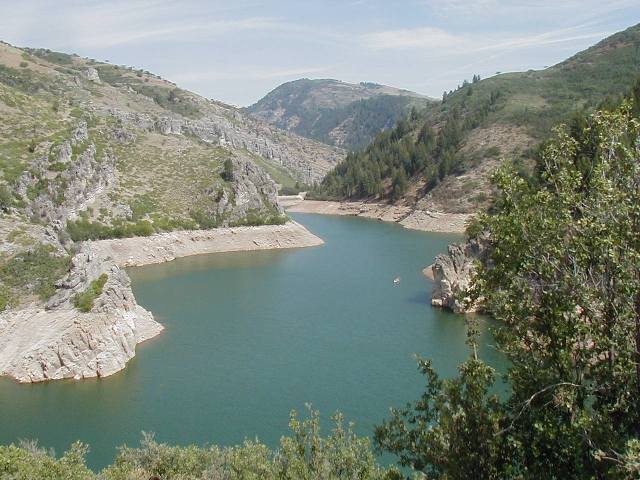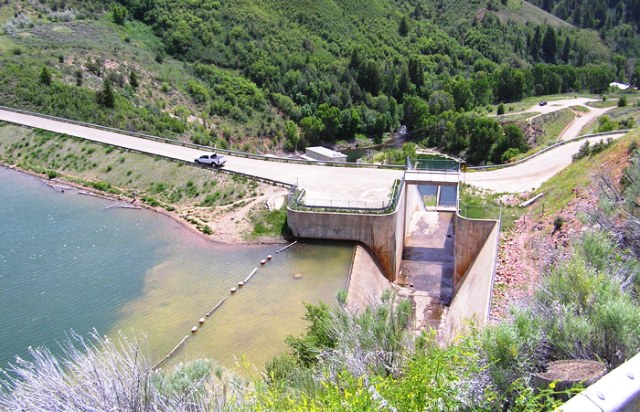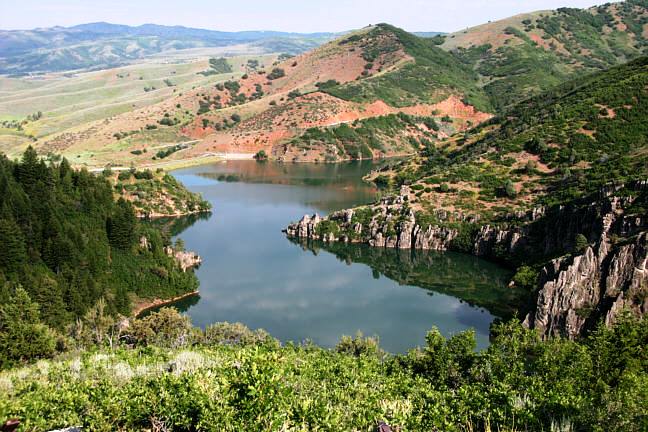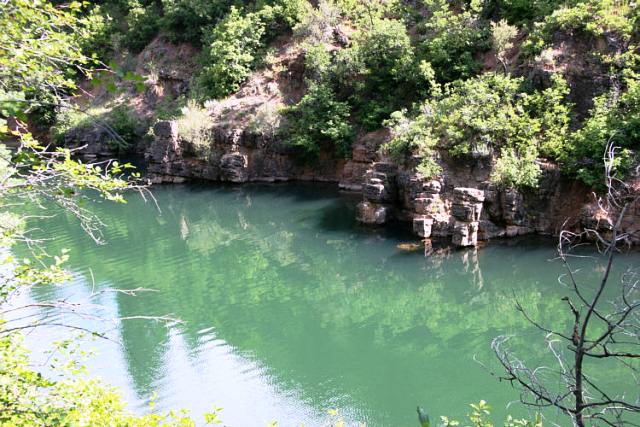 From I-15 take the 12 Street exit up Ogden Canyon along the south shore of Pineview Reservoir to Huntsville. Continue for 8 miles to a turnoff on the right, and follow this gravel road for 2 more miles to the reservoir. At the dam you can go north or south to a parking lot at the end of the road with access to the water. Access to the reservoir is limited, due to privately owned portions of the shore. There are cliffs along the edge of the reservoir that you can jump from, but be careful there are injuries and deaths every year due to this extreme.

Here is a list of trails near the reservoir.

Wheatgrass Canyon
6 Miles RT
Water/hiking shoes are highly recommend for this one. You will cross the river several times. Just head up Highway 39 to Causey Reservoir. Before going over the spillway take the road to your left. This road eventually leads you to the Boy Scout Camp Keisel. There is parking at the trailhead before you reach Camp Keisel. Park, cross the bridge and take the trail to the left.


Skin Toe Trail
2 Miles RT
Same trailhead as the Wheatgrass trail but after crossing the bridge head right. This is just a nice easy stroll above the shore of the reservoir. It ends at the dam's spillway.


Baldy Ridge Trail
14 Miles RT
About 1/2 mile into Skin Toe hike there is a trail to the left. It follows what is left of an old road then heads up the ridgeline. There are several switchbacks that make the climb long and hard but the view at the top is amazing. If you would like you can continue on to Kiesel Peak and then along the ridgeline to the gate of Deseret Ranch.


Skull Crack Trail
4.8 Miles RT
To find this trailhead cross over the spillway (right branch of the road), and follow south until the road ends at a gated community and public parking. The trailhead is to the north on the east side of the Reservoir. This trail takes you around the south side of the lake and is quiet as well as beautiful.
---
Currant Creek Reservoir



GPS-N.40.21.197-W.111.03.588 : Elevation-7,683 ft : 300 acres : Depth Maximum-123 ft/Mean-52.5 ft
40 miles east of Heber US-40 between Fruitland and Strawberry Reservoir the turnoff will be at milepost 59.3. There are large signs directing traffic to the turnoff at Current Creel Lodge. Travel up-canyon for about 10 miles on a gravel road to the reservoir. The Currant Creek Cafe, at the turnoff, has gas, food, fishing licenses, and other services. There are some great camping spots along the way to the reservoir, mainly for fishing. There are no services at the reservoir. There is a campground at the reservoir with tent sites, picnic areas, toilets, a boat ramp, and handicapped facilities. The Current Creek Nature Trail is only a 1.25 mile loop that begins near the campground. Turn left to Loop D and follow the road to Tot-Lot and park.
---
Currant Creek Trail System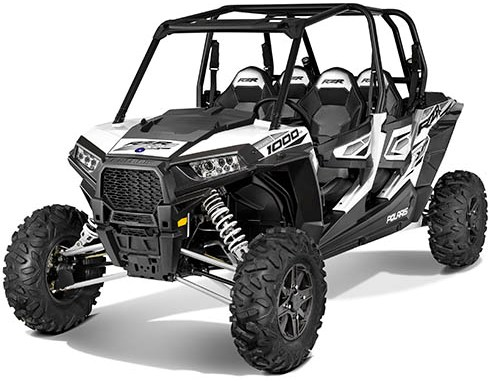 The Strawberry Mountains Trail system also known as Currant Creek is a great place to take the family out for a beautiful ride. The trail mostly follows groomed dirt roads and well used jeep width roads. The trail offers some incredible views of Strawberry Lake, Currant Creek Reservoir, Duchesne Ridge, and other rivers and lakes in the area. This is a fun trail to spend a day exploring the different sections and branches with access to over 50 miles of riding terrain. There are several places to park along the road and near Currant Creek Reservoir.
---
Cutler Marsh/Cutler Reservoir


10,000 Acres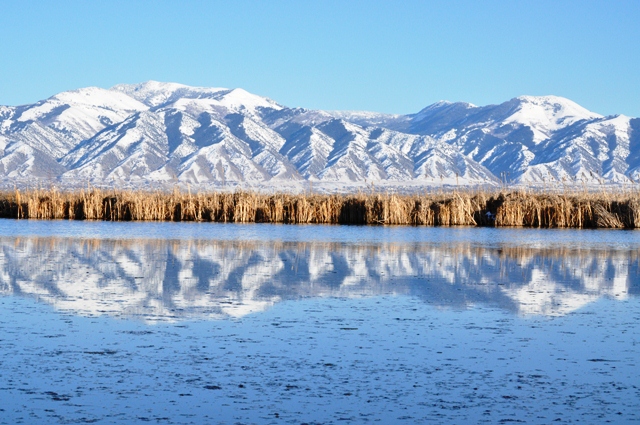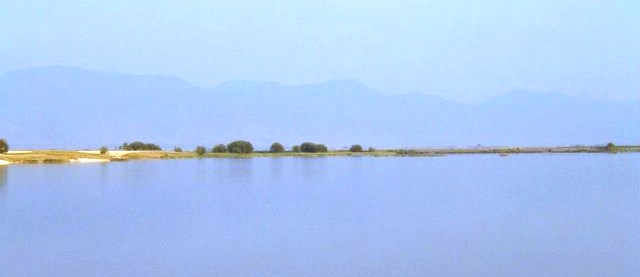 From US 91 north of Logan, go west on 2500 North (Airport Road) about 2.6 miles and bear left at the intersection and go west .75 miles to a "T" in the road. Turn right and proceed to the bridge across the Bear River. There's an excellent wetlands on a trail going south along the river. Continue another 1.75 miles to Sam Fellow Road. A quarter of a mile north on Sam Fellow Road is the Oxbow Overlook and about 2 miles south is the Benson Marina. There's a 2.5 mile trail which starts and ends at Benson Marina on 3000 North Street which provides good birding.
---
Deep Canyon to Coldwater Canyon


8 Miles one-way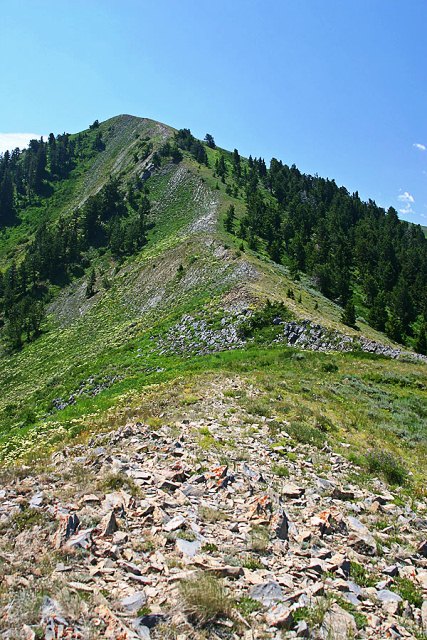 From Mendon, UT, on State Route 23 north of Wellsville, turn west on Third North and travel about two miles to the trailhead. From the trailhead, the Deep Canyon Trail ascends rapidly and steadily for about three miles to the divide of the Wellsville Mountains. The total elevation gain nears 3,000 feet. Some past hikers have dubbed the Wellsvilles the steepest range on earth, and new hikers will soon become believers. Once on the ridge, keep an eye peeled for hawks. This range reportedly has more raptors winging by during migratory season than any other in America. The trail follows the crest of the divide south to Stewart Pass, contouring around Mendon Peak and Scout Peak on the way, and can be followed on down the ridge line of the Wellsvilles two miles to Box Elder Peak, the highest point, and on down to the Rattle Snake Trail. From Stewart Pass, the Coldwater Lake Trail descends about 1.5 miles to a tiny spot of water called Coldwater Lake. From there, it's less than a mile to the mouth of Coldwater Canyon, but a long hike back to the Deep Canyon Trailhead. It would be much better to have a vehicle at both ends.
---
Deer Creek Reservoir




Elevation-5,417 ft : Water Temperature-6/11/09-60 : 9/30/09-60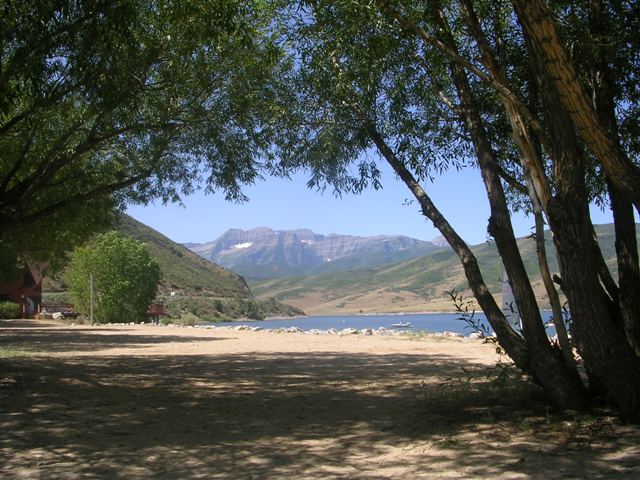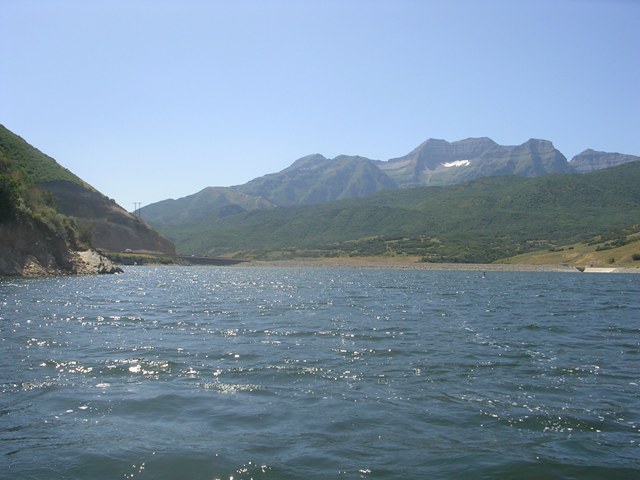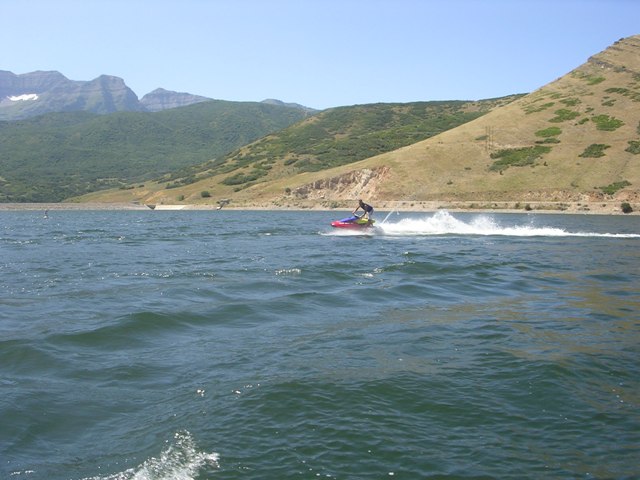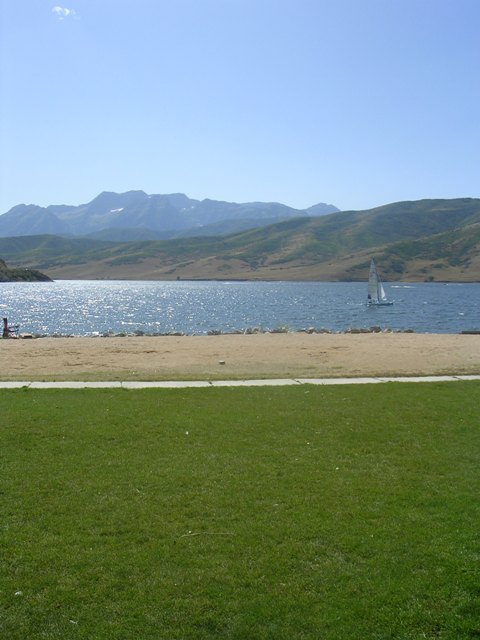 From I-15 heading south take exit-272, and head east on 800 North for about 30 miles up Provo Canyon to the south end of the lake. Dogs are not allowed in the park or reservoir. There are 3 different State Park locations to choose from. The 1st park is located two miles north of the dam milepost 20. The second is Rainbow Bay area, and the third is Deer Creek Island Resort milepost 24 with a restaurant & boat rentals.
(435) 654-0171

---
East Canyon Reservoir





Elevation-5,690 ft : Water Temperature-7/9/08-60 : 9/17/10-60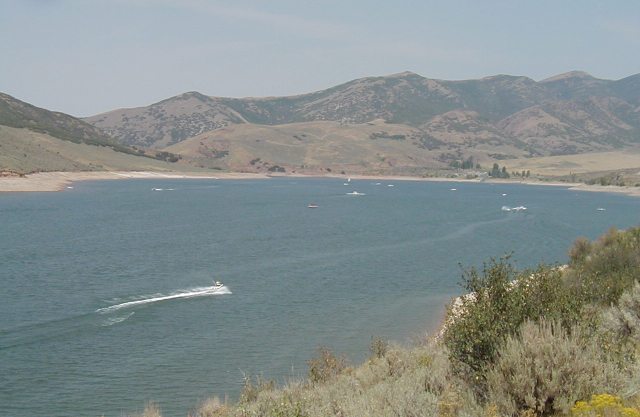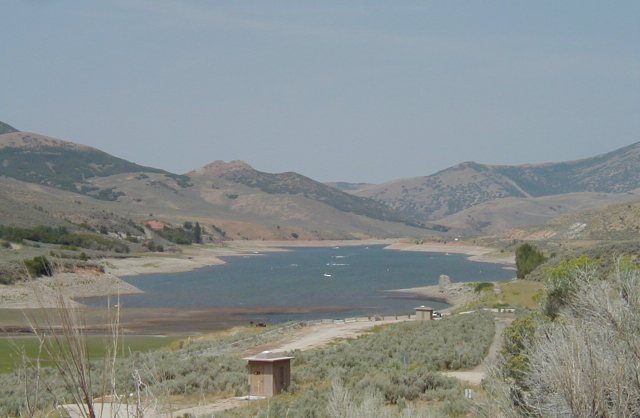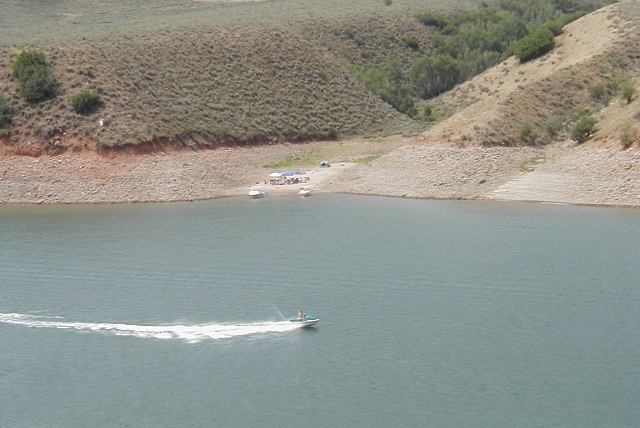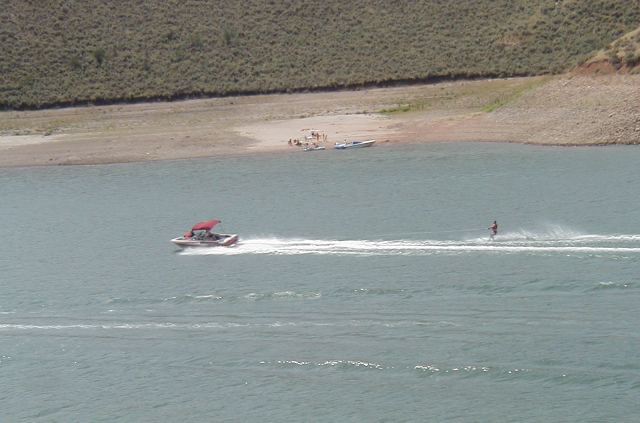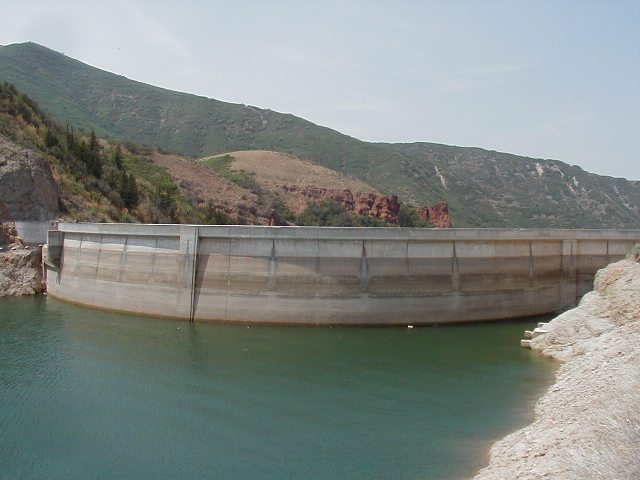 The all year access is U-66 from Morgan exit 103 off I-84. Alternate routes are exit 134 off I-80 in Parley's Canyon, or the north exit 115 off I-84 in Henefer. There is access to the southern half of the west shore by a gravel road. It will take about 1/2 hour from the mouth of either Parley's or Weber Canyons. Dogs are not allowed on the south slope of Parley's Canyon, but are allowed at East Canyon Reservoir. Activities include cross-country skiing, swimming, ice fishing, and water skiing. Recreational facilities include a wide concrete boat ramp, modern rest rooms with showers, sewage disposal, camping with a large overflow area, and fish cleaning stations. The park charges a fee for day use and camping. Concessions provide snacks and boat rentals. The park is located on the north shore of the reservoir. There were are a large number of wave-runners on the lake the day I was here, and the park was turning people away after a launch limit of 90 boats. (801) 829-6866

---
Echo Reservoir




Elevation-5,560 ft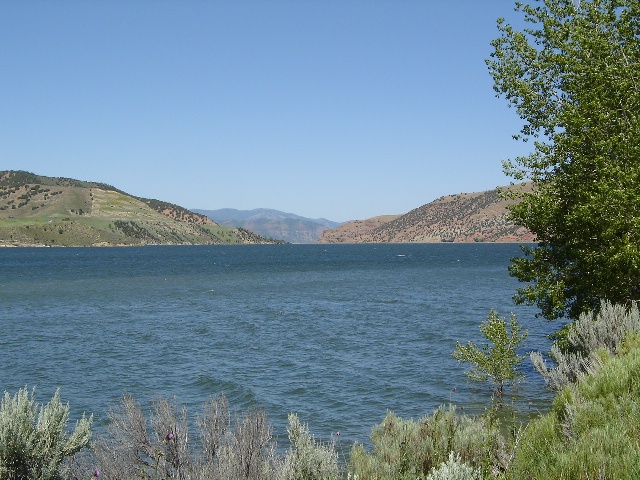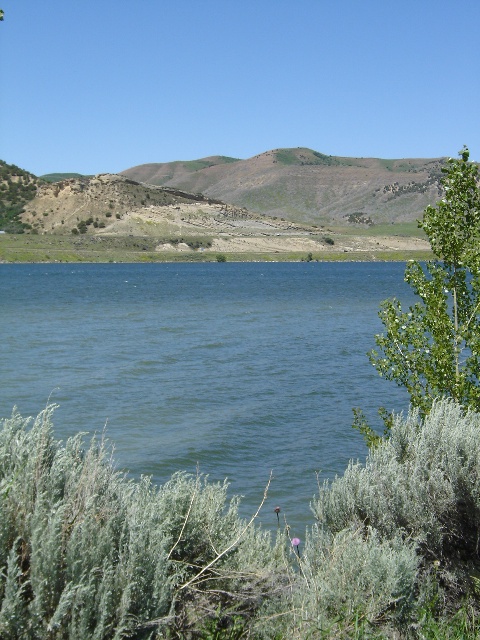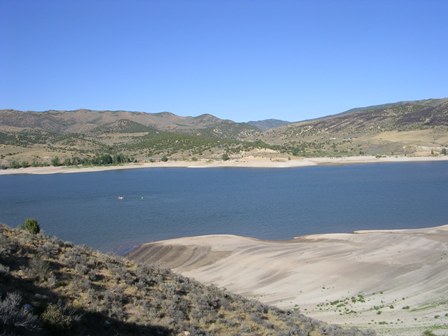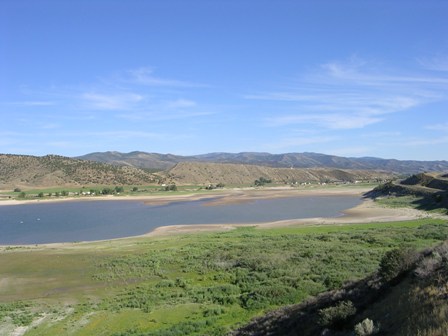 From I-80 Eastbound take exit 162, drive into Coalville and go north to the reservoir, or take exit 169 at Echo and go south. I-80 is on the west side. There is a public recreation area about two miles north of downtown Coalville. One-half mile north of the public facility is a large private marina and campground. The marina has many large trees, making it one of the more pleasant portions of the shoreline. It has an improved boat ramp, camping, boat rentals, a convenience store, and toilet facilities. This is a privately owned operation, and fees are charged for all activities.
---
Farmington Creek/Lagoon Trail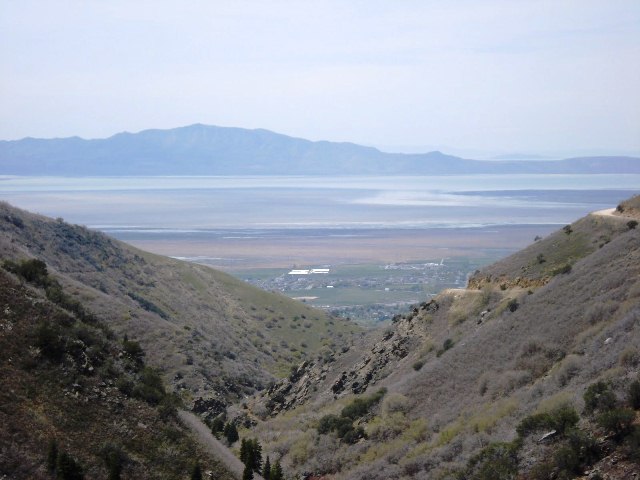 From I-15 take the Farmington exit and drive on 200 west until you hit State Street. Make a left and then a right on 400 West. Parking is on your left. You can also gain access from the south end outside the fence of the Lagoon Campground. From here the trail heads east then heads north past some buffalo and elk. After 1/2 a mile you'll merge onto the Farmington Creek Trail. This trail will take you to Farmington Pond and continues up Farmington Canyon.
---
Farmington Pond



From I-15 take the Lagoon/Farmington exit heading north. At the 1st light turn right on Main Street, then turn left for .5 mile you will see a sign pointing you to the reservoir.
---
Frary Peak


6.6 Miles RT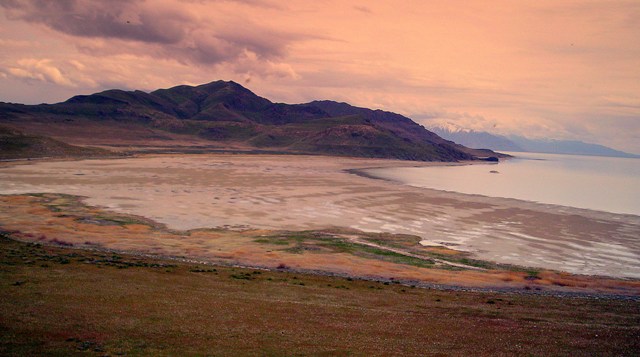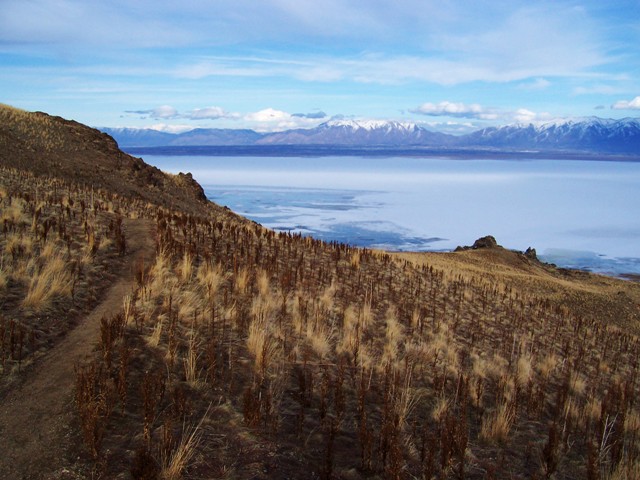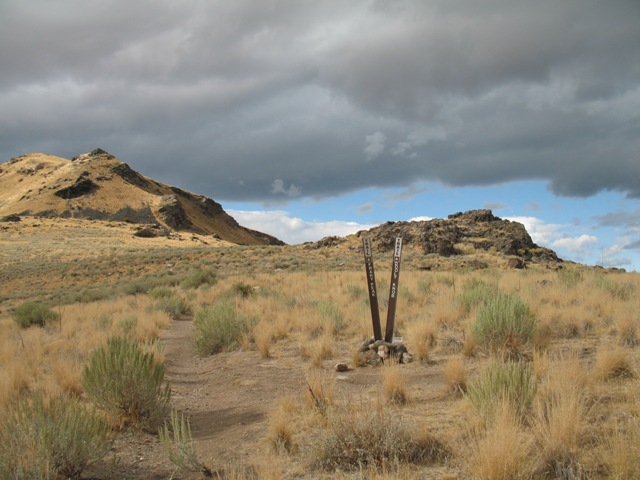 From I-15 take exit-332 (Antelope Drive) and go west 6.7 miles to Antelope State Park entrance where you have to pay a fee to cross the causeway. Once on the island, veer left at the Ranch sign and continue for .6 miles to Garr Ranch Road, and turn left. Drive 5.2 miles and turn right at the Frary trailhead sign, continue another .5 miles to the parking area. The trail begins at the southwest corn of the parking lot. Frary Peak is the highest point on Antelope Island. Photos were taken by Dean-Icarreau-gjagiel.
---
Garden City Pond



This community fishing pond is located just south of Garden City from the junction of HWY-89. Head south on Bear Lake Blvd for .8 mile then turn right onto Buttercup Ln. After .2 mile make another right onto Buttercup Blvd. The Pond will be on your right after .3 mile.
---
Golden Spike National Historic Site



From I-15 heading north take exit 365 UT-13 Corrine for 20 miles. Turn left onto 7200 N Rd for 2 miles and take the slight right onto 18400 W Rd for another 4.7 miles before turning left onto 22000 W Rd/Golden Spike Rd. Golden Spike will be on your right in 1.1 miles. There is a short little hike here that takes you along some monuments and plaques before reaching the railroad where you can sometimes watch the old locomotives in action or you will have to go over the the maintanence shop where they are garaged to view them.
---
Great Salt Lake





GPS-N.40.44.15-W.112.12.06 : Elevation-4,500 ft : 1,000,000 Acres
(South Shore) Take I-80 west to exit 104. Drive NW for 2 miles to the State Park and park by the locked gate. Then walk another mile NE to the lake.
(Antelope Island) From I-15 take exit 335, and go west for 7 miles, to the Antelope Island State Park fee booth. Theere is an entrance fee.

The water is 5x's saltier than the ocean, being saltier in the north than the south. The lake is 75 miles long, 35 miles wide, and no more than 34 feet deep, making it the largest US lake west of the Mississippi River. The sulfurous smell is due to decaying algae and brine shrimp on the shore. The only fish in the lake are at the mouths of the rivers that dump into the lake. Once the fish hit the salt water they quickly die. The lake is mainly used for bird sanctuaries that nest over 200 bird species. Sailing, swimming, and kayaking are also a popular activity at the lake.
---
Holmes Reservoir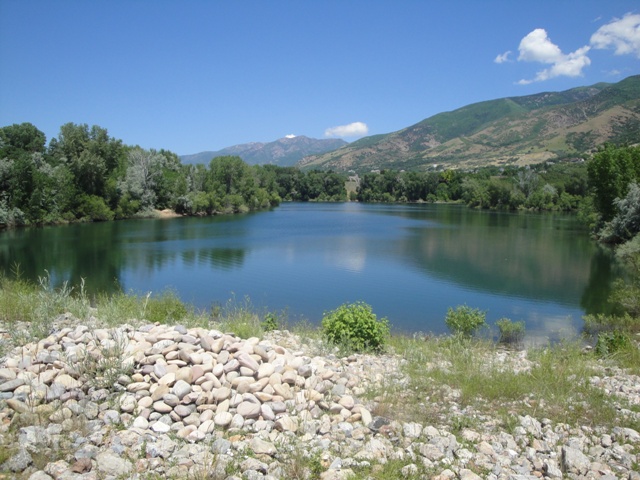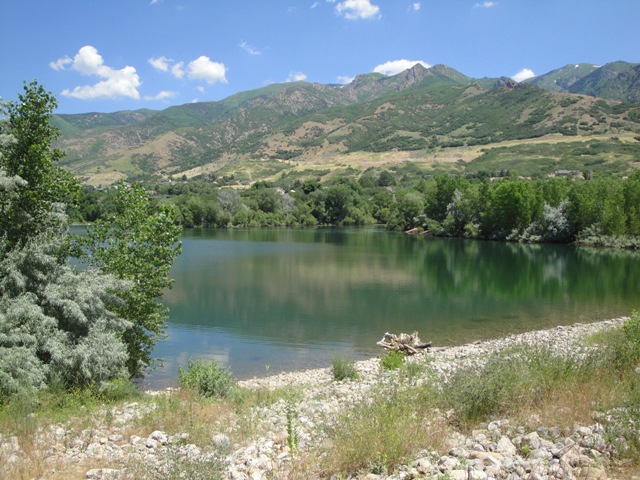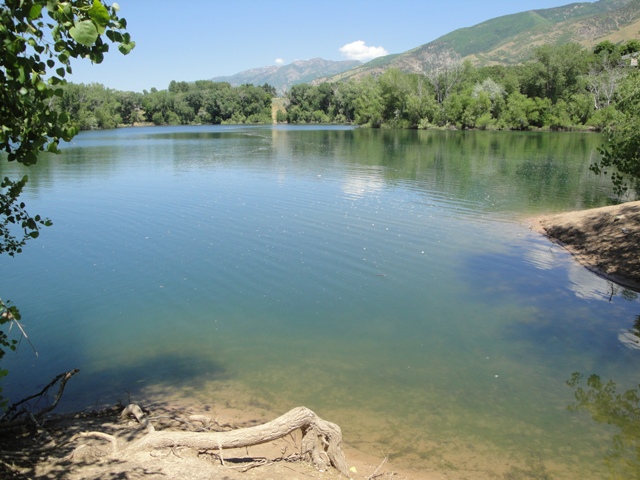 Holmes Reservoir is the first left after the junction of HWY-89 and Oak Hills Dr. The name of the road is E Gentile St. This road circle around the northern section of the reservoir where you can park at the gate and hike down the dirt road to the water. There are signs posted all over warning you there will be fines if caught swimming in the reservoir.
---
Hyrum Reservoir




N.41.37.590-W.111.52.276 : Elevation-4,664 ft : Water Temperature-6/3/09-67 : 9/20/10-66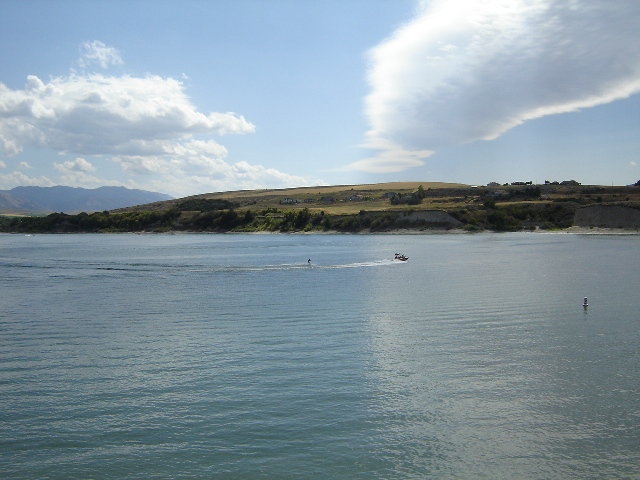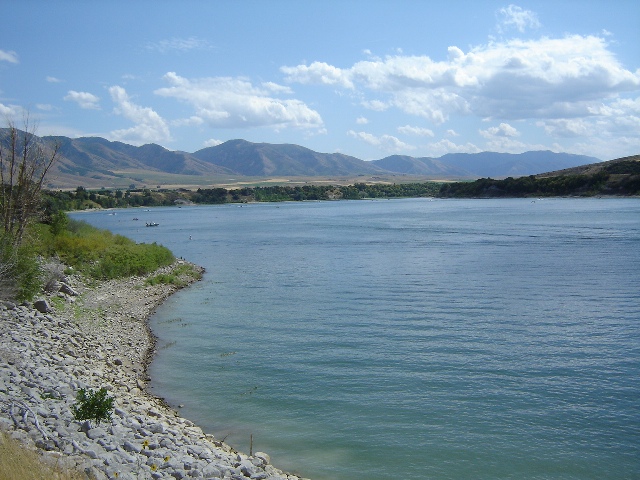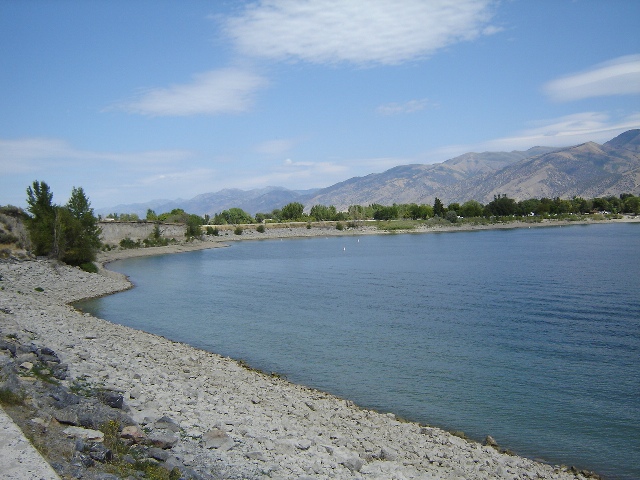 From Brigham City drive northeast on HWY-89 for about 12.50 miles, turn off onto 6800-S and drive east for 2.6 miles. Turn north onto 2400-W for .14 mile, and right onto 6600-S for .74 mile. Turn north onto 1800-W for 1 mile to Hyrum State park on your right.
---
Indian Trail


8.6 Miles RT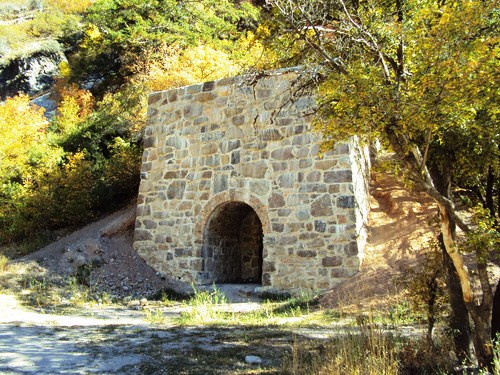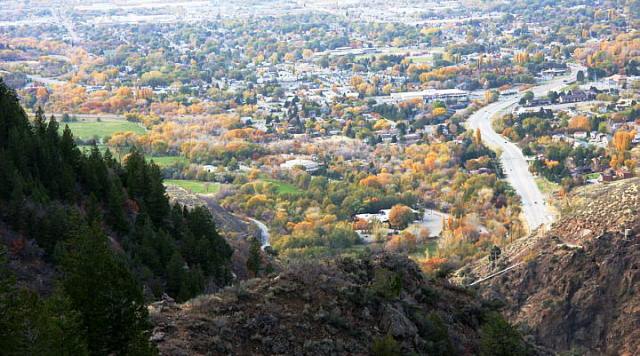 Drive up Ogden Canyon (east on 12th Street) about 1.5 miles. Just past Mile Marker 10, there is a small sign for "Indian Trail". You will also see a Forest Service Smokey the Bear fire hazard sign. The parking lot is on the south side of the highway. The parking lot has room for about 20 cars but is rarely filled to capacity. Access the road just above the small storage reservoir and head north toward Ogden canyon. Keep following the maintained dirt trail that climbs toward the canyon and watch for signs on wooden planks. The trail eventually narrows as it enters the oak brush on the foothills. It is an easy climb and the trail is in good shape. The Indian Trailhead doesn't link to any points north or East but can be a starting terminal to numerous trails to the South and West. Following Indian toward Ogden, you will reach the Coldwater Trail (dead ends up Coldwater Canyon) 1.8 miles. At 3.5 miles you will reach the link to Hidden Valley trail (overlooks Malan Basin to the North and dead ends). At 4.2 miles you reach the Bonneville Shoreline trail near Ogden 22nd Street. Following the Bonneville Shoreline Trail, you will reach the link to Malan Peak, Mt Ogden and the Great Western Trail at Ogden 27th Street. If you continue following the BST you would pass Waterfall Canyon and eventually reach Bues Canyon near Ogden's 46th Street Trailhead.
---
Jordanelle Reservoir
Elevation-6,166 ft : Water Temperature-6/19/08-63 : 9/28/09-62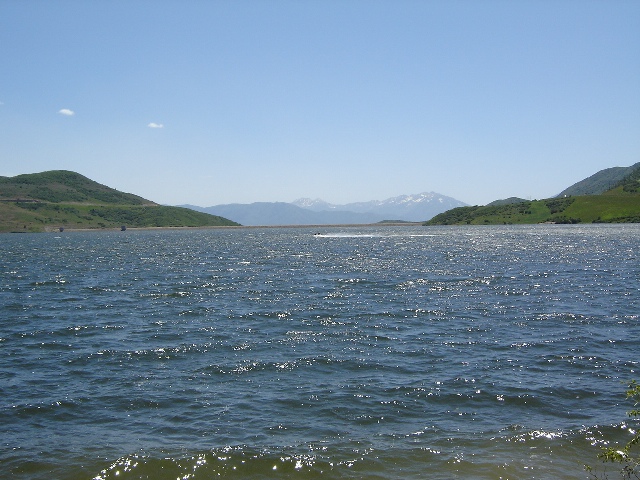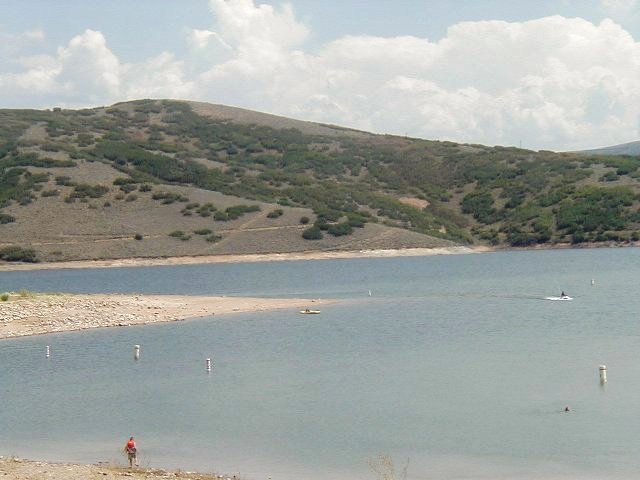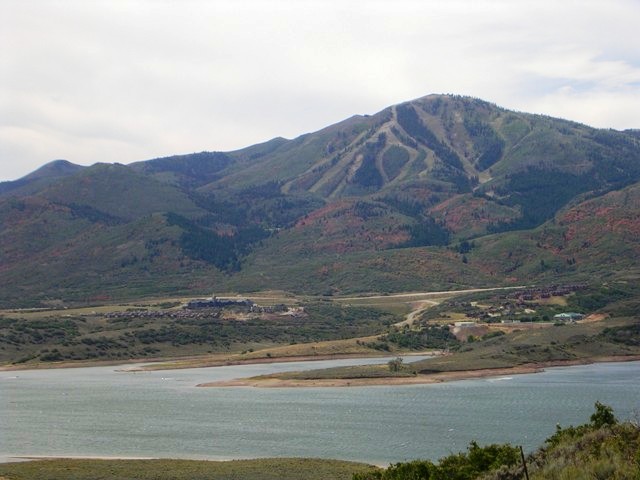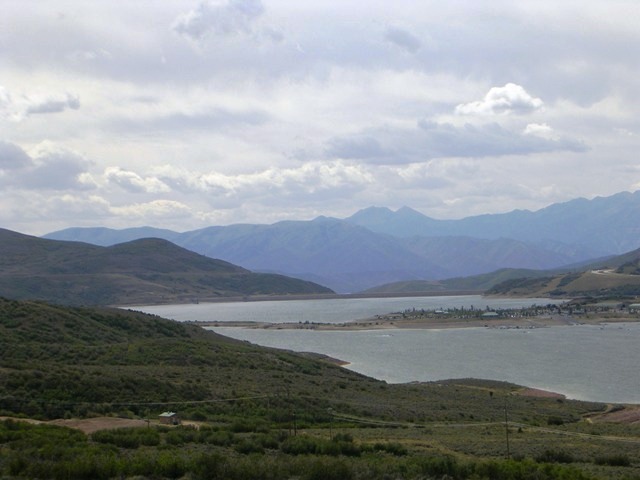 From I-80 heading east from Park City take exit 248 onto HWY 40 south for about 11 miles to the State Park exit. There is fishing for rainbow trout, cutthroat trout, brown trout, and smallmouth bass. Activities include camping, boating, watersports, swimming, hiking, and mountain biking.

Rock Cliff Campground



13 mi. NE of Heber and 2 mi. west of Francis on Hwy 32, open all year, 50 tent camping units (no RVs, motor homes or trailers) reached by elevated boardwalk or trail through the aspens, group-use pavilions with group camping available by advance reservation, Nature Center, water, showers. Excellent area for fishing from float tubes as you just walk down a paved road which goes right into the water. The bay is in a sheltered canyon. Parking is somewhat limited.
Hailstone




Located on the west shore of the reservoir, exit 8 on US 40 between Park City includes a marina, general store, restaurant, personal watercraft launch ramp, boat ramp, and day-use cabanas.
Keetley Point Campground: is walk-in only, modern restrooms, tent sites in a scrub oak draw NW of park entrance road. Each site has a concrete pad, an 8-foot aluminum table, stand-up grill and fire pit.
McHenry Creek Campground: Tent/recreation vehicle sites with no utilities. Campground is sheltered between scrub oak stand and a quiet, perennial creek. Each site has a concrete pad, 8-foot aluminum table, stand-up grill, fire pit, and tent pad. A camp service center provides modern restrooms, hot showers, mini-laundromat.
RV Campground: These campsites are overlooking the reservoir. Each site has a concrete pad, 8-foot aluminum table, stand-up grill, fire pit, and electric and water hookups. Access is by a paved, pull-through drive or single spur. The campground is serviced by modern restrooms and a camp-service center.

---
Kaysville Ponds

Visible from I-15 in Kaysville. Rainbow, Catfish, Bluegill, Green Sunfish, & Largemouth Bass.
---
Little Dell Reservoir


Elevation-5,798 ft
Drive up Drive up Parley's Canyon on I-80 East and take exit-134 up East Canyon, and the reservoir will be N/E on your right after about 5 miles. There's no swimming, bathing or washing within the lake, no dogs, picnicking limited to restricted areas, no operations of motorized boats, limited day-use only due to public water source. Great place for fishing, and there is a fee for day-use.
---
Lost Creek Reservoir



GPS-N.41.11.079-W.111.24.022 : Elevation-6,000 ft : 355 Acres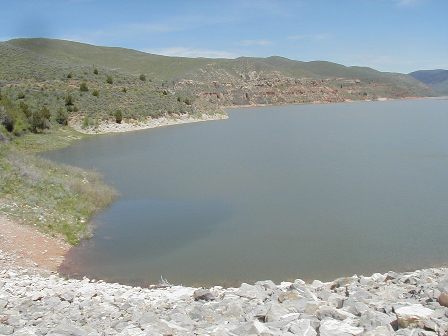 From Parley's Canyon Turn onto I-84 north of Echo Reservoir to Croydon exit. Follow UT 158 north on Croydon Road eventually turning into Lost Creel Road. Follow it for 10 miles until you reach the reservoir. There is fishing with very few visitors other than the widow maker climb that takes place annually. The last time I was here the campground was shut down.
---
Mantua Reservoir



Elevation-5,159 ft : N.41.30.165-W.111.56.437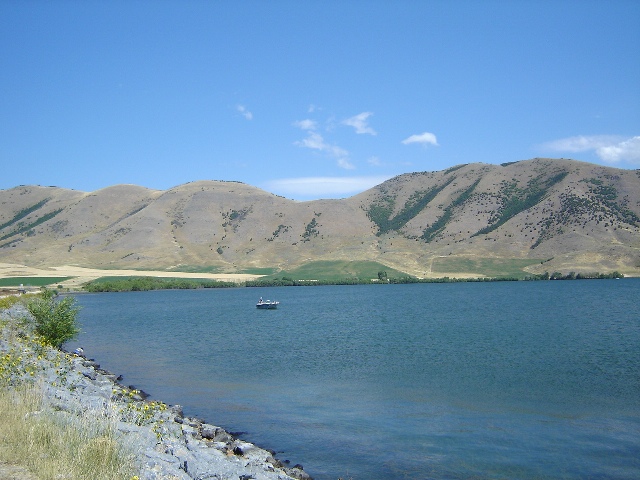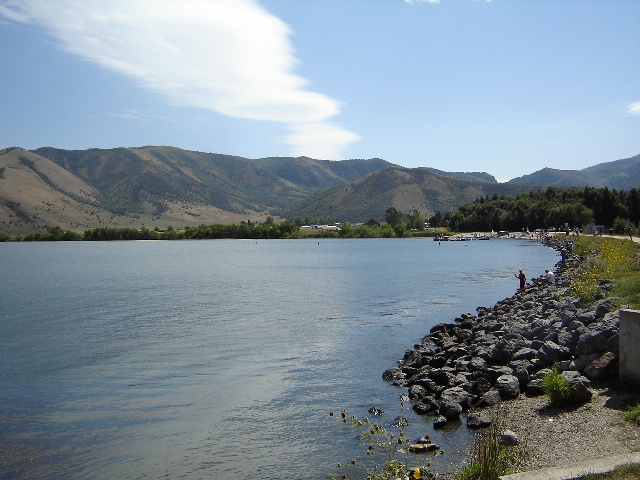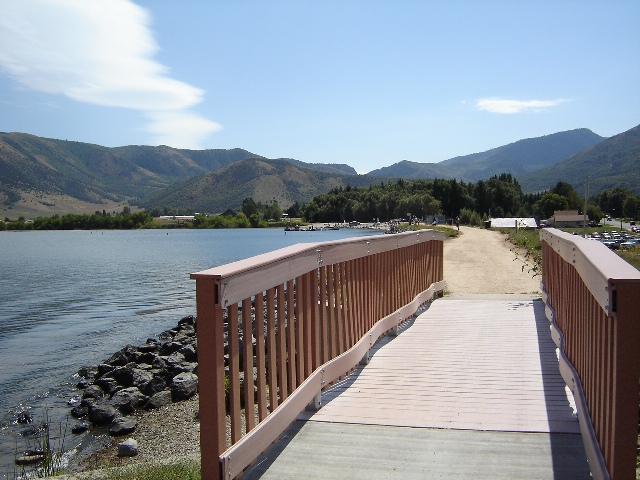 From Brigham City drive east on HWY-89 straight to the reservoir. Take a left onto Main Street and head north. The reservoir will be on the right hand side. There is a launch ramp on the west side of the reservoir, fuel, and limited groceries. This is a good place to go to get away from the crowds. I'm not quite sure if waverunners are allowed on the Reservoir. I did see some waterskiers being pulled behind a boat though.
---
Maple Bench Trail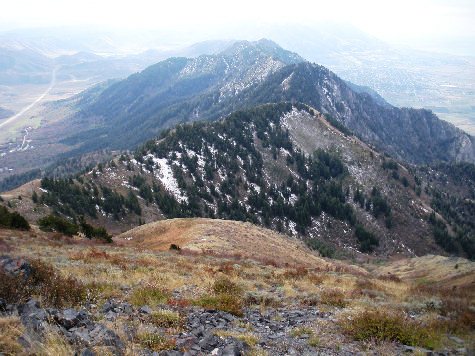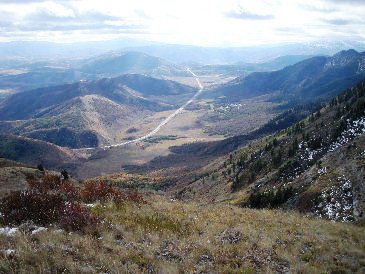 From Logan take Hwy. 30 (200 N) to the west side of Cache Valley and turn left on Hwy. 23 to Mendon. Go through Mendon and on the south side of town take 1800 S, veering right. At first this is a small paved street, but then becomes gravel and comes to an apparent dead end at a house, but turn right on the dirt road just before the house. After a long straight section, you come to a T intersection and must make a very sharp left turn toward the mountains. From here on the road is nasty with rocks. 4WD is not necessary, but something with bigger and tougher tires would be preferable and a low clearance car is no good. Follow this road all the way to the end at about 5980 ft. and a small parking area at the trailhead.

This is a great hike and apparently not too frequented, as there are 2 other trails accessing the Wellsvilles. The first mile involves very little climbing and some irritating little downhills. Here lies Coldwater Lake. Finally the trail began to climb some and comes to a fork. Finally, after 3 miles you arrive at Stewart Pass on the ridgeline of the Wellsville Mtns. Turn left and head for Wellsville Cone. The first big rise ahead is not Wellsville Cone, but requires climbing over, to an elevation of 8900 ft., then downclimbing a good ways. Now Wellsville Cone iss looming ahead, a very steep peak. When you finally get on the side of Wellsville Cone itself, there is a stretch of trail with some exposure.
---
Meuller Park Trail



11.2 Miles RT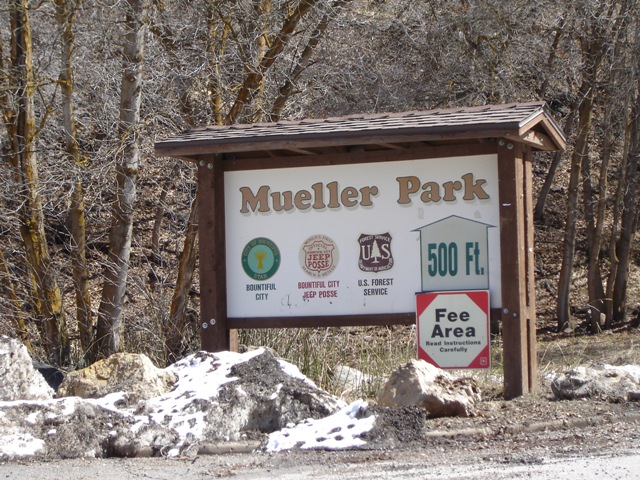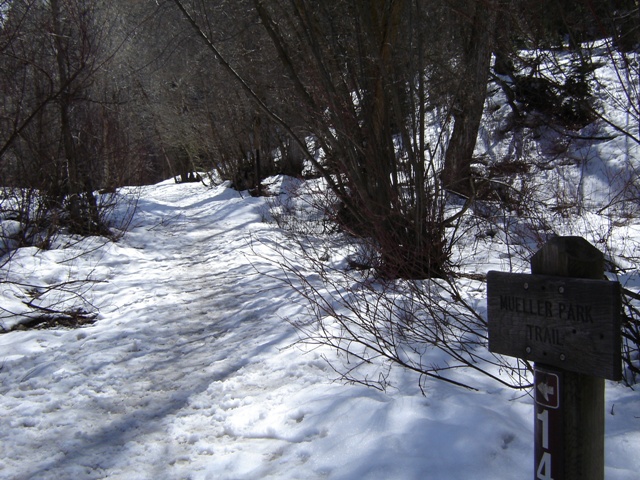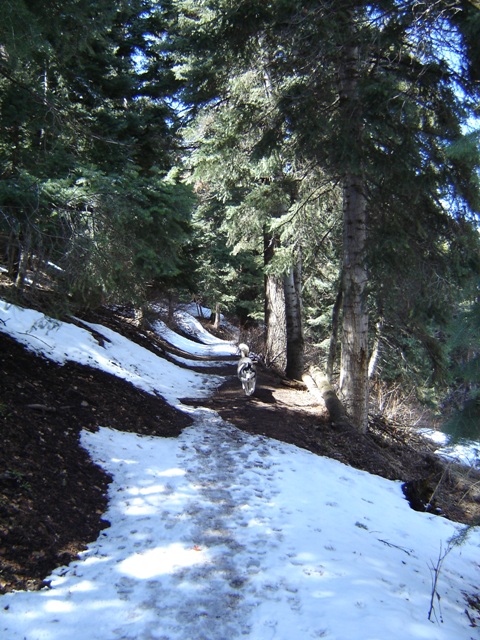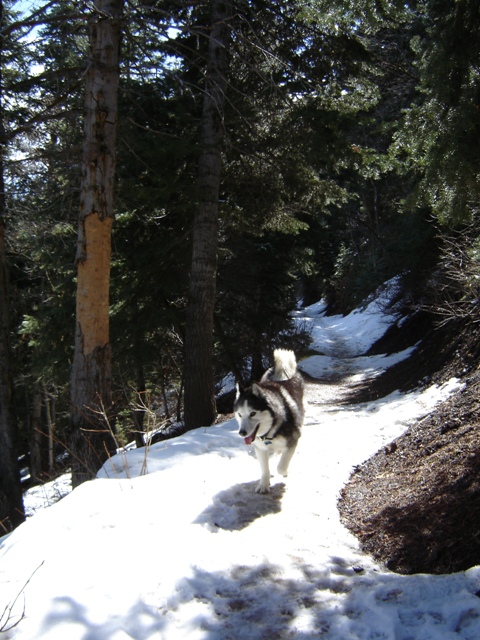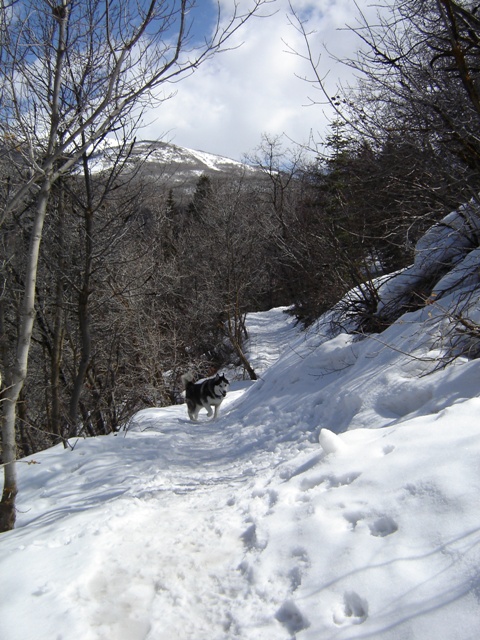 From I-15 take the Woods Cross exit-315. Turn east on 2600 South 0.3 mile and turn north onto US-89. Drive 0.4 mile and merge right onto HWY-68 North, follow it 0.4 mile to 1875 South. Continue east 3.1 miles to Mueller Park Picnic Area entrance. You can park here before the fee station and the trail starts here. Cross the bridge and continue up the switchbacks where the trail will break off to several other trails along the Wasatch.





Kenny Creek Trail



4 Miles RT

The trailhead begins at the west end of the picnic area on the north side of the road, and winds its way northeast through heavy oakbrush, open meadows, and tops out on the ridge. The view along the lower part of the trail is limited due to heavy vegetation cover, but as you gain elevation in the upper end it opens up allowing a much better view of the mountains.
---
Mt. Ogden



1.4 Miles RT-Waterfall : 10 miles RT-Mt Ogden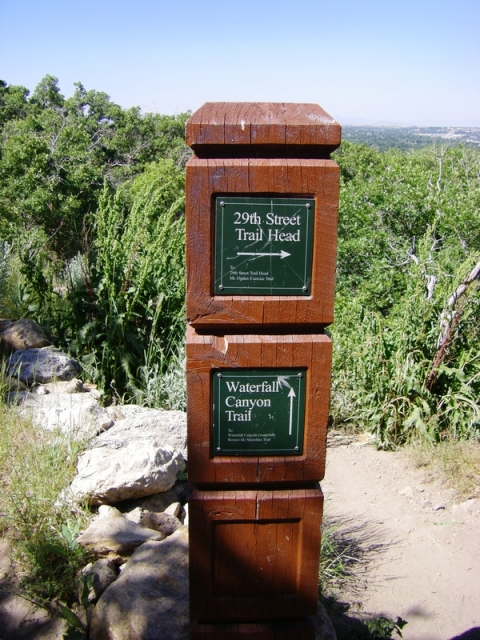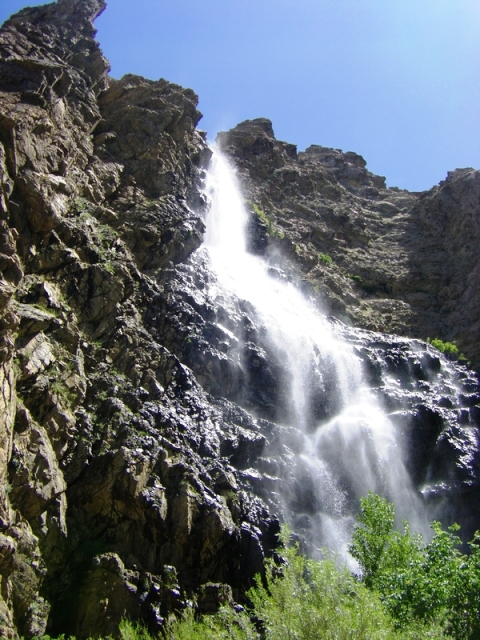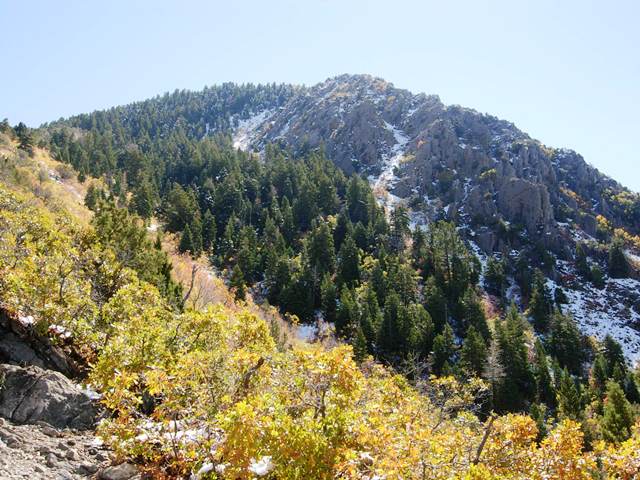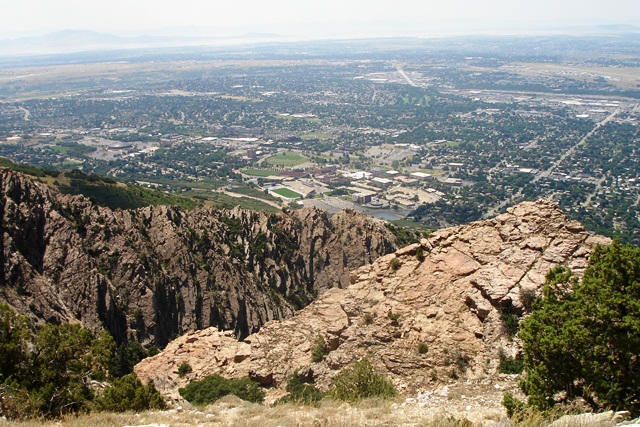 From I-15 take exit 341A and go east on 31st Street in Ogden to Washington Blvd. and turn left. Drive north to 30th Street turn right and then left at Tyler Ave to 29th street and turn right. Drive to the end of this road and turn right into the parking area. Several trailheads can access the route up, including 27th Street, 29th Street Trailhead, and Waterfall Canyon Trailhead. To reach the 200-foot waterfall you will need to hike a short distance over steep, rocky terrain to the upper end of the canyon. Spur trails run in every direction but it is easy to follow the main trail. After crossing the wooden bridge at the mouth of Waterfall Canyon, follow the obvious trail along the south side of the small stream. After a short distance the trail crosses to the north side, again via a wooden bridge. From there just continue following the trail along the north side until you see the waterfall. The hike up to Mt. Ogden the trail follows a stream east through Taylor Canyon for .5 mile, and turns south 1.8 miles to Malan Peak. After .7 mile more you'll reach the junction of Waterfall Canyon Trail. Continue east for 1.8 miles and turn north at the jeep road to the summit of Mt. Ogden. From the Waterfall Canyon Trailhead you must maneuver your way to the right around the waterfall up along the stream to the junction of Malans Peak Trail. This route is only 2 miles to the junction.
---
Newton Reservoir



GPS-N.41.53.764-W.111.58.330 : Elevation-4,778 ft : 350 Acres : Depth Maximum-74 ft/Mean-18 ft : Shoreline-5.7 Miles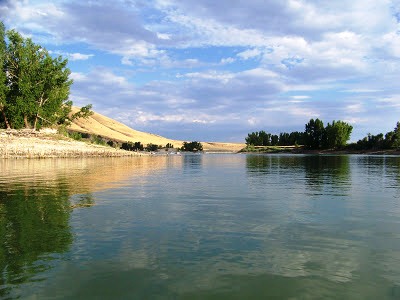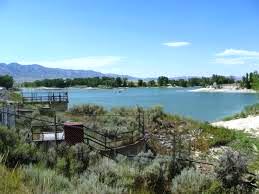 From Logan head north on U.S. Highway 91/89 to Smithfield 7 miles. Then take Utah State Road 218 to Newton. The Reservoir is about 2 miles north of Newton. Newton Reservoir is formed by Newton Dam, Newton Project, on Clarkston Creek. The reservoir has a surface area of approximately 290 acres when full. Managed recreation season is June through September with relatively low use. Common fish species include perch, bluegill, sunfish, and rainbow trout. All-weather access. No fees for boat launching, primitive camping, and picnicking.
---
Northern Skyline Trail/Ben Lomond Trail



26 Miles RT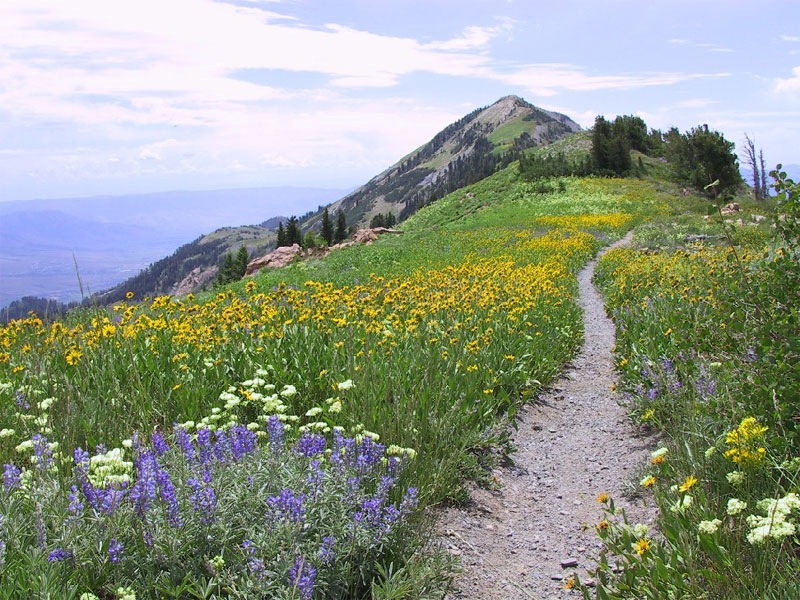 From I-15 take exit 352 and go east on UT 134. Turn right on US 89 then immediately left on UT 235. Turn left on 400-East or Wasatch Blvd. and drive up to 3100-North. Turn east to North Ogden Canyon drive down to 4100-North and 3300-East, and turn left at the stop sign on 3300-East. Drive another 1.5 miles to North Fork Park and park near the stone monument. Cross the footbridge, and over the rocky terrain. After awhile the trail will smooth out. After 5 miles you will reach Cutler Spring Fork Trail to the right. Continue anther mile and you'll reach North Skyline Trail. Continue on the main path to the summit.
---
Ogden Nature Center Trail



3 Miles RT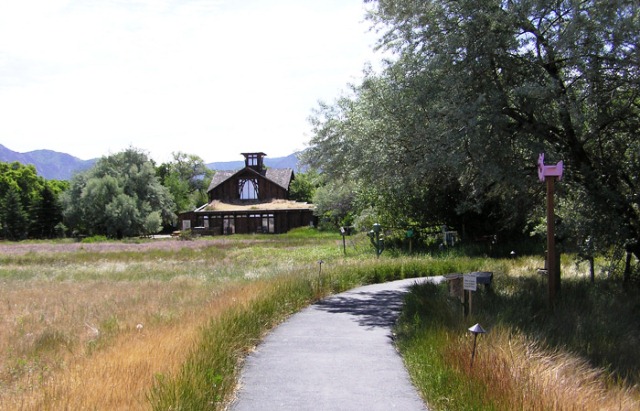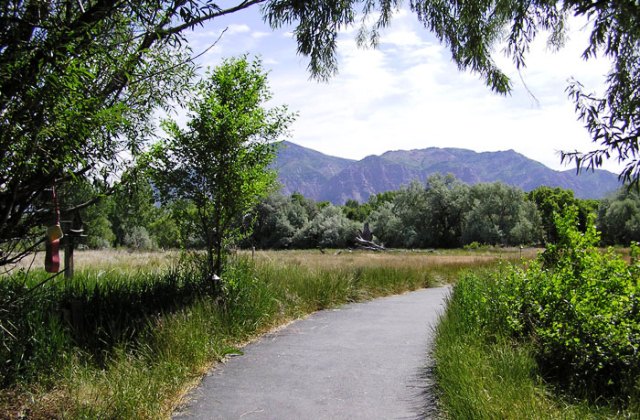 Take exit 347 from I-15 onto 12th Street, and drive east for .5 mile. The Nature Center is on 966 West, 12th Street, on the north side of the road. The trail leads you along several ponds, marshland, and a little waterfall. Some of the ponds are stocked with turtles and have plenty of wildlife to see.
---
Ogden River Parkway



5 Miles RT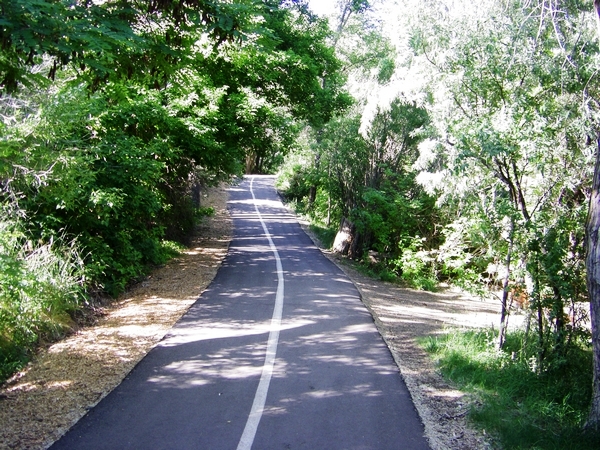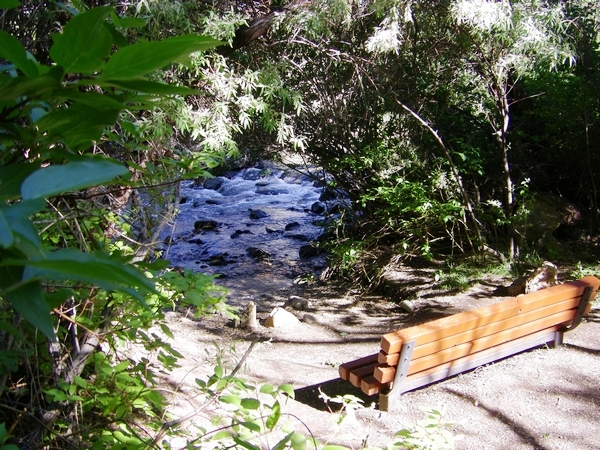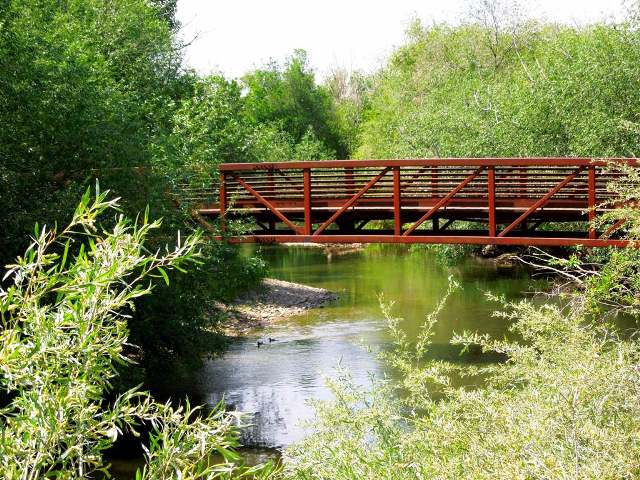 The path starts near the junction of 18th street and Washington Blvd. This is a paved path that follows the river heading east from the city towards the mouth of Ogden Canyon. It ends at the Bonneville Shoreline Trail.
---
Pineview Reservoir



Elevation-4,900 ft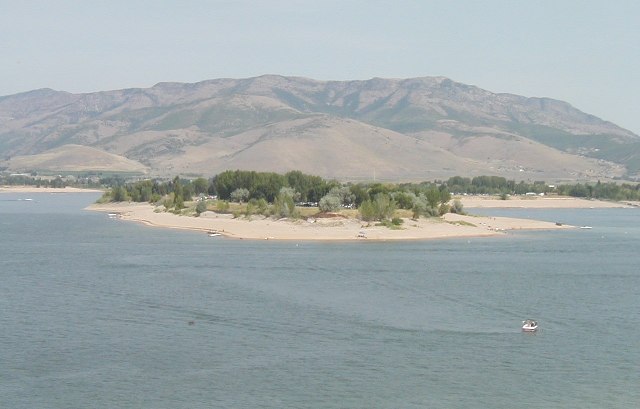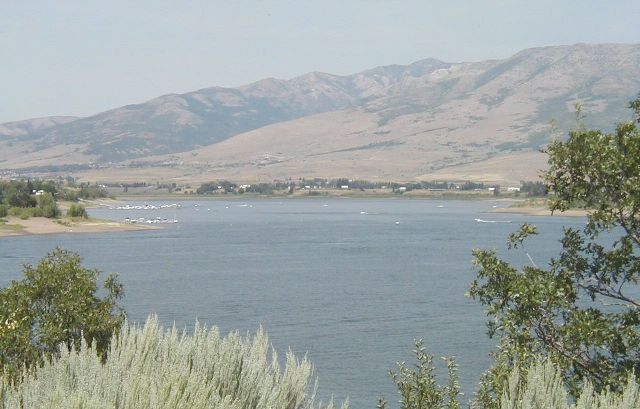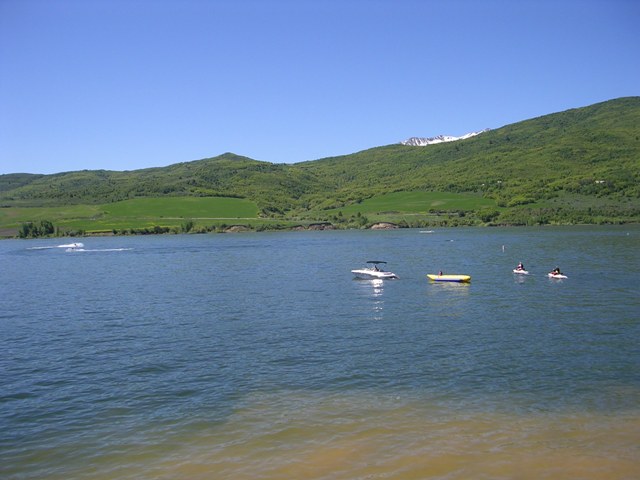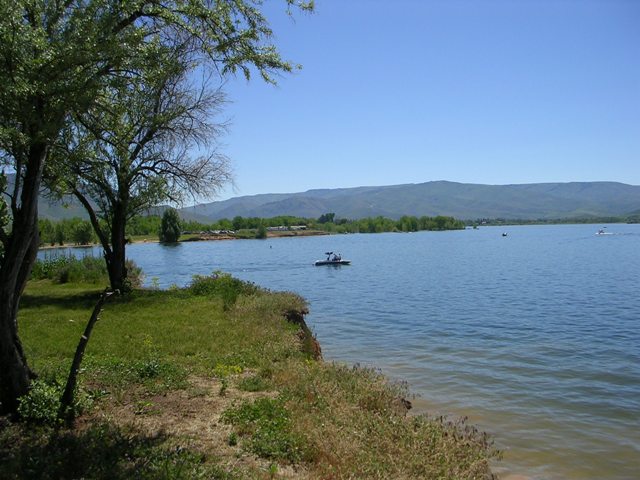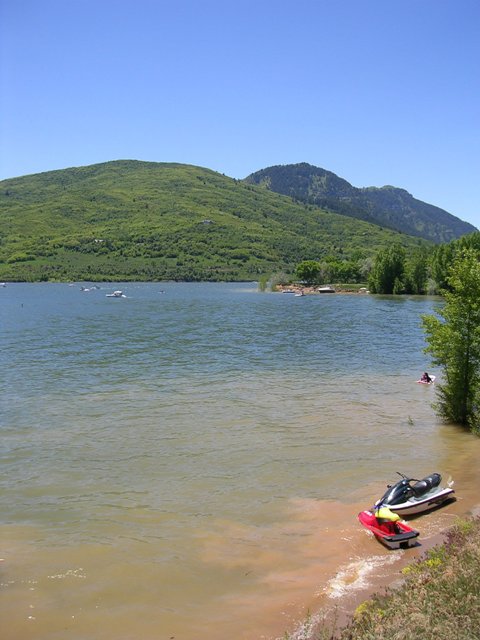 From I-15 take exit 344 the 12th Street exit in Ogden, and drive 7 miles up Ogden Canyon to the southern end of the reservoir. There is a paved road that encircles the entire reservoir. Glass, fires, & camping are not allowed anywhere along the reservoir. There are many roadside parking areas all around the reservoir that gives you access to fishing for warm water species including planted Tiger Muskie. The only overnight camping is at Anderson Cove Campground & Jefferson Hunt on the south shoreline. Both campgrounds have picnic areas, swimming areas, boat ramps, toilets. This warm water lake gets crowded on summer weekends so the number of boat launches are limited. Reservations for camping must be made through Recreation.gov or call 877-444-6777. Boat rentals are available at Cemetery Point. Fishing, sailing, swimming, ice fishing, and water skiing are all popular.

Port Ramp Marina is located on the west shoreline, this is the most used launching facility. There is a large concrete ramp and parking lot.

Cemetery Point Marina is located in the town of Huntsville on the east shoreline. If you dock off here make sure to bring your bank account with you, they charge $10 per waverunner and an additional $10 to park at the beach area.

North Arm Wildlife Viewing Trail


.8 Mile Loop
North Arm Wildlife Viewing Trail begins on the north side of Pineview Reservoir. At Pineview Reservoir Dam, turn north from Utah 39 to Utah 162 towards Eden and Liberty. Drive 3.8 miles to the North Arm Trailhead just past where you cross the North Fork of the Ogden River. Park in paved lot.
---
Porcupine Reservoir



GPS-N.41.31.195-W.111.44.763 : Elevation-5,381 ft : 77 Acres : Depth Maximum-139.1 ft/Mean-65.9 ft : Shoreline-4.2 Miles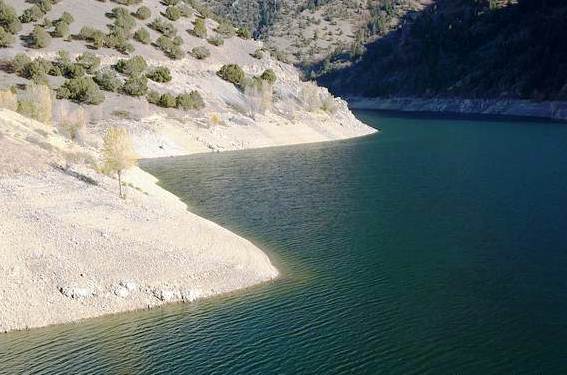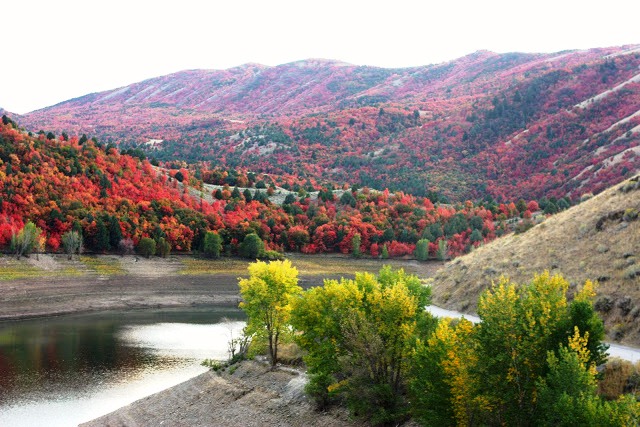 From Logan, head south on US 89. Take a left onto UT 165 south. From Paradise turn east onto 9100 south, and right on UT 162 to Avon. Go south through Avon until you cross the East Fork of Little Bear River. Turn right on 800-East, and left on La Plat and head up the canyon. The road turns to gravel, but the reservoir is only about two miles up. Boats can be launched on the eastern end of the reservoir. The north side of the Reservoir has some nice campsites
---
Rattlesnake Trail


10 Miles RT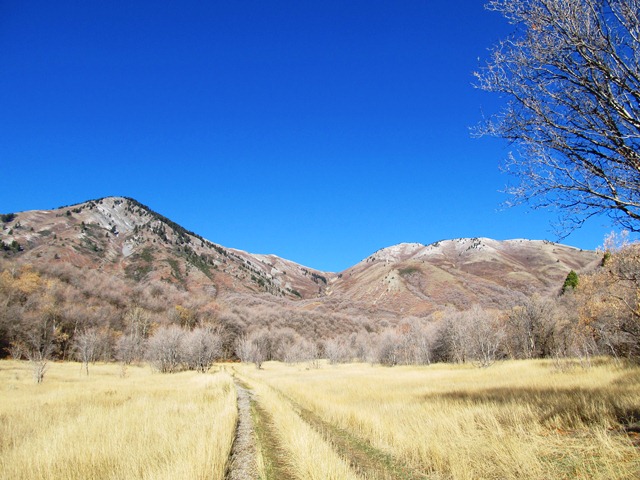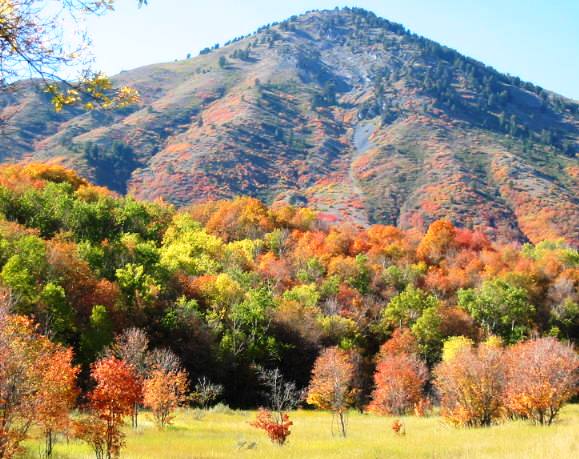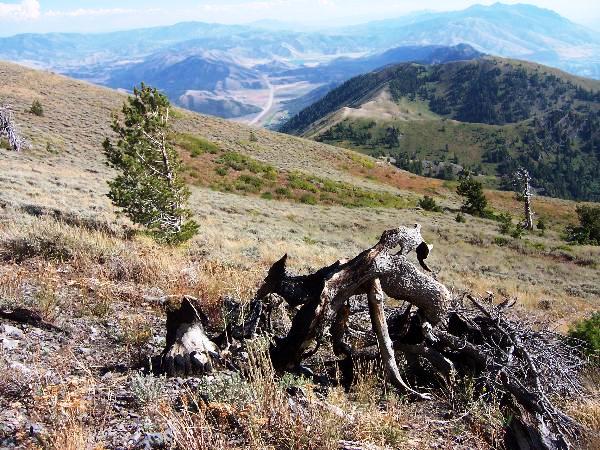 From Wellsville, drive south on US 91 for 3 miles from the intersection with State Route 23. Turn onto the dirt road on the north side of the road to the gate. Another route is from Sardine Canyon (US 89) half-mile N of Sherwood Hills Resort turnoff, at the bend of the main highway. The parking area is fairly large. The trail sign is at a gate barring motorized access. The trail follows a gated-off jeep track through the forest of maples and box elders and small meadows for half a mile. Then the track turns sharply right and the trail continues up a drainage. A side trail to the right forks towards and across Saddle, separating Rattlesnake from Wide Canyon. This side trail descends to the edge of farm fields near Wellsville. The summit trail to Box Elder Peak continues straight up. One can see all the way from Naomi Peak Wilderness across the Cache Valley to Willard Peak in the South, but of course it only gets better further up the trail. For a while, the trail heads straight up in the direction of the peak, along a minor ridge to the East of the tributaries of Rattlesnake Canyon, then heads into a long traverse to the left, across the gullies and towards a picturesque Butte. You can see the butte, crowned with a small stand of evergreens, all the way from the TH. The finally crosses the gully in the vicinity of the ridge, next to a trio of evergreen trees, and forks again. The trail straight ahead follows the main crest to the South. The summit trail is a fork sharply to the right. It circles the head of Rattlesnake Canyon just below the ridge crest, then ascends due north and follows the Box Elder (West) side of the main crest to the peak.
---
Red Creek Reservoir


GPS-N.40.18.660-W.110.51.053 : Elevation-7,224 ft : 146 Acres : Depth Maximum-95 ft : Mean-40.1 ft
Red Creek Reservoir is easily accessible from US-40 in Fruitland. Turn north on the road across the street from the Fruitland store/gas station and continue for about seven miles. The road essentially terminates at the reservoir. There are no services at the reservoir, but gas and supplies are available in Fruitland. The area is entirely private land. You are a guest here, so pack out what you pack in.
---
Rockport Reservoir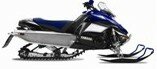 Elevation-6,038 ft : Depth Maximum-150 ft/Mean-63.7 ft : Water Temperature-6/2/09-65 : 10/2/09-60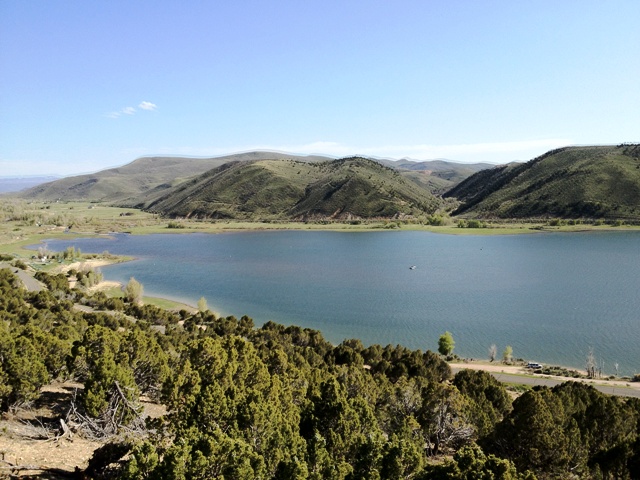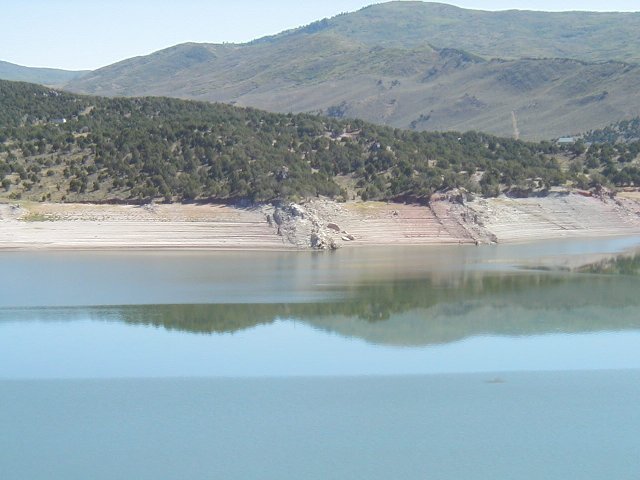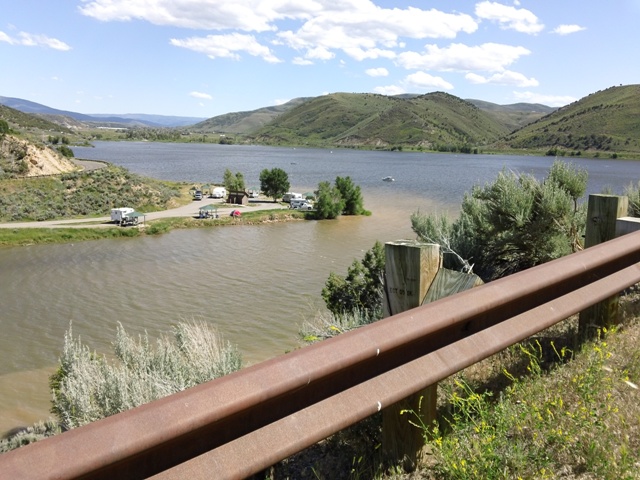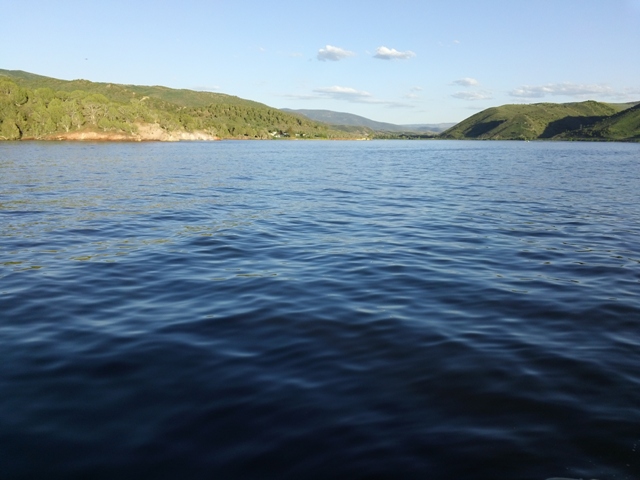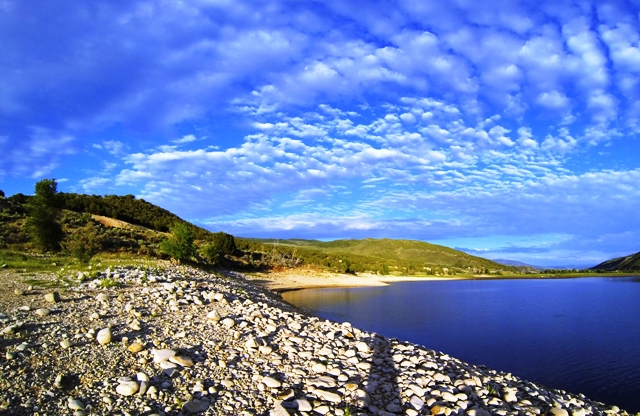 Just south of I-80 at Wanship exit 156. There is a road that turns near the south end of the reservoir. Ice fishing is more successful, especially for yellow perch. Recreational facilities at the reservoir include an improved boat ramp, campsites, toilets, and a swimming area. Rockport Campground is open all year, group camping, water, vault toilets, showers, dump station. User fees are charged. There are several beaches all along the shoreline. Fuel is available in nearby Wanship and Oakley. Groceries are available in Coalville and Kamas.

---
Southern Skyline Trail


22.5 Mile Loop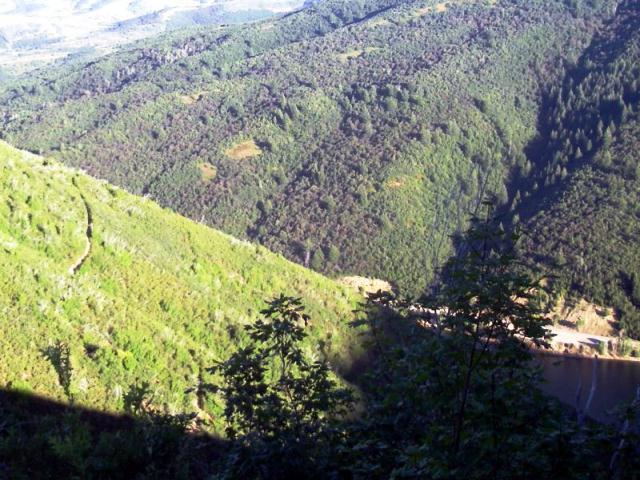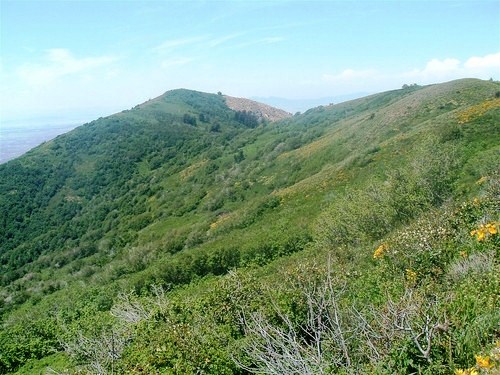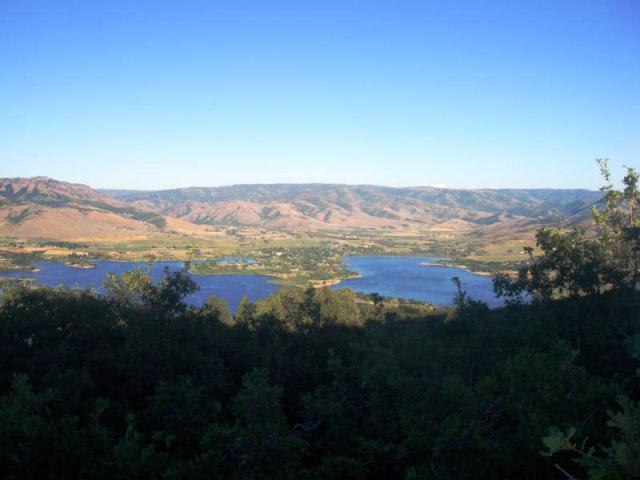 From I-15, take exit 347, Ogden 12th South. Head east towards the mountains, and the street will enter Ogden Canyon. Drive about 5 miles up the canyon. At Pineview Reservoir, turn left across the dam. About 1/2 mile later, there's a "Pineview Trailhead" parking area on your right. The trail starts on the southern end of the parking area, crosses the highway, then about 100 feet later, jogs slightly downhill as it crosses a paved private road. (The trail at the north end of the parking is the Pineview Trail, which goes 3.2 miles north to a second trailhead on the highway. It's a nice alternative return route if you're doing the loop ride.) At the 2nd switchback turn (to the left, at 1.8 miles), the trail seems to fork. The "straight ahead" option goes 0.1 mile to a viewpoint looking over Pineview. This is a good "we made it, turn-around" spot for beginners. If you're heading uphill, there are better views from the ridgeline above. The first 3 miles is steady climbing, at a grade of about 600 feet per mile (12%). The next 1.5 miles is up-and-down, but with some roots, rocks, and loose stuff to contend with. At 4.5 miles, you start a steady stiff climb up to the ridgeline. On the ridgeline at mile 7, you'll keep left at two trail intersections, rolling up and down for 2 miles to reach Lewis Peak at mile 9.4. From Lewis Peak, you can head back to the trailhead at Pineview, or you can head to North Ogden Pass for a loop or point-to-point.
---
Spiral Jetty



From I-15 heading north take exit 365 UT-13 Corrine for 20 miles. Turn left onto 7200 N Rd for 2 miles and take the slight right onto 18400 W Rd for another 4.7 miles before turning left onto 22000 W Rd/Golden Spike Rd. Follow Golden Spike RD for 8.1 miles before turning right onto N Rozel Flats Rd W for 4.5 miles then turn left for another 4.2 miles before reaching the dead end at Spiral Jetty trailhead. The gravel road is quite a long bumpy drive to get here but I think it's worth coming out at least once to see this unique piece of art.
---
Strong's Canyon Trail



1 Mile RT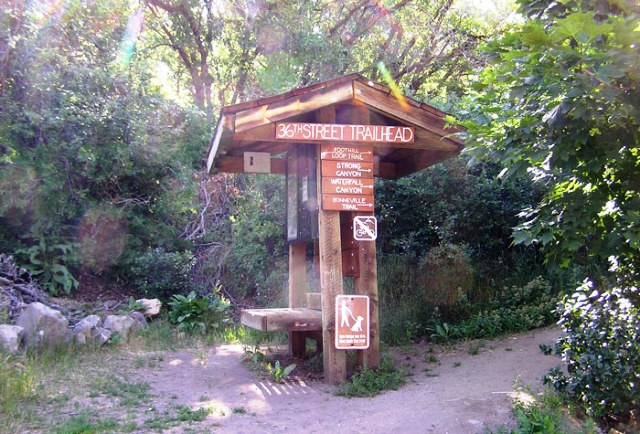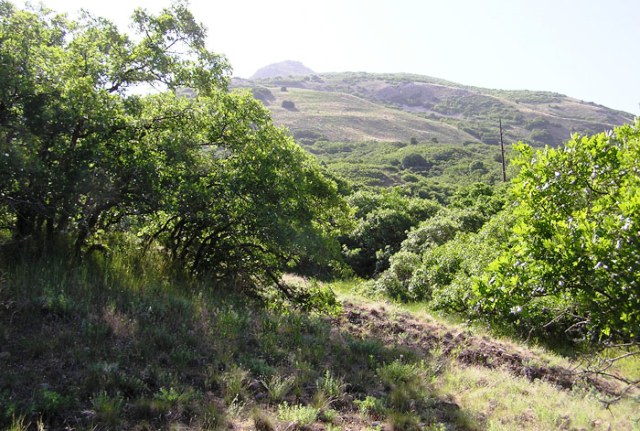 Begin at the 36th Street trailhead and follow the Mt. Ogden Exercise Trail up the hill. At the footbridge, turn upstream. About 100 yards upstream you will cross the mountain bike trail and bridge. Continue upstream to the water measuring dam and bridge. Continue upstream to the Bonneville Shoreline Trail (BST) and bridge. The trail continues up the stream from the BST but is not maintained. At the BST you may turn either north or south.
---
Thurston Peak



8.6 Miles RT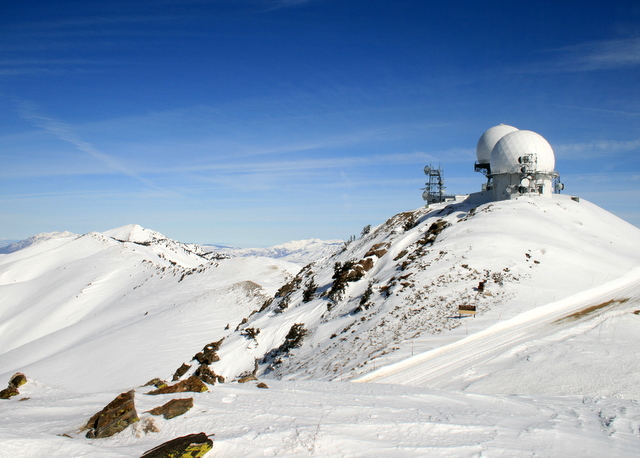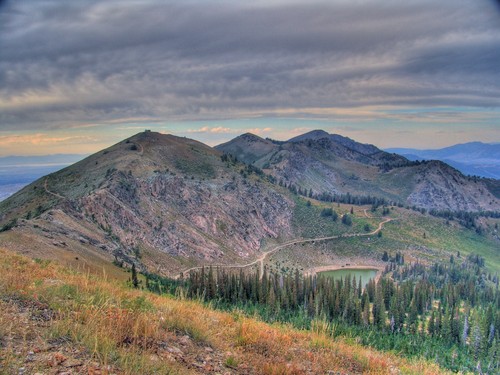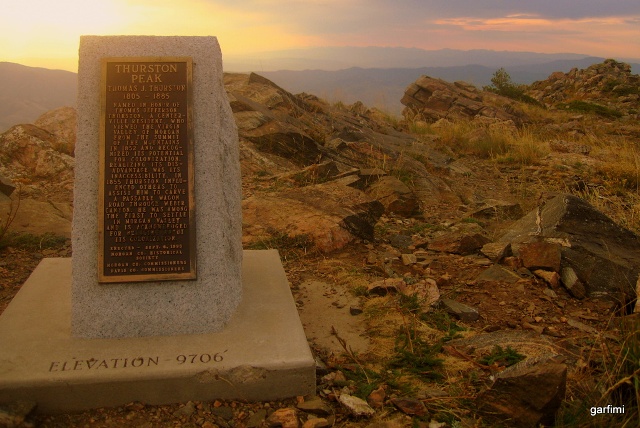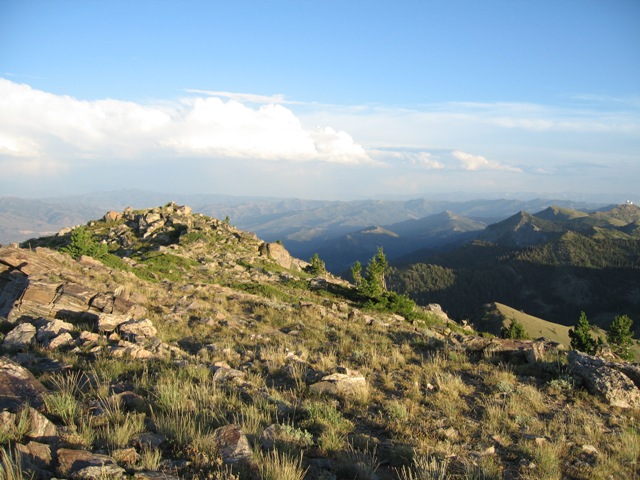 From I-15 heading south take exit 327, or exit 326 heading north to Main Street, turn left onto 600 North and another left on 100 East which leads to Farmington Canyon. After 8 miles turn left at the junction, early in the season the gate will be closed. Continue another four miles to the summit of Francis Peak where you can park and the trail takes you north another 2 miles to Thurston Peak. Thurston Peak is the highest peak in Davis and Morgan County. Pics were taken by MikerHiker & Garfimi
---
Twenty-First Street Pond

The pond is next to Fort Buenaventura State Park in downtown Ogden. Stocked with rainbow & brook trout.
---
Wellsville Reservoir


N.41.37.699-W.111.55.939
From US-89 out of Logan take SR-23 north for about .85 mile to 500-S and turn right to the reservoir. The reservoir is stocked with rainbow trout.
---
Willard Bay




Elevation-4,223 ft : Water Temperature-5/12/08-61 : 9/17/10-77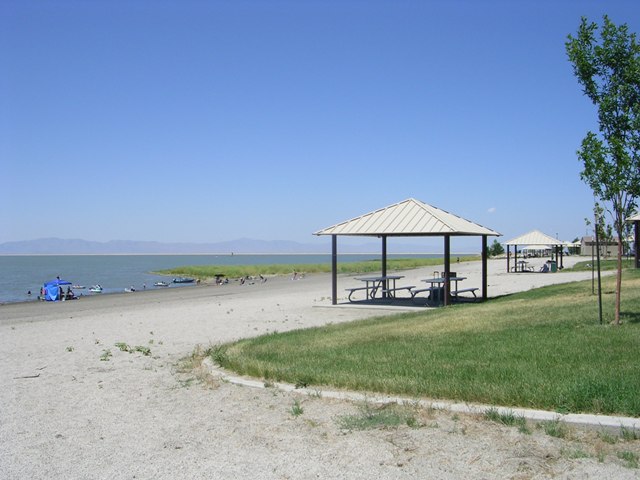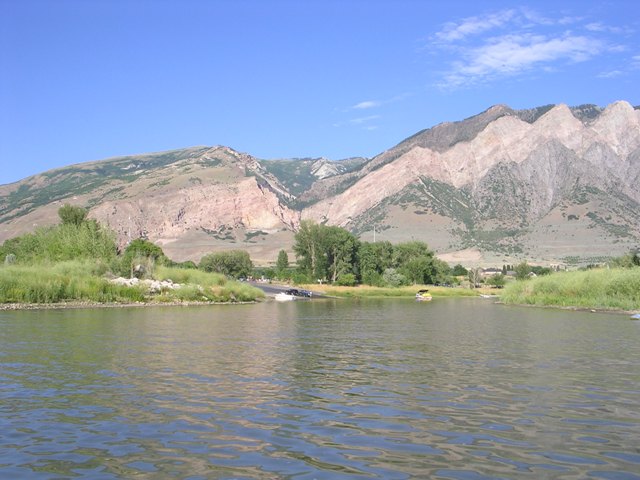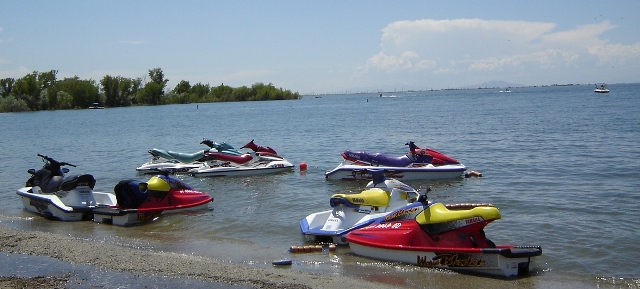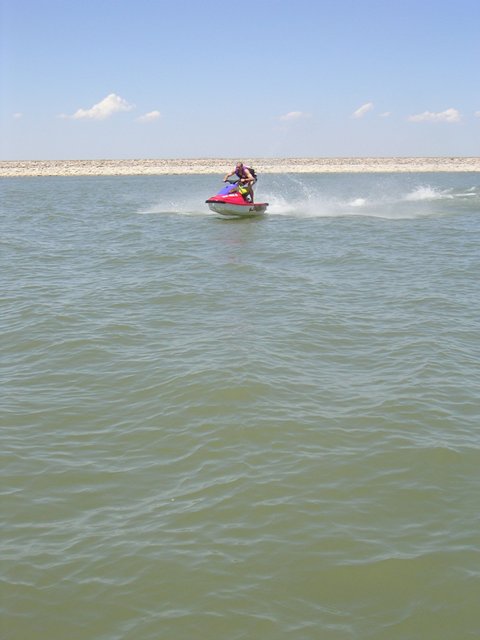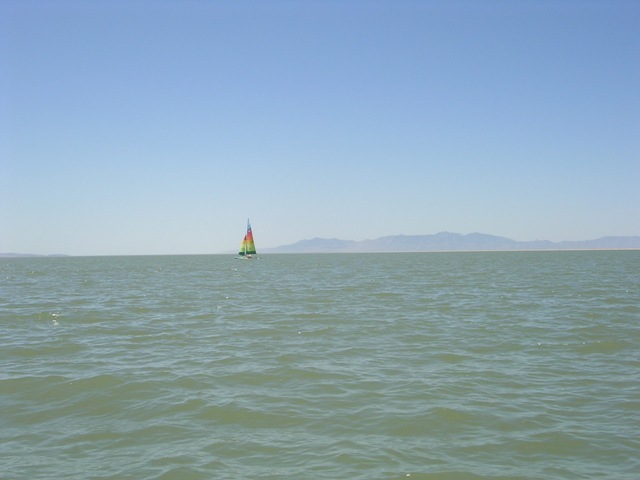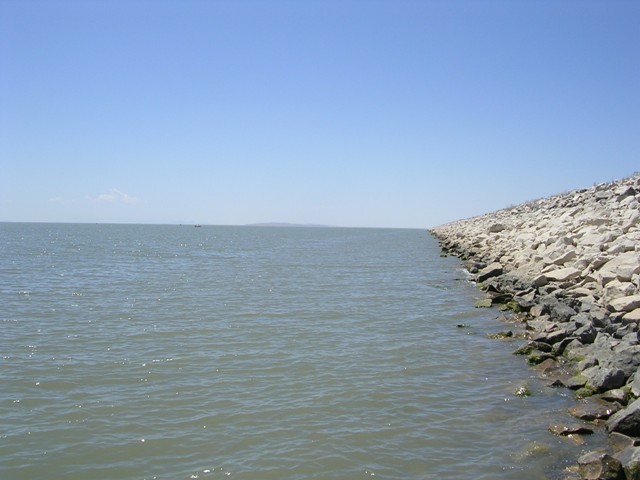 Take Exit-357 off I-15, and turn left at the crossroad a short distance west of the freeway to the entrance of the State Park. The southern marina is just 3 miles west of I-15 at Exit 351. Willard Bay State Park: is open all-year. There is a fee for day use and camping. The park includes rest rooms, hot showers, covered pavillions, & sandy beaches.
---
Woodruff Creek Reservoir



GPS-N.41.28.022-W.111.19.110 : Elevation-6,852 ft : 90 Acres : Depth Maximum-93 ft/Mean-33 ft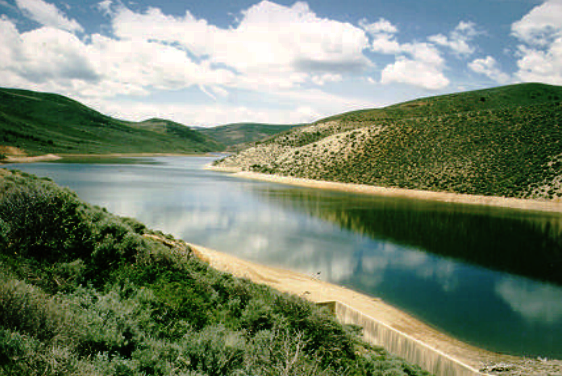 From U-39, the turnoff is about 5 miles west of Woodruff. Turn south and follow this gravel road to the southwest up Woodruff Creek for about 7 miles to the reservoir. This road is a little rough, so you might need a 4WD vehicle. Woodruff Creek Reservoir is an intermediate size reservoir on the east slope of the Monte Cristo Range. It provides some summer recreational opportunities. It should not be confused with Woodruff Narrows Reservoir, an impoundment of the Bear River in Wyoming, just over the state line from the town of Woodruff. Woodruff Creek Reservoir was created in 1970 by the construction of an earth-fill dam on Woodfuff Creek. The reservoir shoreline is owned by the BLM with a few small parcels of private land. Public access is unrestricted.