High Uintas



There is an entrance fee for the High Uintas unless your just driving straight thru. U-150 is closed during the winter, but groomed for cross country skiers, snowmobilers, and hikers. You will lose Cell Phone Service just before the fee station.
---
Arta Lake Trail



1 Mile RT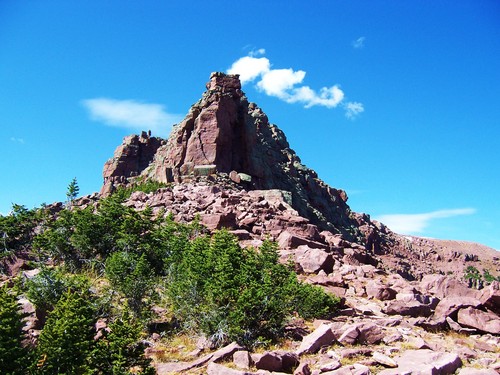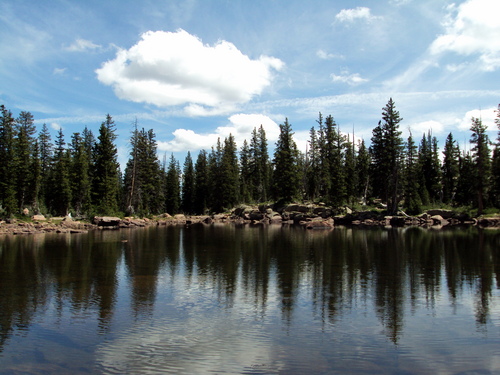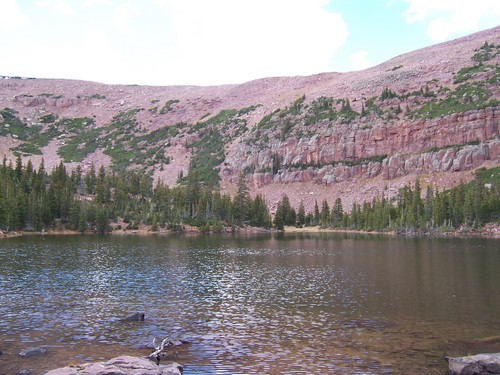 From Salt Lake City head east on I-80 towards Park City, go past the Park City exits and take the exit for US Highway 40 (Exit #148). Follow US Highway 40 to Heber City and past Strawberry Reservoir, to the town of Duchesne. In Duchesne take a left on highway 87 and follow north for just over 15 miles to where the road takes a bend and starts heading east. Head a half a mile east from the bend and take a left onto 21000W. Go north on 2100W for 2.8 miles and take a left onto 6750N which turns into Rock Creek Road, a paved road. For the next 23 miles the road is paved as you head towards Upper Still Water Reservoir. At the 23 mile mark take a left onto South Fork Road, a dirt road. Continue up South Fork Road for just over 2 miles until you reach the road for Arta Lake. Take a right and head to the end of the road which is 4.5 miles and there is a small parking area. The hike is only .5 mile to Arta Lake, and then you can hike up a steep hill to Survey Lake, Carl Lake is southeast of both of these lakes. This is a wonderful place to visit even though fishing isnít that great at any of these places.

Arta Lake-Elevation-10,450 : 1 mile RT : Acres-5.4 : Depth-6 : Cutthroat
Survey Lake-Elevation-10,700 : 1.6 miles RT : Acres-6 : Depth-12 : Brook

---
Bald Mountain Trailhead/Notch Mountain Trail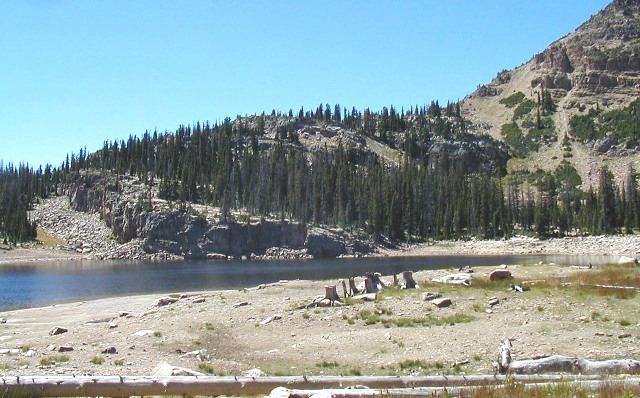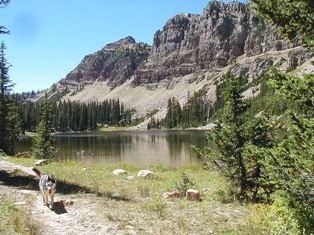 From Kamas take Hwy 150 east for 29.1 miles. Drive .5 mile past Bald Mountain Overlook and turn left into the parking lot near the trailhead. The trail starts climbing immediately and will have switchbacks. The end of the trail is at Bald MT Peak which is 11,943 ft. The overall length of the hike is 3 miles RT, and will give you spectacular views of several lakes and rivers. Another route from Bald Mt. trailhead is to head west which is a much easier hike. Itís pretty much the only hike that goes downhill, but you have to come back sometime. You will walk by numerous lakes, Clegg, Dean, Rieds, Notch, & turn around at Bench Lake. Donít bother fishing at Bench due to winterkill itís poor fishing. The overall length of this hike is 5.6 miles RT.

Clegg Lake-Elevation-10,460 : 3 miles RT : Acres-5 : Brook.
Dean Lake-Elevation-10,340 : 4 miles RT : Acres-12 : Brook & Cutthroat.
Reids Lake-Elevation-10,340 : 4.6 miles RT : Acres-3 : Brook.
Notch Lake-Elevation-10,300 : 4.6 miles RT : Acres-20 : Depth-58 ft : Brook.
Bench Lake-Elevation-10,260 : 5.6 miles RT : Acres-7 : Depth-10 ft : Fish-Brook.
---
Big Elk Lake Trail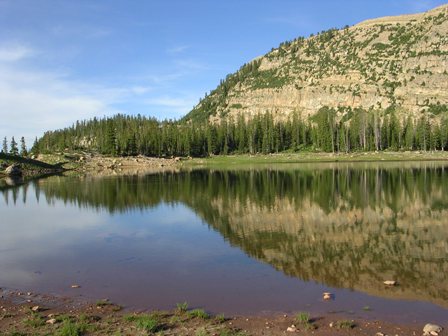 Drive 15 miles from Kamas on HWY 150, and the road will be on your left. There is no sign heading east, but there is a sign for cars heading west. The road is Norway Flats 035. You will need 4WD to get to the end to the road. After 6 miles from the HWY turn right at the junction. There are several junctions, so just follow the signs toward Big Elk.

Once you are parked and ready to hike Little Elk Lake will be .3 miles on the left of the trail. Continue another .8 mile to Big Elk Lake. Big Elk Lake is 2.2 miles RT, and South Erickson Lake & North Erickson Lake is about 5 miles RT. At North Erickson Lake there are huge brook that bite early in the morning. Use a bubble and fly to cast out a long distance to the center where the lake is deep, it is shallow along the shoreline.

Little Elk Lake-Elevation-9,780 : 1 miles RT : Acres-13 : Depth-31 ft : Fish-None.
Big Elk Lake-Elevation-10,020 : 2.2 miles RT : Acres-43 : Depth-110 ft : Brook & Cutthroat.

South Erickson Lake-Elevation-10,100 : 5 miles RT : Acres-10 : Brook.
North Erickson Lake-Elevation-10,020 : 5.6 miles RT : Acres-9 : Brook.
---
Blanchett Park



From Vernal, drive west 15 miles to LaPoint, and turn north onto Road 104. Drive another 30 miles to Paradise Park. 4WD is recommended to drive the extra 4 miles north to Blanchett Park. The trail heads northwest and you'll reach Kibah Lakes after 1.3 miles. You will reach East Kibah 1st then Finger Kibah just south from there, and Island Kibah lies just north, and North Kibah is 1 mile northwest. West Kibah Lake is .5 mile west. From the trailhead heading north takes you 5 miles to Deadman Lake, and Blue Lake is 1.5 miles southeast from there. Moap Lake is a mile south from Blue Lake.

East Kibah Lake-Elevation-10,495 : 2.6 miles RT : Acres-2.9 : Depth-12 : Rainbow & Brook
Finger Kibah Lake-Elevation-10,515 : 2.6 miles RT : Acres-4.7 : Depth-9 : Brook
Island Kibah-Elevation-10,540 : 3 miles RT : Acres-8 : Depth-14 : Brook
West Kibah Lake-Elevation-10,580 : 3.6 miles RT : Acres-7.8 : Depth-15 : Brook
North Kibah-Elevation-10,750 : 4 miles RT : Acres-4.5 : Depth-12 : Fish-None
Deadman Lake-Elevation-10,790 : 10 miles RT : Acres-7 : Depth-9 : Brook & Cutthroat
Blue Lake-Elevation-11,160 : 13.6 miles RT : Acres-6.5 : Depth-16 : Brook
Moap Lake-Elevation-10,740 : 6 miles RT : Acres-2.7 : Depth-5 : Fish-None
---
Bridger Lake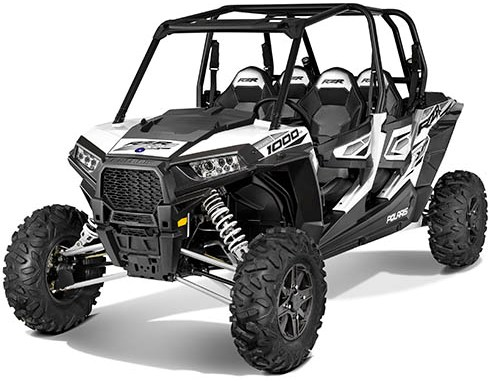 GPS-N.40.57.742-W.110.23.304 : Elevation-9,364 ft : 27 Acres : Depth Maximum-15 ft : Mean-13 ft
From Mountain View, WY, take HWY 410 south to Forest Road 072 for 7.9 miles. Turn left onto FR126 for a short distance to the campground. Bridger Lake is 2 miles south of the Wyoming State Line. Located at the lake is the Bridger Lake Guard Station and the Bridger Lake Campground on the west shore. Fishing is popular, and there is a concrete boat ramp for launching small boats. There is a 5 hp restriction on motors used on the lake. The Bridger Lake campsites have a fire pit, barbeque grill, and drinking water. User fees are charged. There is a nice maintained path that circles the lake and another hiking trail that heads up the canyon from the northeast end of the lake.


---
Brown Duck Lake Trail



14-20 Miles RT